As overflowing landfills and waste-ridden seas dominate the headlines, advocates continue to call on companies to embrace a circular economy, in which materials are infinitely reused and nothing becomes waste. Tupperware Brands is among those answering the call. Earlier this month, the direct sales company rolled out a vision to leverage its people and products to push the circular economy forward—which it fittingly dubbed No Time To Waste.
For Tupperware, which was founded in the 1940s with a lineup of reusable food storage containers, the move is something of a return to its roots. "One could say we practiced sustainability before it was even called that," said Mark Shamley, VP of social impact for Tupperware. "Our plan is about how to leverage our history and modernize that approach for where we are today."
Circular products built to last
Sustainable product design is central to Tupperware's vision. Case in point: This summer Tupperware will become one of the first four companies to utilize a new raw material made from mixed plastic waste. The so-called "certified circular polymer" will appear in a line of Tupperware products meant to replace single-use items—including a reusable straw, coffee cup and beverage tumbler.
"This is a global launch for the company that allows us to make a pretty bold statement around reusability and renewable materials," Shamley said. "It supports claims about the circular economy and, at the same time, provides alternatives to well known single-use items that are found in waterways and oceans."
As we report often here on 3p, consumer preferences are changing rapidly—particularly among young people. The majority of Americans now cite healthfulness and sustainability as primary purchasing drivers, surpassing even convenience. Put another way: People are growing tired of our make, take and dispose culture—and they're in the market for better products.
When it comes to plastic, in many ways the science is still catching up. But the ability to recycle mixed plastic into new food-grade products is a significant development, Shamley said. "When I first came here, this wasn't an option," he told us. "But this innovation emerged, and we saw a tremendous opportunity to move forward."
Tupperware is looking to integrate additional circular materials as they become available. "We're keeping an eye on it," Shamley said. "And we will work with our partners and providers who are looking to be on the cutting edge."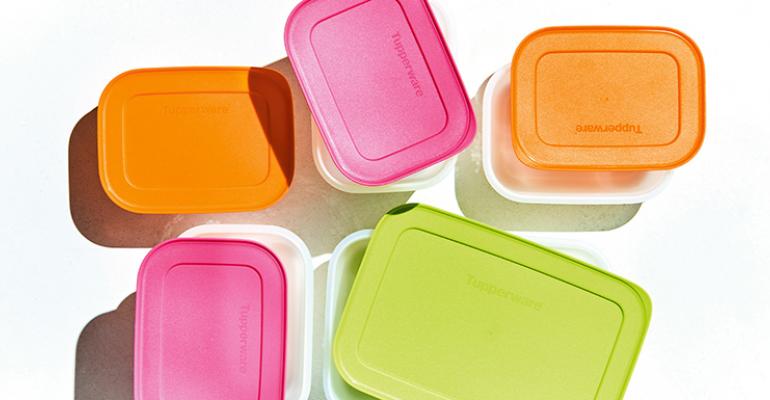 Starting a conversation
Tupperware's operational changes under No Time To Waste are numerous: It committed to eliminate waste sent to landfill by 2025 and pioneer new technologies that will allow 90 percent of returned products to be reused or recycled at the end of their useful lives. Additionally, with its network of millions of salespeople and customers worldwide, Tupperware's leadership feels the company can help hasten the shift toward more sustainable choices.
"One of the big things for us is: How do we drive consumer behaviors?" Shamley explained. "We have 3 million sales representatives all over the world. Each and every day, week after week, they're reaching consumers—and they can share insights and tips to help those consumers embrace this notion of wasting less."
As part of No Time To Waste, Tupperware is calling on customers to take a low-waste pledge and reaching out with lifestyle tips to help them "waste less and live more." As Dune Ives, executive director of the nonprofit Lonely Whale recently told us: "We're all starting to be willing to have a conversation around our behavior and our everyday choices." Still, at a time when global consumers use a million plastic bottles every minute, there's a lot more work to do.
"We're putting a flag in the ground as a company operationally—knowing that, like many other companies, we have to take care of the things we need to do in-house. But we also feel like we can drive the behavior of consumers," Shamley told us. "We're super excited about the utilization of our network."
The bottom line
As the Brands Taking Stands movement heats up, more companies are using their clout to further causes beyond profit. In many ways, this lays down the gauntlet for the storied companies of yesteryear. But for its part, Tupperware seems keen to tackle the challenge head-on.
"The No Time To Waste platform is our first big, bold step into this space," Shamley told us. "We have a rich history—Tupperware often invokes a very positive, nostalgic feeling with most consumers—but we feel this is the right place for us in terms of advancing our message. It will become the central platform in terms of how we approach engaging our 3 million salesforce representatives, our distributors and our businesses all around the world."
Catch Mark Shamley on the main stage at the 2019 3BL Forum: Brands Taking Stands—What's Next, where he will emcee a high-octane conversation about the future of sustainability in business. Join us on October 29 and 30 at the MGM National Harbor just outside Washington, D.C.
Images courtesy of Tupperware