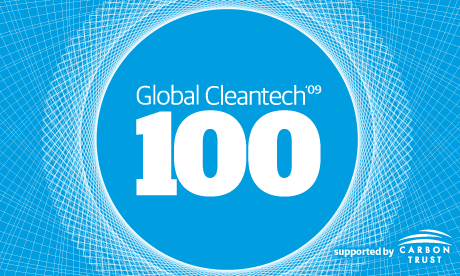 The Guardian newspaper, in partnership with the Cleantech Group, have announced the Global Cleantech 100, which they are calling "the first global, peer-reviewed look at the industry."
The list is the result of a survey of hundreds of cleantech experts, and thousands of companies, looking for those with the best commercial potential. A panel of 35 experts then narrowed the list down to the top 100, which included some surprises.
A Bit of Welcome Promotion
The survey no doubt is in part a reaction to the tepid amount of investment in the sector this year, after several years of strong growth. By identifying solid companies that many investors may not have heard about, the list will hopefully spur investment.
From The Cleantech Group's website:
"Particularly in times like this where the public markets are relatively inactive, it is important to have some means of doing a status check, to measure where progress is being made," said Stephan Dolezalek, managing director and cleantech group leader at VantagePoint Venture Partners, and a panelist for the ranking. "Otherwise the public can easily get a view that there are a thousand great ideas but virtually no great companies yet, as only a few solar and wind companies have really succeeded on the public markets. These 100 companies, and particularly the top 10, represent the next wave of great public cleantech companies."
The list includes such media darlings as Tesla Motors and electric vehicle company Better Place. Also on the list, companies whose innovation comes outside of the actual technology, such as solar panel installer Solar City, which recently introduced an innovative leasing program that allows customers to get solar power with little money down.
A Notable Absence From "Global" List
The US, most of Western Europe, Israel, and even India all had companies on the list. One country that didn't? China.
Despite the PRC's huge investment in renewable energy, it is still a laggard when it comes to entrepreneurship. This should hopefully remind those panicking about China that it is one thing to make cheap solar panels, another thing to come up with the technology itself.
The US, by the way, had 55 of 100 spots. Experts attribute this to the strong venture capitalist industry here.