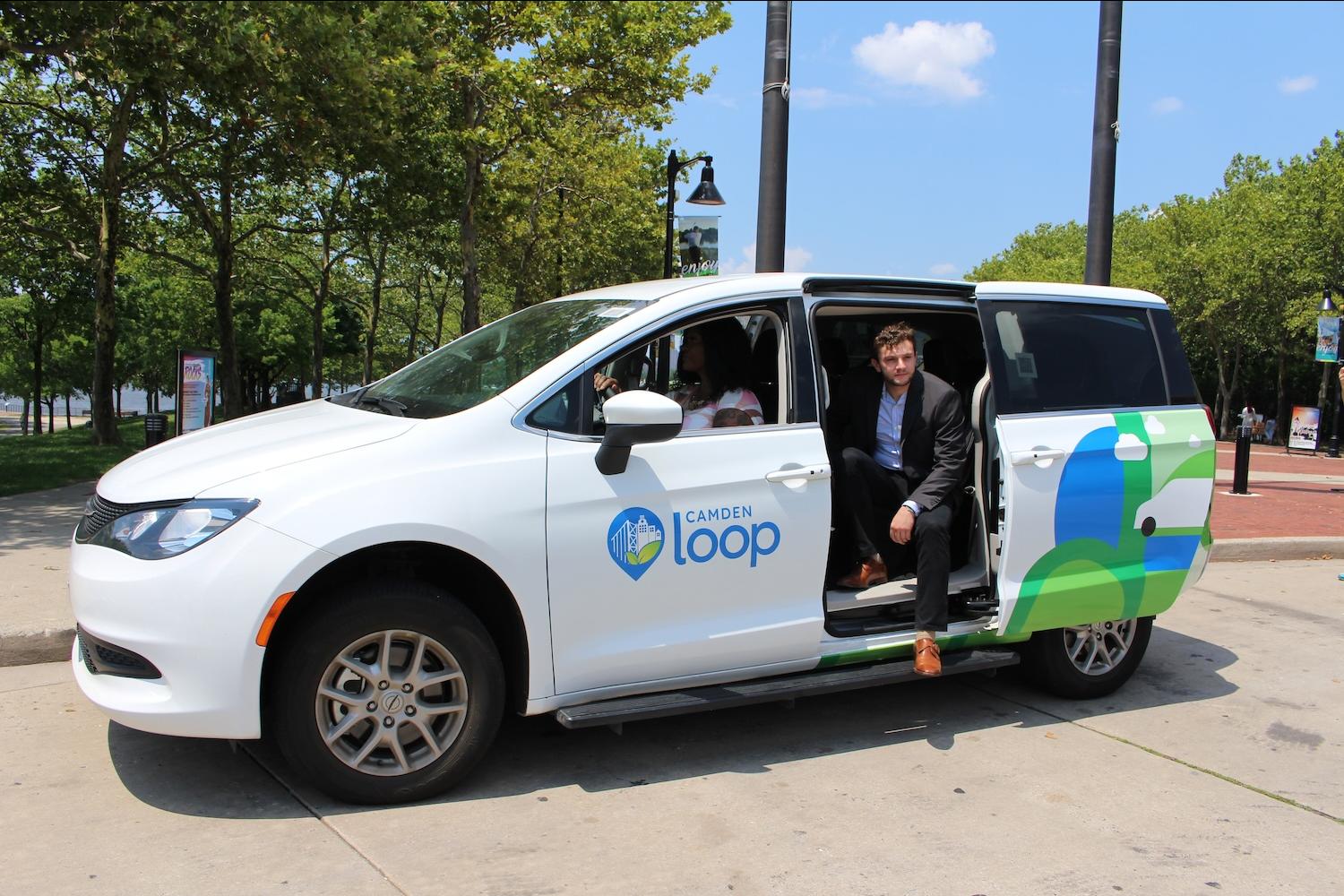 Public transit ridership plummeted around the world at the start of the coronavirus pandemic and never fully recovered. Some riders may be hesitant to revisit densely packed public spaces, but convenient access to public transit remains a key reason why ridership continues to lag.
As housing prices skyrocketed in major cities and the pandemic eased the transition to remote work, people across the U.S. and around the world started moving out of downtown areas in search of lower costs. That means where people live in relation to historic transit hubs is quickly changing, further complicating the fact that only around half of urban residents worldwide have access to public transit near their homes. 
Camden, New Jersey, where an estimated 70 percent of residents rely primarily on walking or public transit, is among the latest cities looking toward technology to solve their transportation problems. With the newly launched Camden Loop, the city joins hundreds of localities around the world in supplementing fixed-route public transportation with on-demand microtransit. 
For commuters, microtransit systems are similar to ride-hailing services like Uber or Lyft: The user pulls up an app on their phone to order a ride, they're given an estimated time of arrival, and they meet the driver at a nearby corner for a shared ride with others traveling in the same direction. But behind the scenes, these systems are co-created by municipal governments and local stakeholders to fill in public transit gaps and get residents where they need to go.
As of last year, about 450 companies were offering microtransit services worldwide, Lukas Foljanty, a German transportation analyst focused on microtransit, told Bloomberg.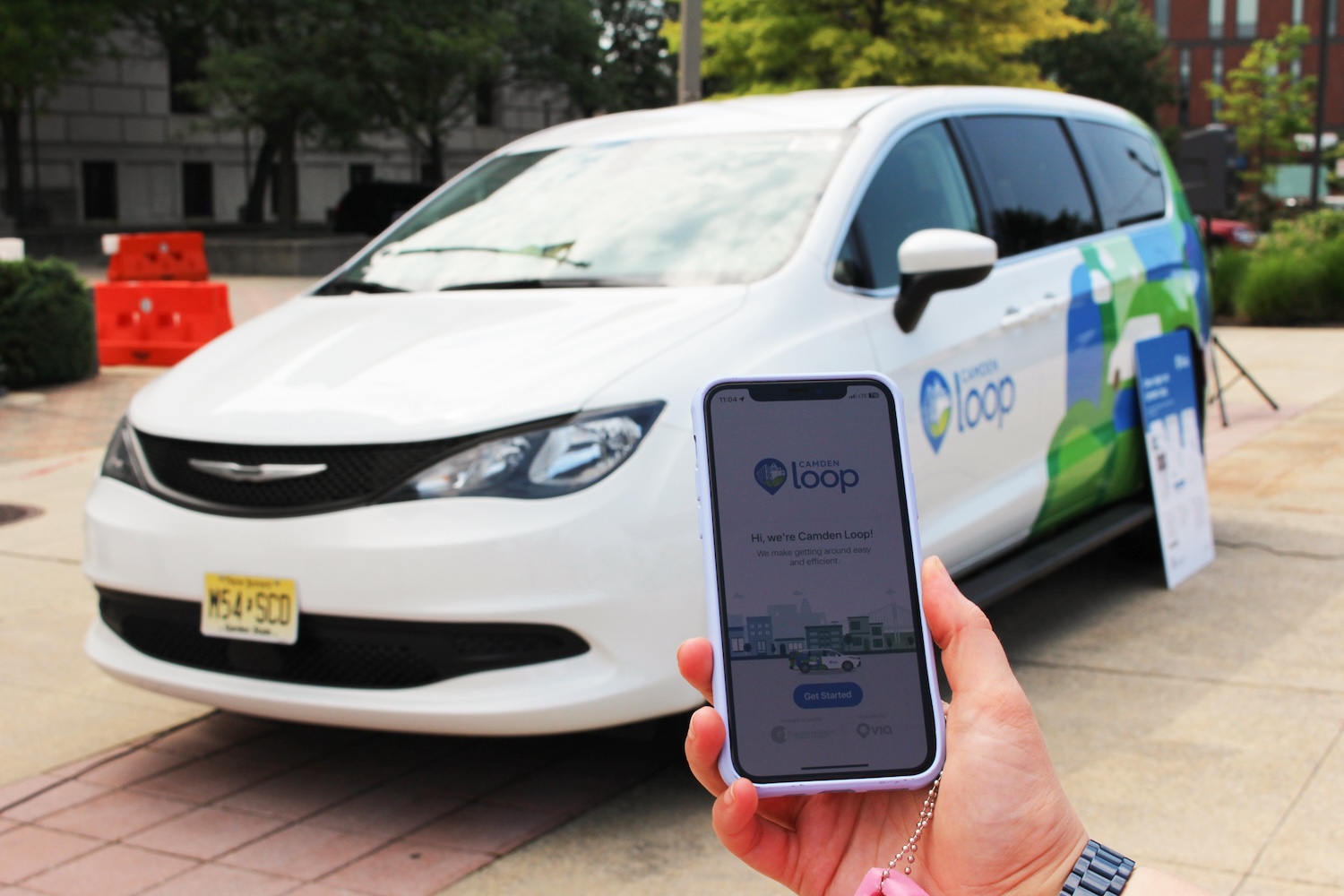 Microtransit meets crucial needs in Camden
Situated across the Delaware River from Philadelphia, the city of Camden is home to around 71,000 people. With nearly 34 percent of the city's population living below the poverty line at the time of the last Census, the former manufacturing hub is now the poorest city in the Garden State. 
Those rates of poverty bring with them familiar challenges — including lack of access to essential services like healthcare facilities, schools and grocery stores selling fresh food.
"About a third of the households in the city do not have dependable access to a car," said Dana Redd, who served as mayor of Camden from 2010 to 2018 and is now CEO of the nonprofit Camden Community Partnership. "I certainly can attest to that. Having been born and raised in the city of Camden, raised by my grandparents, we did not have a vehicle in our household. And I relied on public transportation to connect to employment and also to connect to school." 
The Camden Loop launched in July as a joint effort between the city of Camden, Camden Community Partnership and the microtransit developer Via. People took notice early on. "In the first week, residents were texting me how wonderful this option is and how wonderful the service has been," Redd told us. 
The Camden Loop has provided almost 15,000 rides so far. Nearly 7,700 unique riders — equivalent to over 10 percent of the city's population — have established app accounts to utilize the Camden Loop. 
The on-demand service helps riders fill in gaps between fixed bus routes and crucial hubs both inside and outside of the city, including New Jersey Transit hubs in Camden's downtown and about seven miles away in the affluent suburb of Cherry Hill. 
"Fixed-route does a great job of connecting people, but unfortunately, just due to the way that fixed-route works, it can't reach everywhere within a community," said Eric Gardiner, head of East Coast partnerships at Via. "That's where having a technology-enabled public transit service — where you can indicate from a demand side, not a supply side that you need a ride — allows you to cover a much greater area and fill in the gaps, while also connecting that first-last mile to intermodal hubs."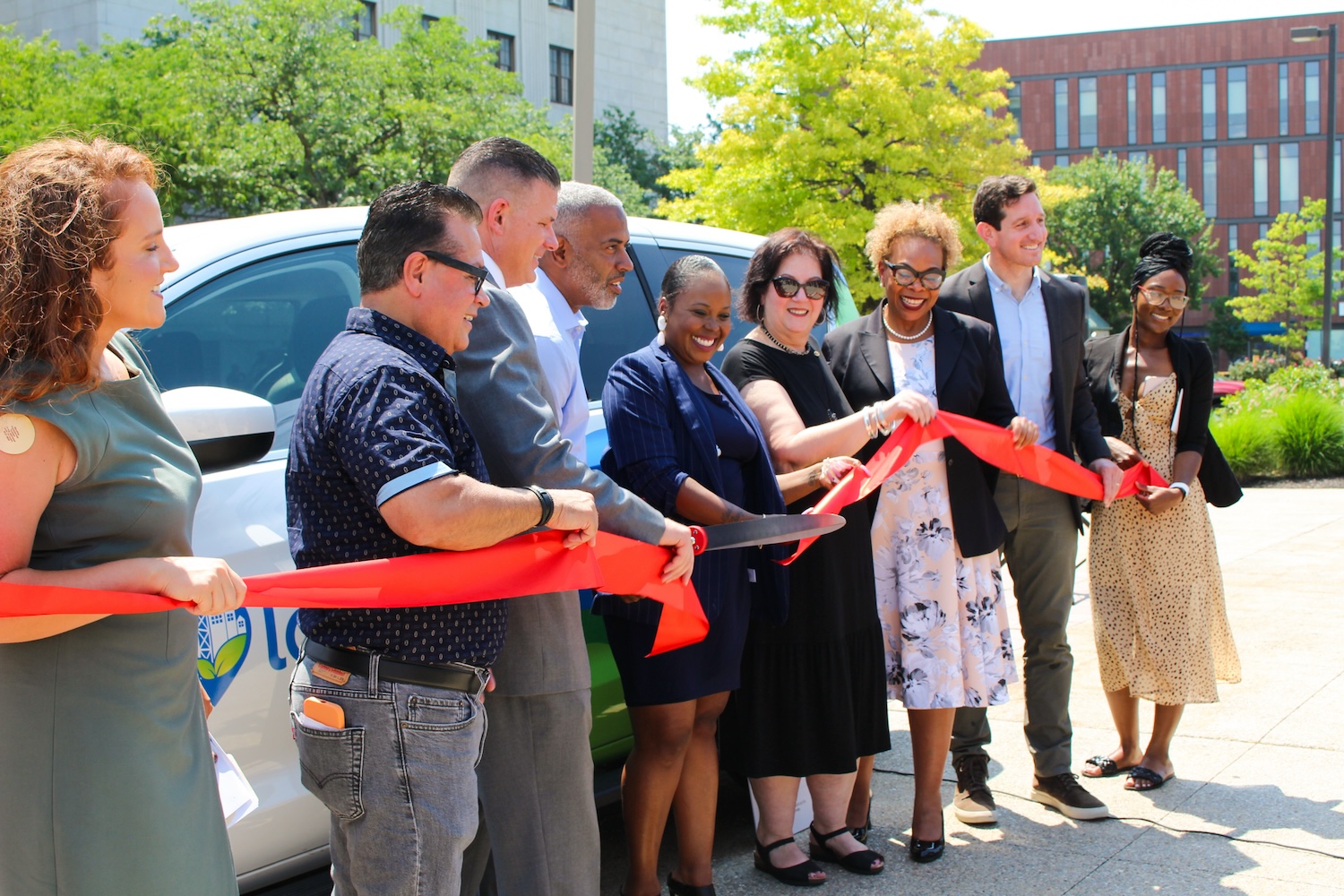 Addressing access 'deserts' in underserved communities 
Early data from the Camden Loop indicates riders are using the service to get to school, work, and essential services in ways that are faster, easier and cheaper than what they were able to do before. "The trips that people are taking are ones they previously could not take on public transit," Gardiner said. "They're moving around the community in a completely different way." 
That includes easier access to transportation and shopping that is available in Cherry Hill. While only a few miles from downtown Camden, the suburb's offerings are a world apart, with public transportation connecting to North Jersey and New York, as well as ample access to shopping centers and grocery stores that are few and far between within the city proper. 
In particular, about 30 percent of people who visit the ShopRite in Cherry Hill are from Camden, Redd said, a journey that for many is an arduous combination of walking and buses that stop only a few times an hour. Even more so in cold and icy weather. "I can remember as a young person growing up in the city, being raised by a grandmother, just the struggle of getting to the market, and then after you shop, the struggle of getting home," she said. "Trying to do that via public transportation was not something I looked forward to as a little girl."
The city's major hospital and Camden's public high school — which Redd describes as "the center of activity" on Camden's South Side — are also among the top stops in the first four months of service on the Camden Loop. 
Ensuring accessibility for those who need it most
As far as transit goes, the Camden Loop is cheap and easy. Rides cost $2 each, compared to $2.25 for standard fare on New Jersey Transit buses. "It's very affordable here for residents, but we also have other ways to offer reduced rates — including the weekly pass, which is a $7 a week charge for up to four rides per day, or a monthly pass, which is $26 per month for up to four rides per day," Redd said. 
Beyond cost, the service is also accessible. Those who are tech-savvy and don't mind walking a block to a designated pickup point can utilize the service the same way they'd use the carpool function on Lyft or Uber, with average arrival times of around 15 minutes. People who don't have a smartphone or don't like technology can call to get a ride, while those with mobility challenges can request door-to-door service rather than corner-to-corner. The shared vans can also accommodate wheelchairs
"We were able to hear from [people in the community] well in advance of us designing this, finding out what the concerns were, finding out what the needs were, and really looking to address some of those deserts — locations where the first-mile, last-mile barriers were very intense," said Brian Bauerle, vice president of Camden Community Partnership. "What was most important to us was finding a partner like Via, who had the expertise to hear our voice, what we wanted to represent for the community, and help us implement that."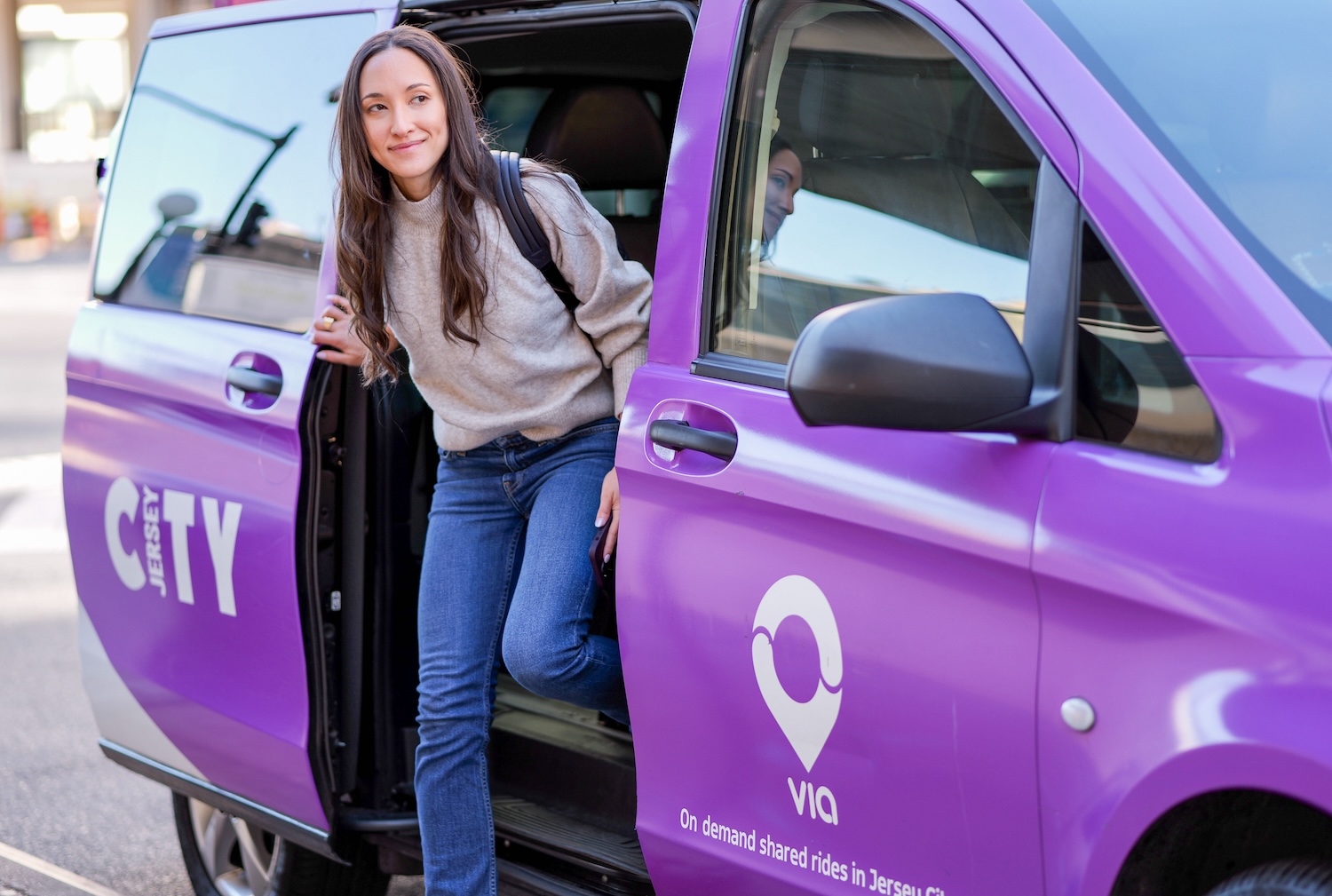 A global proving ground for microtransit 
Hundreds of microtransit programs like the Camden Loop are operational across the U.S. and around the world. Via alone has more than 50 municipal partners in the U.S., where the company provides the technology and works with community partners to build unique microtransit programs that meet city needs. 
Those partners include Camden's neighbor to the north, Jersey City, which sits across the Hudson River from Manhattan and has seen promising results since launching the Via Jersey City microtransit service at the onset of the COVID-19 pandemic. "Low- to moderate-income residents have access to 35 percent more jobs, schools and hospitals within 30 minutes," Gardiner said. 
It's not just Jersey that's seeing success with microtransit. Birmingham, Alabama, increased access to schools and jobs by 80 percent by using the microtransit model in partnership with Via, while the traditionally car-heavy Dallas-Fort Worth suburbs are now home to the most popular microtransit program in the U.S. — serving around 70,000 riders monthly. 
Of course, microtransit isn't a panacea to our public transit problems. "At a very basic level, everywhere that exists is not a candidate for microtransit," Gardiner said. "If you look at high-capacity corridors where you get a bunch of people that are riding a fixed-route bus quite regularly, there's no better way to move those people than on a fixed-route bus." 
Beyond that, news reports have documented inefficiencies in some city programs, or cases where ridership is lower than expected for various reasons. 
But for Camden, the Loop service is proving an effective way to get people around without multibillion-dollar infusions into the local public transportation system. The fleet now includes six vehicles, most of them driven by Camden residents. Average utilization is around three riders per vehicle hour, which is pretty solid considering the city's relatively low population and frequent rides outside the city that can easily take 20 minutes or more. 
"In the places where it makes sense, this is very much a type of public transit that fits in for a couple of core goals of community," Gardiner said. "One is in places that are just under-penetrated by fixed-route, where there's no transit available. The other is as a first-last mile service. A big part of making sure that it's used correctly for the overall transit network is the service design and the goals upfront, and the Camden Community Partnership did so much work ahead of time prior to launching this."
The early results are enough to make city organizers feel confident in their decision, with plans to add weekend hours, additional zones near Camden, and more vehicles as needed thanks to funding from the state of New Jersey for 2024. "This has nowhere else to go but up and certainly to improve the lives of residents in Camden," Redd said. 
Images courtesy of Via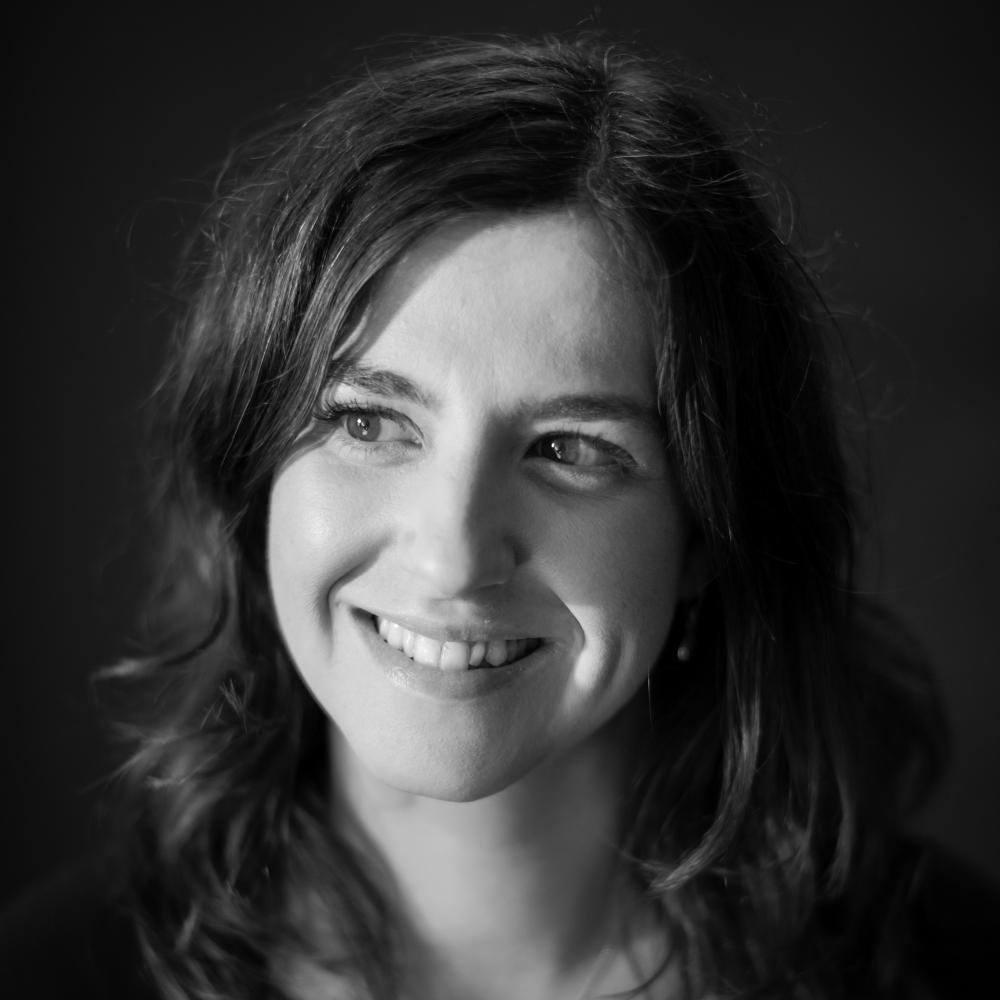 Mary has reported on sustainability and social impact for over a decade and now serves as managing editor of TriplePundit. She is also the general manager of TriplePundit's Brand Studio, which has worked with dozens of brands and organizations on sustainability storytelling.