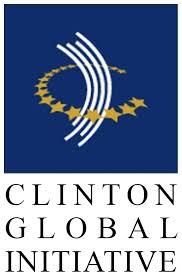 By Cindy Mehallow
What makes the efforts of Clinton Global Initiative (GCI) members so successful? CGI members include foundations, corporations and NGOs that have made tangible progress in tackling some of the world's most pressing problems. From 2005 through 2013, CGI community members have made 2,872 Commitments to Action that have affected the lives of 430 million people across 180 countries. Their efforts have helped rebuild Haiti, reduce greenhouse gas emissions, fight food insecurity, and promote education and economic opportunity for women and girls -- to name a few of their initiatives.
So, how do they achieve these results? Listening to presenters during the recent CGI annual meeting in New York, I paid more attention to how they drove change than to what they accomplished.
As the meeting progressed, several themes began to emerge. Many of the ideas and principles described by presenters echoed success factors I've observed firsthand through my work with sustainability reporting clients and my pro-bono work on the municipal level. Even though I'd heard much of this advice before, it was a valuable reminder of some essential principles.
Here is a distillation of their wisdom for assessing your own corporate social responsibility (CSR) and sustainability efforts.
1. Be optimistic
Believe that you can truly affect meaningful change. "Optimism is a moral choice," Clinton Foundation Vice Chair Chelsea Clinton said. Every speaker shared this upbeat outlook, as one speaker after another recounted goals achieved, people served and solutions implemented. A tangible atmosphere of determined optimism permeated the event.
2. Collaborate
CGI commitments that involve partnerships have been more successful in reaching goals, according to an analysis of commitments from 2005 to 2013. And, compared to earlier commitments, more commitment-makers now rely on inter-sector partnerships.
"Great things are achieved when empowered people collaborate bring dignity to other peoples' lives," declared Peyman Al Awadhi, co-host of the Peeta Planet, a social travel TV show popular in the Arab world.
"Collaboration is required to overcome adversity," added Al Awadi, who led the 'Cities as Labs of Innovation' panel along with his brother and TV show co-host Mohamed.
When Chelsea Clinton and former Secretary of State Hillary Clinton jointly announced several new commitments dedicated to saving the endangered field and forest elephants of Africa, they were joined on stage by the presidents or first ladies of more than 10 African nations. These leaders are teaming with dozens of disparate partners such as the Frankfurt Zoological Society, the Alibaba Group, the Nature Conservancy, Patagonia Works and the Elephant Action League, among many others. With a broad base of support, they're gathering an array of allies and assembling a team with complementary skill sets.
3. Set goals
Establish specific, quantifiable goals – preferably ones that measure outcomes, not just outputs. For example, Minister of State for the United Arab Emirates Reem Al Hashimy observed that just getting children into schools is not enough.
"Some students in school are not learning," she admitted. "We must measure if students are actually learning. We need to go beyond metrics such as the number of students in classrooms to measure what learning occurs."
Moderator Nicholas Kristof, columnist for the New York Times and author of "A Path Appears," concurred, noting: "Quality makes a huge difference. We need different analytic tools which focus less on inputs and place more emphasis on outputs and outcomes."
4. Set deadlines
When setting goals for their Commitments to Action, members of the Clinton Global Initiative know that they are expected to report on their progress at the end of one year. If they fail to report at the end of their second year, they'll be dropped. That kind of defined timeframe inspires action and eliminates foot-dragging.
5. Be accountable
The elements of accountability and public commitment appear to help follow-through, as more than 80 percent of Commitments to Action have been completed or are ongoing. Of these, 1,202 have been completed; 1,145 are still working toward meeting their initial goals; 46 commitments are stalled; and only 139 of all commitments made have been unsuccessful, according to the CGI.
6. Fight on
Be prepared to work hard and persevere in the face of setbacks. "With every hardship is an opportunity," said Cesare Chife, executive director of the
Dr. Aloy and Cesare Chife Foundation
 in Nigeria. Their foundation works to counter the negative effects of that country's rapid urbanization by attracting young people to remain in rural areas through sustainable development projects that balance ecology with economic growth. Its work in the Anam region of Nigeria was stalled in 2012 when that region was submerged by floodwaters for five months. When the flood waters receded, leaders used the crisis as a catalyst for the construction of the region's first health clinic and housing development, using green building techniques.
7. Analyze the outcome.
While the CGI has been compiling commitment results since 2005, it just started analyzing this data in 2013.
"We wanted to dig into why to inform what and how to go forward," Chelsea explained. CGI is learning from both its successes and its failures, aided by data visualization and analytics provided by CGI member Palantir.
"Our job is to lift up people who are doing right thing," said President Obama, who addressed the CGI gathering during a break from his appearance at the U.N. General Assembly proceedings. And that is exactly what he did, as he singled out meeting participants from Somalia, Honduras, Cambodia, the U.S. and elsewhere -- and praised their contributions.
8. Take stock
How many of these principles are embedded in your initiatives? Take stock and then shore up any areas that could be more on target. Your efforts are sure to benefit.
Image credit: Clinton Global Initiative 
Cindy Mehallow is principal of Mehallow Communications, a woman-owned sustainability communications consulting practice specializing in corporate social responsibility reporting and stakeholder communications. A GRI organizational stakeholder, Cindy has produced award-winning sustainability reports for Fortune 500 companies in a variety of industries.
We maintain a strong staff of reporters and guest authors in various locations with an interest in your subject matter. Get in touch with us if you would like to have one of our writers present at your event to cover it and write up big picture ideas that transpire or interview conference speakers and attendees on the air. If we don't have a contributor in your area we're happy to work with someone you know.