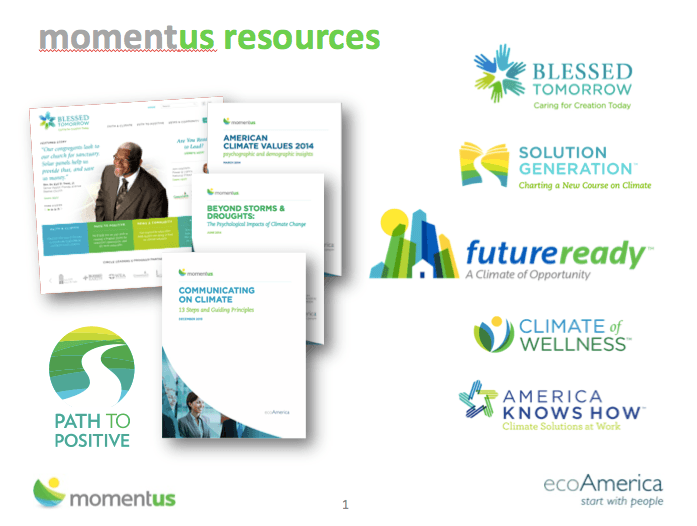 By Deborah Fleischer
At the AASHE conference, three different speakers evoked Ronald Heifetz's concept of adaptive challenges -- problems that can't be solved with a simple, technical fix.  If ever there was an adaptive challenge, climate change is one of them: It will require systemic change at a large scale, collaborative conservations and  engagement of many sectors to solve.
At the opening ceremony of the conference, Dr. John Anderson, president of Millersville University, announced MomentUs, a new cross-sector climate solution, and the launch of  Solution Generation, a new initiative to engage higher education in climate solutions. Read on for an overview of MomentUs and Solution Generation.
MomentUs launches Solution Generation
MomentUs
, a program of
ecoAmerica
, is a strategic, multi-sector organizing and communications initiative that is designed to build personal and institutional support for climate change solutions.  It includes an ambitious cross-sector marketing campaign to engage more Americans in climate change, where they "live, work, learn, play and pray." Sectors targeted for engagement include higher education, business, faith, health, communities and stewardship. Under the umbrella of MomentUs, each sector is launching its own campaign, with unique branding, to motivate more people to take action on climate change.
Faith was the first sector to launch (see Blessed Tomorrow).  Solution Generation, targeted to higher education, now has its own brand and website, including success stories and resources for making progress on the "Path to Positive."  According to Dr. Carlton Brown, president of Clark Atlanta University, "Solution Generation provides higher education leaders with tools, resources and best practices they are generally not able to create on their own."  Dr. Anderson and Stephanie Herrera, the AASHE executive director, sit on the Solution Generation Executive Committee.
Herrera sees Solution Generation as a great opportunity to help get the word out about success stories and best practices.  "AASHE has successes throughout all our member campuses and we want to share these stories," she explained.  The words she uses to describe Solution Generation seem to fit in well with the emergence operating system discussed in my post on Tuesday.  She describes it as "a convener and a network on climate, making connections to other stakeholders and high-caliber people."  Herrera attended a MomentUs cross-sector meeting in Chicago, where she was able to dialogue with a rich mix of unusual allies. "I appreciated the opportunity of meeting with leaders from different industries during the MomentUs meeting," stressed Herrera.  "It was a rare chance to have discussions on the role of higher education with corporations, mayors and faith-based groups."
The 'Path to Positive' pledge
At a lunchtime presentation, Andrea Putman, higher education director for MomentUs, explained, "With the input of over 120 national leaders from many sectors, we have developed the 'Path to Positive.' The commitment is to simply to lead by example and engage others."
You can read more about the pledge and explore taking it here. There is no fee for joining Solution Generation, and the pledge has no reporting requirements.  It is the first step in helping MomentUs begin to build broader support for climate solutions.
13 steps to communicate on climate
MomentUs identified 13 steps and guiding principles for communicating on climate, based in part on extensive research of past social movements, such as healthcare reform and the campaign to regulate tobacco, as well as extensive social science, communications research. You can read more about the 13 steps and principles
here
.  They are summarized below.
Images from the Solution Generation.
Deborah Fleischer is founder and president of Green Impact, a strategic sustainability consulting practice that helps universities, companies, and nonprofits amplify their green impact.
We maintain a strong staff of reporters and guest authors in various locations with an interest in your subject matter. Get in touch with us if you would like to have one of our writers present at your event to cover it and write up big picture ideas that transpire or interview conference speakers and attendees on the air. If we don't have a contributor in your area we're happy to work with someone you know.