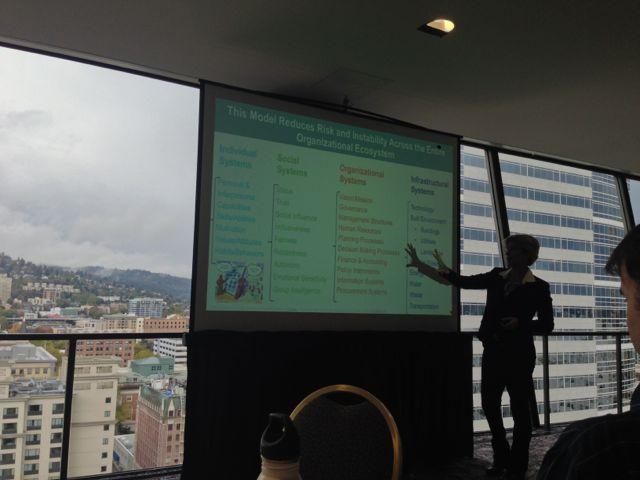 By Deborah Fleischer
The Association for the Advancement of Sustainability in Higher Education (AASHE) conference got off with a bang on Sunday, with pre-conference workshops and a keynote by Annie Leonard, of the Story of Stuff acclaim, who is now Executive Director of Greenpeace (more on Annie's comments tomorrow). More than 2,000 sustainability professionals and higher education leaders have gathered in Portland around the AASHE mission to "inspire and catalyze higher education to lead the global sustainability transformation."
I joined over 30 sustainability leaders for Disruptive Sustainability, an inspiring pre-conference workshop led by Leith Sharp, director of executive education for sustainability leadership at Harvard University's Center for Health and the Global Environment. A key theme that ran through Sharp's and Leonard's comments: We need to go beyond slowing down and 'doing less bad' to real transformation.  And the key to getting there, according to these two women leaders, is to adopt a new, more engaging and more collaborative leadership style. Both share a hopeful, positive vision for the future.  "A better world is possible and inevitable," said Leonard. Both stress that change is hard. And both offered concrete tips and tools, targeted to higher education but also applicable to business.
Install an Emergence Operating System
Sharp's key message was that being a change leader in a command and control, top down, hierarchy is a thankless, exhausting task. "Management-driven hierarchy (or command and control) alone is inadequate for the task of leading significant amounts of change and innovation," stressed Sharp.  Her solution to this is to add a new operating system that is "aligned around shared purpose," referred to as the Emergence Operating System or EOS.
Qualities that Sharp uses to describe an EOS include:


Responsible


Agile


Energized by relationships


Action-based learning


Pilot projects


Creativity from unexpected connections
The model is not suggesting that you replace the command and control style operation system, but that you obtain senior leadership sponsorship to "install" an EOS that works side-by-side the command and control system.  Sharp stressed, "Everything becomes possible when both types of operating system work together for a shared purpose."
Her argument is that top-down efforts typically only go three-layers deep within a management hierarchy before they lose effectiveness. Yet, bottom-up efforts rarely succeed to transform an organization. A clear decision-making process and engaged senior leadership, along with pilot projects that empower and engage employees, is a formula that will lead to more insights, connection and, ultimately, a transformation to a more sustainable future, Sharp said.  She acknowledges this is not easy work.   In a video clip of her in conversation with Marshall Ganz, senior lecturer in public policy for the Harvard Kennedy School, Ganz stressed, "No one said transformational leadership was easy."
Connecting the two operating systems
Another key takeaway was a message from Mary Spilde, president of
Lane Community College
, who commented: "Don't wait for your president's support. You can start without it."
She was not advising to go about creating change as a lone ranger, but to look across your organization for other allies and to convene conversations about what is possible and what they care about. Spilde added the concepts of emotional Intelligence and wellness to the mix, suggesting we will take solutions to scale by working together, harnessing collective intelligence, making time for self care, and focusing on connections.
Dr. Denice Wardrop, sustainability director for the Penn State Sustainability Institute, shared some real-world stories about implementing the concepts at Penn State. "My job is to connect the two operating systems and work between them." She also invoked the work of Ronald Heifetz, founding director of the Center for Public Leadership, who advocates stepping back to gain perspective on the bigger system you are part of. "Ask a senior leader to describe to you what they see," to gain insights into how they see the system.
The day also included time in small groups, where participants got the chance to explore how these concepts relate to their day-to-day work and institutional realities.  As sustainability managers from across the country shared, it struck me that there are many opportunities to integrate EOS:  hiring, employee orientation, meetings, curriculum, strategic planning and projects (including pilots).  It might not be easy, but stretching our leadership strategically might be more fun, fulfilling and impactful than exhausting ourselves by swimming upstream.
What kind of change maker are you?
I get to interview Leonard tomorrow, so more on her comments later. In the meantime, check out the Story of Stuff quiz to determine what kind of change maker you are HERE.  According to the quiz, I'm a networker.
Images credits: 1) and 2) courtesy of Leith Sharp; 3) The Story of Stuff
Deborah Fleischer is founder and president of Green Impact, a strategic sustainability consulting practice that helps companies walk the green talk.
We maintain a strong staff of reporters and guest authors in various locations with an interest in your subject matter. Get in touch with us if you would like to have one of our writers present at your event to cover it and write up big picture ideas that transpire or interview conference speakers and attendees on the air. If we don't have a contributor in your area we're happy to work with someone you know.