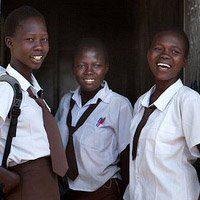 By Lina Constantinovici
At the Global Philanthropy Forum last week, MacArthur Foundation and MasterCard Foundation shared insights from the funder collaborative launched in 2012 that seeks to increase secondary education access and improve learning outcomes for marginalized populations.
The Partnership to Strengthen Innovation and Practice in Secondary Education (PSIPSE) has issued $24 million in grants to 40 projects in seven countries: Kenya, Uganda, Nigeria, Tanzania, Democratic Republic of the Congo, Rwanda and India. Project durations are one to three years. In addition to the two foundations, several other partners have joined to support the initiative – Intel, Human Dignity Foundation, Comic Relief and Dubai Cares.
This month, PSIPSE announced its third Request for Proposals from NGOs focused on delivering secondary education programs. Proposals can be submitted at www.macfound.org/PSIPSE.
With secondary education enrollment in 2012 at 16 percent in Niger, 18 percent in the Central African Republic, 23 percent in Chad, 26 percent in Mozambique, 26 percent in Burkina Faso, and 19 other countries below 50 percent according to the World Bank, the need for these programs currently far exceeds the capacity of foundations and NGOs working to deliver them.  According to MacArthur Foundation, of those who should be in secondary education and are not, 39 million are girls. The Brookings Institute Global Compact on Learning states: "If all children in low-income countries left school knowing how to read, something which currently does not happen, then 171 million people could move out of poverty. There is broad agreement— and significant evidence—that education enhances people's ability to lead happier, healthier, and more productive lives."
While the MacArthur and MasterCard foundations' initiative represents a traditional approach to education that is focused on vocational training, keeping girls in school to delay marriage and childbirth, and developmental health, some of the other foundations represented at GPF are taking a different approach to affecting education in developing countries. Motwani Jadeja Family Foundation has applied a Silicon Valley entrepreneurial mindset to enabling 21st century skills in Africa and India.  MJFF has funded FabLabs (maker spaces with 3-D printers and a full spectrum of prototyping equipment) to facilitate community-driven innovation, learning, and fabrication. The foundation is also funding a School in the Cloud project inspired by the recent work of Sugata Mitra and his 2013 TED talk on education seen by nearly 2 million viewers.
With more than 1 billion of the global population living in slums today with inadequate access to education, foundations, NGOs, global organizations and corporations are investing in ensuring that demography is not destiny.
Another example of collaborative approaches is an alliance of community philanthropy supporters spearheaded by Global Fund for Community Foundations, the Aga Khan Foundation USA, Charles Stewart Mott Foundation, and Rockefeller Brothers Fund. Community foundations grew by 86 percent between 2000 and 2010, with an average of 70 institutions created every year. "Over the last several years, there's been a newer wave of community philanthropy organizations" says Halima Mahomed of TrustAfrica. "They are organic, rooted in context, not wedded to a particular concept, and they don't tick the boxes of someone else's notion of community philanthropy."
This year's Global Philanthropy Forum theme "Global Goals – Citizen Solutions" was accompanied by an invitation from CEO Jane Wales to participants to see challenges and their solutions in new ways, to "explore the process of redefining leadership and citizenship, markets and value, service and society – and development itself."
"There has been a shift in terms of how community philanthropy is practiced in developing nations. It's moved from the North American fixation of donor needs and is much more flexible. The innovation is coming from Africa, Asia, and Latin America," added Avila Kilmurray of the Community Foundation for Northern Ireland.
Lina Constantinovici, MBA - building and economy that creates conditions conducive to life as the Founder and CEO of StartupNectar, an incubator for early-stage breakthrough solutions in the water, energy, and material science space. Lina's work is focused on innovation in early-stage funding and support for for-profit and non-profit solutions that have the potential to address key global challenges with an eco-system approach, as well as on contributing to evolving our macro-economic structures towards more sustainable ones. Lina has also been designing education programs and curricula that build capacity to navigate an increasingly complex world.
We maintain a strong staff of reporters and guest authors in various locations with an interest in your subject matter. Get in touch with us if you would like to have one of our writers present at your event to cover it and write up big picture ideas that transpire or interview conference speakers and attendees on the air. If we don't have a contributor in your area we're happy to work with someone you know.