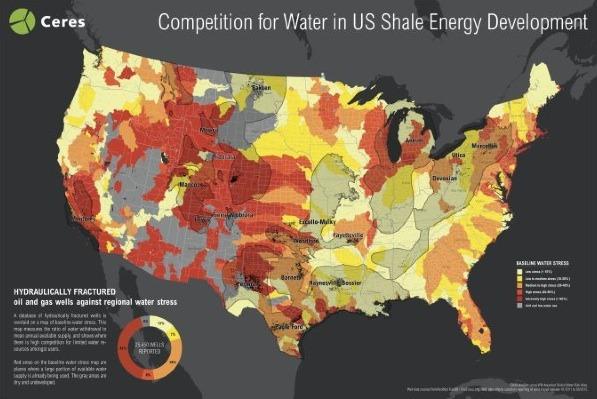 The green investment organization Ceres has just released a new report on oil and gas fracking in the U.S., and it adds to the red flags that have been popping up over the fracking industry for the last couple of years. The report, "Hydraulic Fracturing and Water Stress: Water Demand by the Numbers," underscores the urgency of addressing the risk that fossil fuel extraction poses to water resources - and to the investment community.
The report comes on the heels of the Ceres 2014 Investor Summit on Climate Risk in January. That event launched the organization's Clean Trillion Campaign, which aims to prod the investment community in a climate-ethical direction by exposing emerging risks and indicating the path to more financially sustainable strategies.
Fracking and water
For those of you new to the subject, fracking refers to a drilling method used to retrieve oil and gas deposits from shale formations. It consists of pumping a chemical brine into the formation at high pressure.
The emergence of horizontal drilling technology has added another new twist to the technology.
That can lead to a number of water resource issues that are not as apparent with conventional drilling. Modern fracking operations can involve enormous amounts of brine water, so the initial issue is competition for water with agriculture, livestock and other industries in addition to municipal needs.
Additional issues include potential contamination of existing groundwater supplies from fracking chemicals, geological disruptions, and the storage, treatment and disposal of fracking wastewater.
If you are wondering why these issues have only begun to be explored, that's because fracking was mainly confined to sparsely populated areas in the western U.S. until a few years ago, when improvements in the technology combined with a Clean Water Act loophole to open up drilling in much more populated areas. That includes the Marcellus Shale formation, which spans parts of New York, as well as Pennsylvania, New Jersey, West Virginia and other Northeast states.
The Ceres fracking report
Ceres produced
a 2013 fracking report
that recorded more than 24,000 fracking wells in areas that were already under water stress, indicating a potential risk to investors.
The new report (now available through the Ceres website) builds on the earlier work with a detailed analysis of water use data from more than 39,000 new fracking wells in eight different regions with intense shale development, from January 2011 through May 2013.
The executive summary is worth reading in full, but here is a brief recap identifying the main players:
...97 billion gallons of water were used,  nearly half of it in Texas, followed by Pennsylvania, Oklahoma, Arkansas, Colorado and North Dakota. Among more than 250 operating companies reporting to FracFocus in the United States, Chesapeake (ticker:CHK) had the largest amount of water use reported, using nearly  12 billion gallons, followed by EOG Resources (EOG), XTO Energy (owned byExxon, XOM)  and Anadarko Petroleum (APC).

Halliburton (HAL), a service provider to many shale energy  operators, handled the largest volume of hydraulic fracturing water overall, nearly 25 billion gallons, over a quarter of the water used for hydraulic fracturing nationally, followed by Schlumberger (SLB) and Baker Hughes (BHI).
And here is the situation in terms of competition for already-stressed water resources:
Nearly half of the wells hydraulically fractured since 2011 were in regions with high or extremely high water stress, and over 55 percent were in areas experiencing drought...Over 36 percent of the 39,294 hydraulically fractured wells in our  study overlay regions experiencing ground water depletion.
Ceres fracking report: The way forward
Having identified a substantial risk to investors, the next step is an obvious one. Ceres follows up with a series of recommendations advocating greater risk transparency on the part of fracking operators and related companies. That includes disclosing the degree of water stress in their areas of operation, and disclosing the steps they take to protect and use water resources more efficiently.
Engaging employees and the supply chain in more sustainable practices is another obvious area of focus that Ceres recommends.
The organization also advocates for greater shareholder/stakeholder engagement, with recommendations to work on local communities and regulators to press fracking operators into more sustainable practices.
If these recommendations seem like a collective pipe dream, perhaps that is the point. The bottom line is that oil and gas fracking in the U.S. is a high-risk industry. As recently advocated by the new sustainable investment organization Divest-Invest Philanthropy, investors would be better served to take their money into more financially sustainable endeavors.
Image: Courtesy of Ceres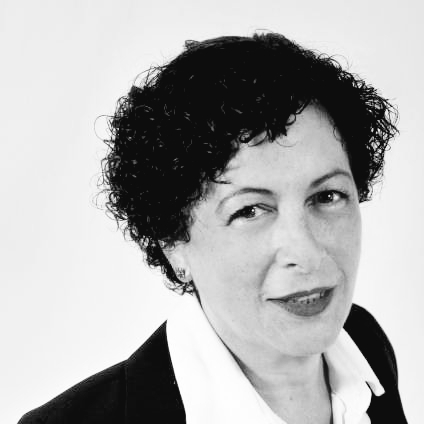 Tina writes frequently for TriplePundit and other websites, with a focus on military, government and corporate sustainability, clean tech research and emerging energy technologies. She is a former Deputy Director of Public Affairs of the New York City Department of Environmental Protection, and author of books and articles on recycling and other conservation themes.