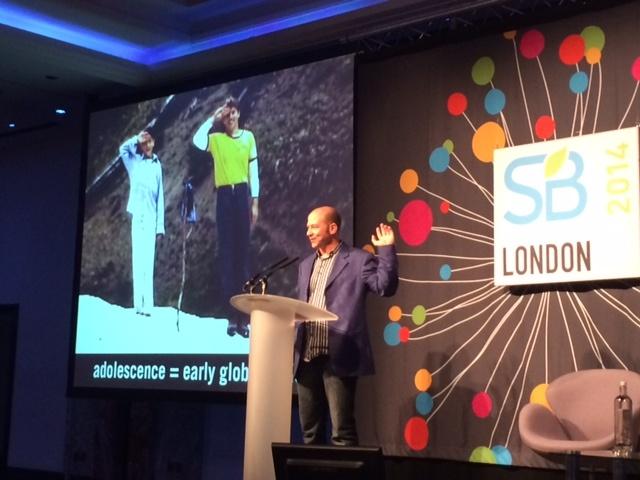 By Felicity Carus
Today was not so much the march of the change-makers, but the march of the brewer, the banker and the sustainable shoemaker at Sustainable Brands London 2014.
The brewer
Michael Dickstein, director of global sustainable development at
Heineken International
, showed the power of music in the company's
'Dance More, Drink Less' responsible drinking
campaign. But not all brands have access to Armin Van Buuren to encourage customers to "drink slow."
He then showed a teaser for next year's campaign that seemed to set a target of 100 percent sustainably sourced barley and hops by 2020. That's a long time to wait for a green beer.
The banker
Financial service companies are thin on the ground at Sustainable Brands London. But all the financial wrongdoing of the banking sector was left to be represented by David Wheldon of
Barclays
, who surely has the most interesting job title in the 
corporate social responsibility (CSR)
 space: head of brand, reputation and citizenship.
Jo Confino, executive editor at the Guardian, gave Wheldon a tough welcome: "Let's be honest about this, the Bank of England produced a new report saying that wrongdoing in the banking industry was still embedded in the culture. Barclays has put aside another £500 million for its rigging and wrongdoing and generally appalling behaviour being one of the institutions that has driven us a society to the point of bankruptcy."
"Jo's introduction, let's face it, is absolutely right. For around 30 years, the financial services industry has made a woeful mistake of not putting the people that it serves at the center of what it does. The consequence of that is a lot of things that need fixing," said Wheldon in reply.
"I don't like 'corporate social responsibility' as a term because it implies there is another thing -- that there is 'corporate irresponsibility.'"
In 2013, 150 senior managers at Barclays had an element of their compensation linked to the "five Cs" – customers, colleagues, citizenship, conduct and company. This year, these five Cs will be taken into account when evaluating the performance of all 140,000 employees globally.
But is business-as-usual in the banking system? It would take a lot to shift it, and most people in the rogue poll in the room said bankers still get paid too much.
"It's a market economy where bankers earn a particular amount of money, and it has to be changed over time," said Wheldon. "I agree there is too much money paid to people who have not done the right thing and we have to change that. It's a difficult thing to do."
Progress on sustainability does not happen without two key ingredients in addition to the "illumination of the mind": inspiration backed by perspiration.
KoAnn Vikoren Skrzyniarz, founder and CEO of Sustainable Brands, spoke about the need to make "meaningful change." "It's not just a head issue; it's a heart issue and creative issue. 'Less bad' is not necessarily sustainable. It's certainly not inspiring."
The sustainable shoemaker
Aly Khalifa showed both vision and the action to make it as real as the 
Lyf Shoes
he designs in a modular design that uses no glue and can be assembled in about 90 seconds.
"If you look at the footwear industry, it's ugly. As a young designer, designing for some big brands, I would have a headache within minutes in a shoe factory because of the toxic glues.
"One of the things I was inspired by was the Shinto architecture in Japan: If the lake gets too high, they disassemble it and move it further up the mountain without using any glue, screws or nails. It's really an exciting set of joinery that makes this whole thing happen.
"In addition, we have all the labor issues with giant centralized factories, and the shipping of these largely unpopulated boxes has a huge carbon footprint. In the United States, 90 to 96 percent of footwear is made at least 10,000 miles away. We have enough shoes to encircle the globe four times."
Khalifa's solution goes beyond upcycling, on demand or localized manufacturing.
"Landfills are a cop out -- we're not creative enough to think about what to do with your product after its useful life," he said.
Lyf customers get a 15 percent discount on their next pair of shoes. But that's not all. They also get a neat little heel sensor that records data to make the next "generation" of Lyf shoe even better for that customer.
"If I can monitor the way you walk for the lifetime of the shoe, I can tell you how you really walk and then modify your next pair so they're even better whether they're for high heel strike or foot issues. We're closing the loop on the customer. That's where the business is, that's where the sustainability is."
His 5-year-old son, he said, loves to watch Krispy Kreme donuts getting made even if he doesn't like to eat them. In Raleigh, North Carolina, the former textile center of the U.S., Lyf is making shoes in-store with a 3-D printer.
"Making is cultural we love to watch things get made," he said.
So, what is this telling us about the convergence of technology and sustainability? Khalifa compares the stage we are at now with an adolescent struggling to adapt to the responsibilities of adulthood. And where better to contemplate that analogy than London, the birthplace of the industrial revolution.
"Are we embarrassed by what we're doing? Do we know better than what we're doing now? If you can imagine a digital cobbler and how we can re-integrate that with the oldest way of doing things. We built cities because manufacturing was in them and the trades were in them. They need to come back to make cities vital. When you put all those things together there's nothing new at all."
We maintain a strong staff of reporters and guest authors in various locations with an interest in your subject matter. Get in touch with us if you would like to have one of our writers present at your event to cover it and write up big picture ideas that transpire or interview conference speakers and attendees on the air. If we don't have a contributor in your area we're happy to work with someone you know.