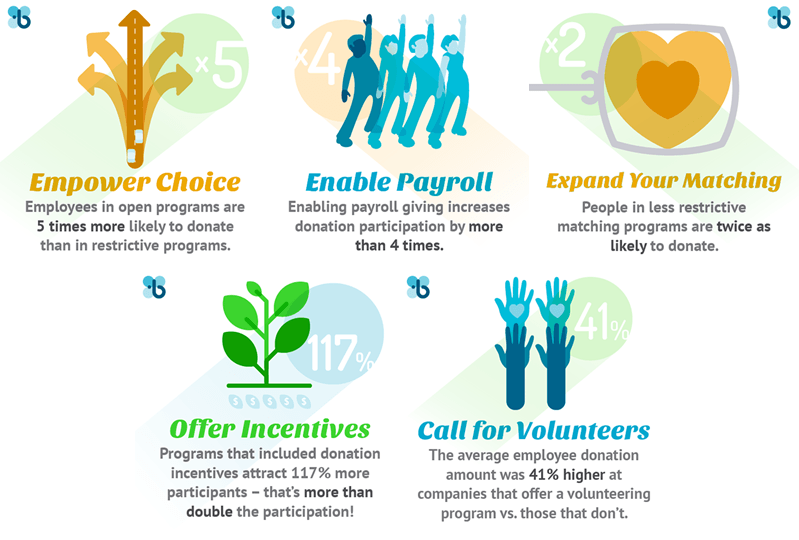 By Bryan de Lottinville
We're approaching that time of year again, when charities start to make end-of-year fundraising asks, and employers launch what, for most, is their annual workplace giving campaign.
Before you take that dusty giving campaign playbook off the shelf, you should know that participation in conventional company-led efforts needs improvement. Between 2006 and 2012, America's Charities reported that participation dropped from 41 percent to just 33 percent, and another 2015 report found that only 24 percent of people say they opened their wallets for workplace programs.
Many fundraising organizations note that giving levels have remained steady year over year, but their main challenge is a shrinking donor base. That means they're trying to get more money from existing (typically older) donors, which means the demographics are not in their favor. And that "more from fewer" trend does not support one of the central goals of modern corporate giving programs: engaging employees.
The face of giving is changing rapidly, too. The conventional top-down directive to give to one or a handful of corporate-chosen charities no longer works. Today's employees are empowered by technology in virtually all aspects of their lives, including wanting to choose which causes to which they donate their hard-earned money.
This change is driven by an emerging millennial workforce that demands the companies they work for provide them with a sense of pride and purpose, not just an income. Across generations, there are growing expectations for companies to help improve society (one country, India, has even made it mandatory, requiring that sizable businesses invest at least 2 percent of their pre-tax profit in doing good). These forces show that the same old ways of thinking won't cut it anymore, and we must change the way we view corporate and workplace giving programs.
So, how do corporate giving managers and community investment professionals break through the status quo and make sure their "giving season" efforts achieve their goals? Looking at real data from our Fortune 1,000 clients, we've noted five practices that drive measurable results in workplace giving participation and engagement:
1. Empower broad employee choice
There is no one-size-fits-all cause for today's diverse and multi-generational workforce. Employees are
five times more likely to donate
when they have options that fit their passions and resonate at a personal level. And while you're at it, make it really easy and mobile-friendly. All the choice in the world doesn't matter if the donor has to jump through hoops to give back.
2. Make giving easy through payroll deductions
Companies that offer donations via payroll see
four times the rate of participation
than programs that don't. It's the most convenient way for employees to give a donation of any amount to causes they care about regularly throughout the year. Plus, payroll deduction is an easy way to get a broader segment of your employee base to participate.
3. Make it a perfect match
When companies show an authentic commitment to helping their people give more to the causes that matter to them through matching, employees are
twice as likely to donate
. Companies with the most progressive workplace giving programs also use more advanced and creative strategies, where they match at a higher rate to strategic nonprofit partners, causes or pillars.
4. Kickstart giving with incentives
To boost participation, many companies offer incentives of "donation currency" that employees can direct to the nonprofits of their choice. Some companies pre-seed new employee giving accounts or give charitable gift cards as a reward. When they do this, they attract
117 percent more participants
, while also reinforcing a prosocial corporate culture.
5. Volunteering boosts the likelihood of donating
Employees who volunteer
donate on average 41 percent more money
. The more engaged employees feel with a cause, the more likely they are to contribute. So, offering a variety of goodness opportunities can yield better results for your employee giving program. Keep in mind that adding rewards for volunteering creates even more impact.
--
Gone are the days of the top-down fundraising program using the same old tactics and tools. Any one of these simple strategies, when done in the right way, will deliver measurable outcomes for your workplace giving program. And better yet, when you apply several, you may just find yourself transforming a stagnant program into a pillar of your employee engagement strategy.
Read more of the results of the Benevity workplace giving analysis.
Image credit: Benevity
Bryan de Lottinville is the Founder and CEO of Benevity, Inc., the leading global supplier of workplace giving and volunteer management software solutions, boasting an impressive enterprise client roster, including Apple, Google, Microsoft, Oracle and SAP, among others.
A recovering lawyer, Bryan is an experienced growth company executive with a knack for innovating new approaches and a successful track record in "constructively disruptive" organizations that reinvent industry practices. Prior to founding Benevity, he was Chief Operating Officer and Director of iStockphoto Inc. 
TriplePundit has published articles from over 1000 contributors. If you'd like to be a guest author, please get in touch!