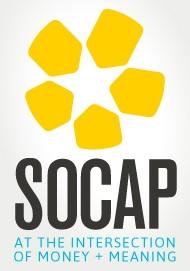 By Amber Bieg
Investors who want to learn more about investing capital toward social good don't have to wait until the annual SOCAP (Social Capital Markets conference) reconvenes.
SOCAP is a world-renowned conference that intends to bring together thought leaders and established players to talk about social impact investing. SOCAP brings together global innovators, investors, foundations, governments, institutions, and social entrepreneurs to build a world we want to leave to future generations.  
To make the event's content available every day to the world, SOCAP recently partnered with MissionHub, a network of Impact Hub co-working campuses in San Francisco, Berkeley, Philadelphia, New York City, and Washington, D.C., to launch SOCAP 365 and SOCAP TV.
Now, anyone who is interested in impact investing can have access to the social impact investing conversation beyond annual conference. Today, investors can find the HUB nearest them for an in-person program, or check out SOCAP TV, a streaming digital platform similar to TEDtalks which will release both recorded and streaming talks throughout the year. SOCAP TV will broadcast talks that are educational - including ones that cover the latest research - calls to action, and inspiring stories.
"As we produce world-class thought leadership each year at the SOCAP conference, we are excited to offer this curated content year-round, beyond our conference audience," Eryc Branham, CEO of MissionHUB, said in a statement. "The expansion of SOCAP-branded content allows us to expand our conversations from SOCAP and continue them 365 days a year at our campuses and on the web." 
SOCAP 365 presents event and educational programming at MissionHUB campuses, each focusing on convening around specific SOCAP themes:


Sustainable Cities at Impact Hub San Francisco


Sustainable Food/Ag at Impact Hub Berkeley


Financial Inclusion at Impact Hub NYC


Impact Investing at Impact Hub Philadelphia


Civic Innovation at Impact Hub DC
The good news for the planet is that SOCAP launched this program because the need finally exists. 
Marissa Feinberg
, VP of PR and marketing for Mission Hub, says that impact investing has finally gone mainstream. In fact, at MissionHub, they believe it is at a tipping point. So when investors become interested in changing their investment practices, SOCAP wants to have the resources available to them, so the tipping point can get pushed forward. Until now, the challenge has been the isolation between the impact investing community and entrepreneurs who need investment. The solution? Create an educational platform that also connects investors to entrepreneurs.  
The educational program includes event workshops and online programming, which educate and build skills from a curriculum that changes every year with the help of their CEO, Eryc Branham. They also work with sponsors like Kiva Zip and the Google Impact Challenge.  The added advantage to these sponsors is built-in partnerships with those who offer expertise on pertinent issues. 
The result is the one of the largest convening of social entrepreneurs on a daily basis. Marissa believes that if it can be expanded further, it could truly be a unique way to grow social enterprise. Already, SOCAP 365 is growing as a professional training program, and is becoming known in academic circles.  
"These impact investments are good long-term financial strategies. Long term impact investments are better long term than mainstream investment." explains Marissa.  "It's really the future," she says.  "People have to figure out models to make this work. We are seeing the impact of models that don't work."  Fundamentally, she sees that "investing in companies that do good is a powerful way to achieve something that governments might be behind in achieving."
SOCAP 365 allows people to take problem solving into their own hands by creating and contributing to companies that do good.  Marissa explains that this advances society because historically, the model for solving people's problems has been through governments and non-profits.  With social impact investing, she explains, social enterprise is using business as a design to solve problems. It is, therefore, a self-sustaining model, which addresses the bottom line and healing the world.  Thus is born a system not dependent on contributions, but rather, active collaboration and a win-win for everyone.  
She explains that there are new models for entrepreneurship being created every day.  There are people she knows, for example, who are in the "super startup stage", who barter for what they need, trading time for time.  She recognizes this indicates a need for new time-banking models.  Companies like Bitcoin and their latest incarnation, BitPesa - which just created a payment and trading platform for Africa - are creating new models for exchange.  
Already, phone based payments are the norm in the developing world.  CGAP reports, for example, that BitPesa opens up so many possibilities to help build everything from infrastructure to utilities to delivering clean water more affordably.  This is because avoiding paper mail reduces costs, manages billing more effectively, and reduces time to make payments.  
Marissa appreciates that the "nice thing about impact investing is that the conversations travel in those circles", so the conversation about possible models continues to evolve.  As they do, our society will evolve with them.
Amber Bieg is a philosopher-inventor-ecogeek with a passion for ethical finance and a mission to create a thriving future for everyone. She has nearly 15 years of experience in sustainability marketing, systems design and sustainable development. As the principal of Green-Ideas, Amber has worked with clients such as the City of San Francisco, Autodesk and ChicoBag on strategic sustainability marketing and sustainable behavior change campaigns.
We maintain a strong staff of reporters and guest authors in various locations with an interest in your subject matter. Get in touch with us if you would like to have one of our writers present at your event to cover it and write up big picture ideas that transpire or interview conference speakers and attendees on the air. If we don't have a contributor in your area we're happy to work with someone you know.