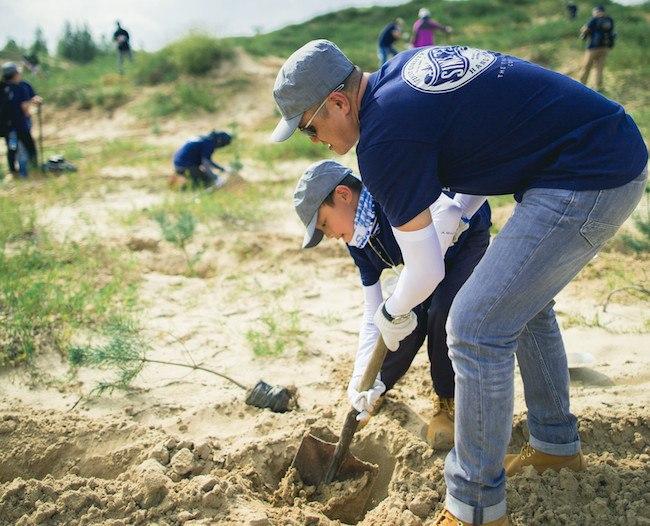 By Clair Jones
There is an obvious movement within our culture to look for meaningful work: work that allows us to live according to our values, make a difference in our communities, and incorporate service into our work life -- not just pay the bills. Businesses of all sizes are starting to take this to heart, using environmental and social-justice volunteer programs to inspire loyalty in existing staff and recruit valuable new talent.
These 10 companies are leading the charge in sustainable company culture and environmental volunteering initiatives.
Stratham, New Hampshire
Timberland, a popular footwear and outdoor apparel company, provides full-time employees with up to 40 paid volunteer hours per year, including an annual Earth Day event in April. Over 300 employees came together to complete 7 different service projects for Earth Day 2015. One project included revitalizing the Salisbury, Massachusetts Dog Park and Rail Trail, a 1.4 mile non-motorized path that provides safe outdoor recreation for locals.
"As an outdoor lifestyle brand, we are grateful to our employees and partners who are so passionate about joining in our mission to help protect the environment," says Atlanta McIlwraith, senior manager of community engagement at Timberland. "It's incredible to see the company band together for our earth day service events, and even more incredible to see the difference we've been able to make across the globe. We look forward to continuing these efforts and inspiring others to get involved in their communities around the world," says McIlwraith.
Salt lake City, Utah
https://youtu.be/7QbB2azynfw
Clearlink, a digital marketing agency, provides its employees with paid time off to volunteer for multiple environmental causes each year, working with celebrated local Utah groups TreeUtah and SaveOurCanyons, as well as larger national charities like Walk4Water.
Clearlink recently tackled one of its largest volunteer activities to date, working with TreeUtah to plant 1,200 trees at Parley's Historic Nature Park, a popular area for bird watchers, dog walkers, and community members looking to escape the city and spend time outdoors. Over 100 Clearlink volunteers planted one tree for each of the company's 1,200 employees in an effort to offset their carbon footprint and improve air quality.
"By planting these trees we were able to provide clean, fresh oxygen for more than 2,400 people across the Salt Lake Valley, ultimately creating a lasting, positive impact for future generations to come," says Tyson Olcott, public relations manager for Clearlink.
Washington, District of Columbia
Technology start-up, Optoro, reduces landfill waste by helping clients extend the lifecycle of their overstocked, outdated, or returned inventory. While their products create a more sustainable supply chain for retailers, Optoro also does its part to improve local ecosystems by providing employees with plenty of environmental volunteer opportunities.
Most recently, the Sustainability Team at Optoro teamed up with the University of the District of Columbia Center for Sustainable Development and D.C. Housing Authority to transform a vacant three-acre lot into a vibrant, useful area for local residents to learn about and interact with their environment.
"Sustainability and giving back is baked into our company's DNA," says Ann Calamai, director of sustainability at Optoro. "Not only did this community enhancement project improve the biodiversity of our ecosystem and reduce urban heat island effects, it provided a tangible benefit to D.C. residents by making healthy food and exercise more accessible."
Milton, Delaware
Dogfish Head Brewery recently built a $9 million on-site facility that will allow it to clean and reuse its waste water to clean pipes and tanks. The company also holds an annual fundraising race, called the Dogfish Dash, where employees are encouraged to volunteer to raise money for the Delaware Chapter of The Nature Conservancy. Last year's event was the brewery's 10th, which raised over $200,000 to help The Nature Conservancy protect and restore 30,000 acres of land in Delaware, securing freshwater and ocean resources for local wildlife and inspiring generations of conservation leaders and supporters.
"Everything Dogfish makes is from ingredients that are all natural and come from the earth. We want to protect open grounds, farming grounds, agricultural lands, and wild preserves, so The Nature Conservancy's cause is near and dear to our hearts," says Dogfish Head Brewery founder and president, Sam Calagione.
Seattle, Washington
Digital invitation and event management solution, Greenvelope, was founded with the goal of offering an ecofriendly alternative to paper invitations. Since the company first launched in 2008, it has donated a percentage of every sale to Mountains to Sound, a Pacific Northwest nonprofit that maintains forest along the Interstate-90 corridor, and in 2014 Greenvelope became an official member of 1 Percent for the Planet.
"Sustainability and giving back is in the core of our product and our mission," says Greenvelope founder and CEO, Sam Franklin. "We also want to do more than just help hosts save paper, but to help replenish our natural resources and give back to our communities through donations and volunteering."
Greenvelope teams up with local non-profits like Mountains to Sound and Green Seattle Partnership to offer quarterly volunteer projects where employees plant trees, remove invasive species and help maintain the green spaces in their community.
New York City, New York
UGE International has deployed renewable energy solutions in over 80 countries around the world. Best-known for putting wind turbines on the Eiffel Tower and installing solar on rooftops in China, the company also encourages its employees to give back to their local community.
Each year, UGE celebrates the week of Earth Day by offering volunteer opportunities and educational and awareness events for employees. During the 2015 UGEarth Week, volunteers participated in a rooftop garden expansion project at the Metro Baptist Church of NYC. As part of the Hell's Kitchen Farm Project, the garden donates food to local pantries to help feed the hungry.
"It was very fulfilling to have the chance to be part of bringing healthy food to those who might otherwise not be able to access fresh produce," says Jo Walton-Hespe, UGE's sustainability manager. "The project certainly brought us back to nature, and encouraged us to remember why we care so much for the planet and our community."
Denver, Colorado
DaVita HealthCare Partners, a leading provider of dialysis services, is working to reduce their carbon footprint both inside and outside of their Denver, Colorado headquarters. The company has significantly reduced paper consumption, water usage, and solid waste in 1,991 dialysis centers since setting firm sustainability goals in 2007.
Each year, DaVita hosts an Earth Day initiative where employees from around the country organize community service projects that make a positive impact on their local community and environment. In honor of Earth Day 2015, 113 DaVita HealthCare Partners employees picked up 154 pounds of trash and 1,505 cigarette butts at Manhattan Beach in California.
"It's an honor to work at a place that values taking care of our communities and world around us," says Rachel Mountin, sustainability manager for DaVita. "Teammates and their families and friends volunteered more than 5,400 hours on green projects in 2015 -- planting gardens, beach clean-up, and educating the community about composting."
Detroit, Michigan
Global facilities management company, ABM, helps clients conserve energy by lowering consumption, incorporating energy-efficient appliances and systems, and encouraging environmental stewardship through their ABM Greencare program. The company is one of the largest participants in the Environmental Protection Agency's Energy Star program, and also partners with the Green Parking Council, a non-profit that helps to plan the conversion of parking facilities to more sustainable, environmentally responsible structures.
ABM Healthcare Support Services' celebrated 2015 as its fifth year of community involvement with Greening of Detroit, a non-profit dedicated to revitalizing the ecosystem of the Metro-Detroit area through tree planting, green spaces, and urban farms.
"While our company is blessed to be able to offer monetary donations to some of these organizations, we would like to go further," says Jenny Day, marketing coordinator for ABM Healthcare Support Services. "We set up work days throughout the year where ABMers join the cause and can roll up their sleeves and work toward building, planting, feeding or educating individuals and families in need."
Marysville, Ohio
Miracle-Gro, a market leader in lawn and garden care products, kicked off their GRO1000 initiative in 2011 with a goal of supporting the creation of more than 1,000 community gardens and green spaces by 2018. Since then, they have helped plant over 500 gardens, and have donated nearly 5,000 hours of service to nonprofit organizations through their Give Back to Gro Community Service Program, which allows employees to receive two paid days off per year to volunteer in their communities.
Miracle-Gro teamed up with the Pasadena Tournament of Roses Association to provide a volunteer opportunity at Muir Ranch, a two-acre urban farm on the campus of John Muir High School in Pasadena, California. The Community Supported Agriculture project provides fresh fruits and vegetables for the high school cafeteria, as well as local residents.
"Programs, like the one at Muir Ranch, help students find inspiration in the most unexpected places," says John Vass, vice president and general manager of Miracle-Gro. "This year we want[ed] to encourage families, gardeners, and flower lovers everywhere to step outside, get their hands dirty and find an adventure in their own backyard."
Princeton, New Jersey
https://www.youtube.com/watch?v=FTDdhXljAcE&feature=youtu.be
NRG Energy's CEO David Crane recently announced the company's sustainability goals to reduce company carbon emissions by 50 percent by 2030 and 90 percent by 2050. The company is making giant strides toward this goal by opening a new environmentally-conscious workspace, slated to be finished in 2016, that will be among the most sustainable commercial sites in the country.
NRG and its employees visit Haiti every year as a part of a rebuilding effort that stemmed from the 2010 earthquake. Employees help install solar panels on sites such as hospitals and schools, to provide them with a source of sustainable power. One project that employees are particularly proud of is a solar installation donated to a medical center in Marmont, Haiti, that provides reliable, cost-effective, low-emissions energy used to improve patient care.
"NRG has had a long standing connection to Haiti – for over five years we've developed meaningful relationships with over 30 organizations, donated more than two million dollars, and positively impacted between 50,000 and 65,000 men, women and children," says Jennifer Brunelle, director of global giving for NRG Energy.
Salary, benefits, and bonuses still matter when choosing a dream job, but many of us also long for employment that lets us give back to society in a meaningful way. These 10 businesses are fostering a sustainable company culture that places value on volunteer service, helping keep their local ecosystems healthy and doing their best to minimize their impact on the environment. While they are considered innovators today, in the future we can only hope environmental stewardship will be the norm.
Image and video credits: 1) & 2) courtesy of Timberland; 3) Clearlink; 4) Optoro 5) Dogfish Head Brewery 6) Greenvelope.com 7) UGE Energy 8) DaVita Healthcare Partners 9) ABM Healthcare 10) Scotts Miracle-Gro 11) NRG Energy
Clair Jones is a freelance journalist with an interest in sustainable living and business, off-the-grid homesteading, science and technology, and related topics.
TriplePundit has published articles from over 1000 contributors. If you'd like to be a guest author, please get in touch!