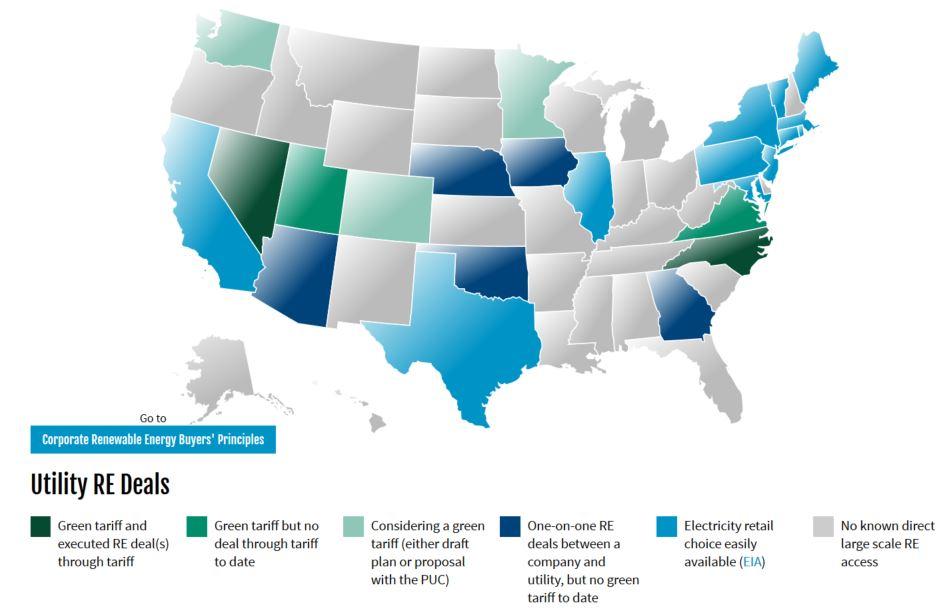 Developed by the World Resources Institute, the interactive Corporate Renewable Energy Strategy Map shows where heavy energy users can buy renewable electricity. The state-by-state map displays options at the scale companies need from local utilities and at prices Institute considers "affordable."
For companies considering where to put new facilities or expand existing ones, the map -- above -- actually lets companies compare renewable power options in various states . But my favorite feature is how the developers at the World Resources Institute (WRI) aspire to track and update the map with deals utilities are cutting with customers. That way, maybe other corporations can cut similar, or even better, deals.
Included in the state data are renewable energy mandates and tax incentives (where states have them), "green tariff" programs, and other utility or state offerings that let customers get more control over their energy costs. One upshot: The map demonstrates that states with no renewable power supplies-- the largest concentration of which are in the Southeast U.S. -- are at a distinct disadvantage in drawing billions of dollars in investments by corporation operations whose missions are increasingly linked to sourcing cleaner energy.
Letha Tawney, director of utility innovation and Polsky chair for renewable energy at WRI, says the organization will update the map as new utility products emerge. So, check back over time and watch how cleaner power becomes increasingly available on a large scale. Hopefully, utilities and states will monitor what others are doing to keep up or raise the bar with cleaner sources of electricity.
The otions presented to buyers, with each state having something different to offer, are tied to what WRI and its three partners forged as "Buyers Principles" organized for the Renewable Energy Buyers Alliance (REBA). Among the current 58 signatories are Amazon, Google, HP, Lockheed Martin, Microsoft, P&G and Volvo, to name just a few. Also involved are Rocky Mountain Institute's Business Renewables Center and BSR's Future of Internet Power project.
"If companies want to replace some or all of their traditionally-fueled electricity they buy from their utility with renewable energy such as wind and solar power -- and they want the renewable energy certificates (RECs) that match that electricity -- they have a few choices," Tawney told 3p.
And therein lies the challenge: only a "few choices." With this map and its expanding functionality, hopefully options will grow.
A shout-out from the White House
The White House on Thursday gave a
shout-out to REBA and WRI
, commending them for joining the Clean Energy Ministerial initiative to scale corporate procurement and drive additional deployment of renewables across the range of member countries in its push to secure agreements to the
Paris Climate Accord
.
If the corporate facility is in a state where users can select their supplier, companies can find one that offers renewable energy directly. "This is exactly what Facebook did in the summer of 2015," for a new data center in Fort Worth, Texas, Tawney said.
As more corporate energy buyers realize how renewable electricity costs are declining and match that with the absence of any price risks inherent with fossil fuels or nuclear, budgeting energy costs can become a lot more predictable.
"Offering a compelling renewable energy options is crucial to attracting the largest iconic brands to a community," Tawney said.
Companies move toward renewables at key buyers summit
In an interview, Tawney and her colleague Marty Spitzer, director of U.S. climate and renewable energy policy at the World Wildlife Fund (WWF), said close to 95 companies demonstrated genuine interest in renewables at a REBA summit May 18-20 at Microsoft's headquarters in Redmond, Washington.
Ten utilities sent representatives to the Summit, Tawney said, which included an opt-in, four-hour, brainstorm exercise patterned after the TV show "Shark Tank." They included Avista Corp., Berkshire Hathaway Energy, Dominion Virginia Power, DTE Energy, Duke Energy, Pacific Corp., Puget Sound Energy, Rocky Mountain Power, Xcel Minnesota and Xcel Colorado.
Stan Blackwell, director of customer solutions for Dominion Virginia Power, is the type of utility manager who participated and has been "engaging actively with several customers," Tawney said. Blackwell couldn't be reached for comment.
In another instance, Spitzer said Proctor & Gamble asked for help on buying renewables from Georgia Power for its paper manufacturing plant in Albany, Georgia. "But it didn't get very far," he said. So Georgia Power lost out, perhaps in this instance to Constellation, a unit of Exelon, which agreed to develop up to a 50-megawatt biomass plant there.
The six Buyers Principles
What follow are the Buyer Principles that WRI and WWF presented to the Summit attendees. They cover what the signatories collectively are seeking from the marketplace.


Greater choice in our options to procure renewable energy


Cost competitiveness between traditional and renewable energy rates


Access to longer-term, fixed-price renewable energy


Access to projects that are new or help drive new projects in order to reduce energy emissions beyond business as usual


Increased access to third-party financing vehicles as well as standardized and simplified processes, contracts and financing for renewable energy projects


Opportunities to work with utilities and regulators to expand our choices for buying renewable energy
Map courtesy of the World Resources Institute
Clean energy advocate, strategic marketer and story teller with 15+ years supervisory experience and a proven track record achieving strategic and program objectives for energy, utility, technology and other clients in their marketplaces and policy arenas while engaging their priority stakeholders and target audiences. I'm always on the lookout for innovative policies, people, technologies and businesses that are demonstrating how sustainability can be both healthy and profitable. Catch my blog posts at TheEnergyFix.com. I've also written for The New York Times, Houston Chronicle, The Huffington Post and TheEnergyCollective.com.