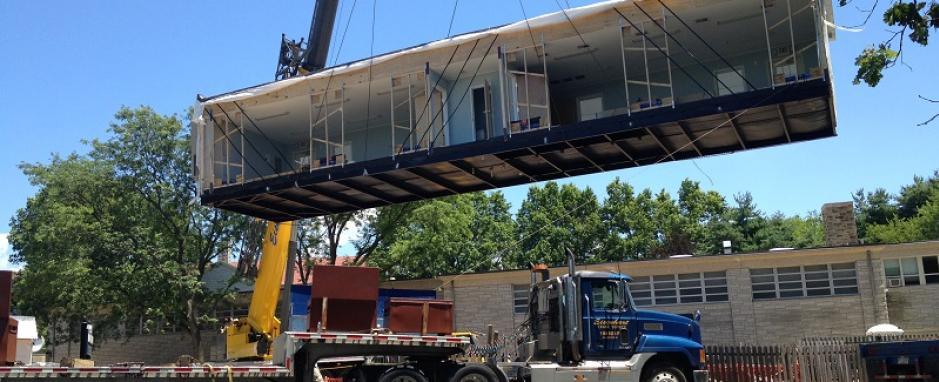 By Mark Meyers
When we think about the overflow of our nation's landfills, we probably picture limiting our food waste; recycling plastics, glass and paper; and keeping out potentially harmful hazardous waste. What we probably don't consider is one of the largest sources of waste generation, construction and demolition (C&D) waste.  It is estimated that anywhere from 25 to 40 percent of the national solid waste stream is building-related waste, with only 20 percent of C&D waste being recycled.
The U.S. Environmental Protection Agency estimated, in 2003, that 164 million tons of building-related waste was generated in the United States annually. Those are pretty staggering numbers.  But, how can we scale these down to understand the amount of construction and demolition waste generated in a typical building project?
A standard new building project produces an average of 3.9 pounds of waste per square foot.  To put this in perspective, a mid-sized 50,000 sq. ft. office building will produce 195,000 pounds of waste. That's almost 100 tons! If that project first includes building demolition, then these figures increase dramatically. This same 50,000 sq. ft. building will now be responsible for creating 4,000 tons of waste, or a staggering 155 pounds per square foot.
The modular environmental advantage
With the
rise of modular construction
as an affordable and efficient alternative to traditional construction, there is now a sustainable option for keeping tons of waste out of our nation's landfills with each new build.
Modular buildings are designed and constructed as individual sections, called "modules." The individual modules are fabricated off-site in a manufacturing plant using traditional assembly-line methods. Once the modules are built they are individually transported over the road to your construction site, and fitted together in a pre-planned order creating a finished building of any size.
The unique advantage of modular construction is that site preparation occurs simultaneous with building production at the factory.  Conventional site-built construction is often constrained by having to wait for site preparation before erection of the building can begin. This allows for a significant reduction in time to completion and occupancy.
Less material waste
In contrast to the excessive amounts of waste produced using traditional construction methods, the basic concepts behind modular construction promote efficient use of building materials.  Recent reporting from the Waste & Resources Action Program (WRAP) shows that a 90-percent waste reduction can be achieved by increasing the use of off-site construction.
With off-site construction, module units are assembled in a controlled manufacturing environment. This reduces material waste associated with poor weather conditions and construction site theft. Furthermore, excess materials from one project can be re-purposed or used on other buildings coming through the manufacturing plant, instead of being discarded at the end of a project, as they may be on a conventional construction site.
Following the off-site manufacturing process, the modular units are delivered to the construction site up to 90 percent complete.  Reducing the work performed on-site significantly limits construction waste that may be generated on the project site where it often is difficult to gather, retain, protect and re-purpose building materials.
Built for deconstruction, not demolition
Prefabricated buildings all but eliminate waste generated from demolition. Modular building systems are a prime example of
recycle, re-purpose and reuse
.  They are flexible, adaptable and essentially built to be un-built.
While a growing segment of modular construction is geared toward permanent construction (modular constructed structures not intended for relocation, just like a conventional building), many businesses still rely on temporary use of modular buildings.  Relocatable buildings are brought on-site when expansion space is needed quickly, or as swing space to house students, patients or employees during a remodel or emergency situation.  When extra space is no longer needed, the modular building is removed from the grounds and re-purposed for reuse.
Unlike traditional construction tactics, the modules are not demolished and materials are not tossed into local landfills following a single use.  Instead the used modules are refreshed, so they can be reworked and used in future projects, further decreasing the need for additional raw materials and energy to create something new from scratch.
When greener, sustainable building practices are a priority for a company, they are turning to modular construction over conventional construction for their expansion or new building.
Image credit: Vanguard Modular 
Mark Meyers is the Vice President of Marketing Services at Vanguard Modular. Mark joined team in 2001 progressing through the organization primarily through his ability to adapt, think outside the box, and communicate clearly across all levels of the organization. Mark continues to push the envelope, developing new ideas for Vanguard Modular and acting as a devoted spokesperson for the green and sustainable building practices that modular construction offers.
TriplePundit has published articles from over 1000 contributors. If you'd like to be a guest author, please get in touch!