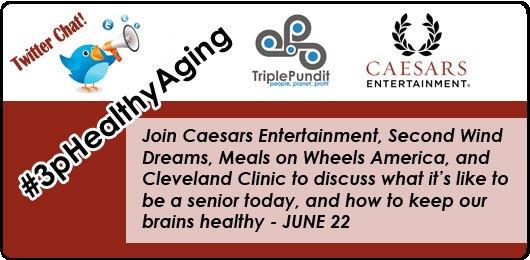 Today, TriplePundit and experts from Caesars Entertainment, Second Wind Dreams, Meals on Wheels America and Cleveland Clinic came together today at #3pHealthyAging to discuss what it's like to be a senior, how to keep our brains healthy throughout our lives, and how research is advancing our understanding of the aging process. Is Your Brain Healthy? There's an app for that!
We are a culture of youth, and yet we all get older. What's it like to age in America? What's the best way to take care of our bodies and brains? Alzheimer's is the sixth leading cause of death in America, taking the lives of more seniors than breast and prostate cancer combined. While the causes of dementia and Alzheimer's are still not fully understood, we do know that there is preventative care available to everyone, old and young.
Caesars Entertainment and its nonprofit Foundation are dedicated to helping older individuals live independently, maintain optimal health and proper nutrition, avoid social isolation, and enjoy mental and physical vitality through every stage of the aging process. Caesars also brings together stakeholders to conduct research and create broader awareness of social issues through its gifts, grants and donations.
In the #3pHealthyAging Twitter chat, we brought together a panel of experts dedicated to the health and well-being of our aging population. We focused on the following topics, and more:
Here's the full chat synopsis!
FEATURED GUESTS:
About Citizenship at Caesars
Caesars Entertainment and its affiliates advance responsible business practices while inspiring employees, guests, partners and communities to share in making a positive impact. Over the last decade Caesars has made significant progress in its top 10 priority Corporate Citizenship areas, which include creating memorable experiences for guests; leading Responsible Gaming practices in the industry; creating a supportive, diverse workplace; advancing environmental stewardship and supporting local communities; and caring for employees. For more information, please visit http://caesarscorporate.com.
About Meals on Wheels America
Meals on Wheels America is the oldest and largest national organization supporting the more than 5,000 community-based programs across the country that are dedicated to addressing senior isolation and hunger. This network exists in virtually every community in America and, along with more than two million staff and volunteers, delivers the nutritious meals, friendly visits and safety checks that enable America's seniors to live nourished lives with independence and dignity. By providing funding, leadership, education, research and advocacy support, Meals on Wheels America empowers its local member programs to strengthen their communities, one senior at a time. For more information, or to find a Meals on Wheels provider near you, visit www.mealsonwheelsamerica.org.
About Second Wind Dreams
Second Wind Dreams is an international, nonprofit organization committed to changing the perception of aging through the fulfillment of dreams and educational programs that help us understand the challenges facing those with Dementia. Founded in 1997 by geriatric specialist P.K. Beville, M.S., the Atlanta-based organization is recognized as the first in the nation to focus on enhancing the quality of life for elders and changing society's perception of seniors by making dreams come true. Affiliated with more than 1000 elder care communities in the United States, Second Wind Dreams has made thousands of dreams come true for seniors living in the United States, Canada, India, Israel and other countries around the world. Its educational program, known as the Virtual Dementia Tour, is a scientifically proven method of training designed to build sensitivity and awareness in individuals caring for those with dementia. For more information about Second Wind Dreams visit www.secondwind.org.
About Cleveland Clinic Lou Ruvo Center for Brain Health
Cleveland Clinic Lou Ruvo Center for Brain Health provides state-of-the-art care for cognitive disorders and for the family members of those who suffer from them. The physicians and staff at the Center for Brain Health continuously work towards the development of early diagnosis and the advancement of knowledge concerning mild cognitive disorders, which could one day delay or prevent their onset.  Patients receive expert diagnosis and treatment at the Center for Brain Health, which offers a multidisciplinary patient-focused approach to diagnosis and treatment, promoting collaboration across all care providers, offering patients a complete continuum of care and infusing education and research into all that it does. The facility, designed by Frank Gehry, houses clinical space, a diagnostic center, neuroimaging rooms, physician offices, laboratories devoted to clinical research and the Keep Memory Alive Event Center. For more information, visit clevelandclinic.org/brainhealth.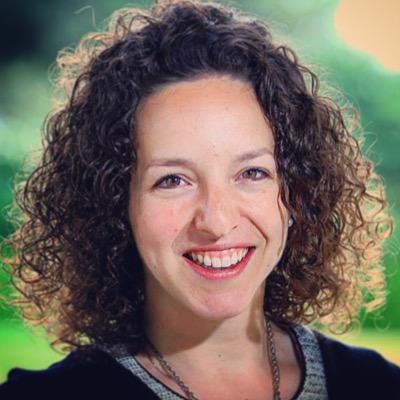 Marissa is the Owner of Climate Social, LLC. She holds a bachelor's degree in communications from Mizzou and a master's in environmental studies from UPenn.