Today, Symantec, Ben & Jerry's, Net Impact and TriplePundit discussed the corporate response to racism and social inequality in America at #BLMandBeyond!
Racial tension in America is at a high unseen in decades. While the call for equality comes from the highest ranks, there's a social and political revolution underway. There is no doubt that it's on the minds of most employees when they come to the office.
In this Twitter chat we examined how companies should respond to national controversies like police violence and the Black Lives Matter movement to best support employees. We also discussed how companies can work to improve equality by increasing diversity in their ranks directly.
TriplePundit teamed up with Symantec to offer this Twitter chat as a learning opportunity for all, including ourselves!
During #BLMandBeyond, discussed the following and much more:


Should ethically-minded companies do something regarding the #BlackLivesMatter movement?


What does it mean to be an "active ally?"


How can we best support employees of color during times of societal strife?


Does systemic racism belong in corporate sustainability reports?


Are Diversity + Inclusion numbers HR's responsibility or does the the responsibility lie in the C-suite?
This Twitter chat accompanies our ongoing series on the Black Lives Matter movement.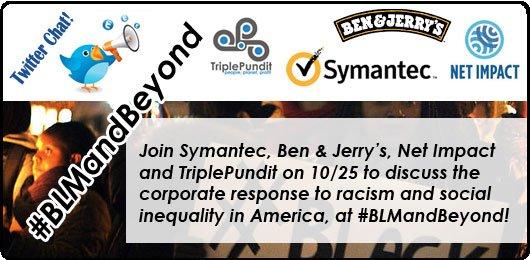 FEATURED GUESTS:


Cecily Joseph (@CecilyJosephCR) -

VP of Corporate Responsibility, Symantec



Chris Miller (@cmwdc) -

Social Mission Activism Manager, Ben & Jerry's



Liz Maw (@LizMaw) -

CEO, Net Impact
MODERATORS:
---
About Symantec
Founded in 1982, Symantec has evolved to become the global leader in cyber security, with more than 11,000 employees in more than 35 countries. Operating one of the world's largest cyber intelligence networks, Symantec sees threats, and protects customers from the next generation of attacks. Symantec helps companies, governments and individuals secure their most important data wherever it lives.
About Ben & Jerry's
From a renovated gas station in Burlington, Vermont, to far-off places with names we sometimes mispronounce, the journey that began in 1978 with 2 guys and the ice cream business they built is as legendary as the ice cream is euphoric. Now, the company works to preserve, protect, and expand Ben & Jerry's social mission, brand integrity and product quality, by providing mindful insight and guidance to ensure its making the best ice cream possible in the best way possible.
About Net Impact
Net Impact mobilizes the next generations to use their skills and careers to make a positive impact on the world. Net Impact is a global community of students and professionals who aspire to be effective drivers of social and environmental change. Its programs—delivered from its headquarters, as well as globally through our student and professional chapters—give its members the skills, experiences and connections that will allow them to have the greatest impact now and throughout their careers. Over 100,000 strong, Net Impact takes on social challenges, protects the environment, invents new products and orients business toward the greater good.
Image credit: Courtney Hobbs/Unsplash