Today, C&A Foundation, LaborVoices, Project Just, and TriplePundit came together at #FashionTransp, to take a look at transparency in the fashion and apparel supply chain.
Fashion is one of the largest industries in the world with many moving parts. It can be difficult to navigate, especially for those who are on the ground doing the work. Traceability is about the where. Transparency is about the what, who and how. These two concepts are key to improving environmental and workplace conditions in fashion supply chains; and the ultimate goal is always accountability.
Over 100 years ago, the first fledgling calls for business transparency were heard in grueling textile mills where children worked intolerable schedules in place of school. Today, transparency figures into every business sector. Businesses know that consumers care not just about what they buy, but also the values the company puts to work -- and they are willing to ask for accountability!
During #FashionTransp, we discussed the following and much more: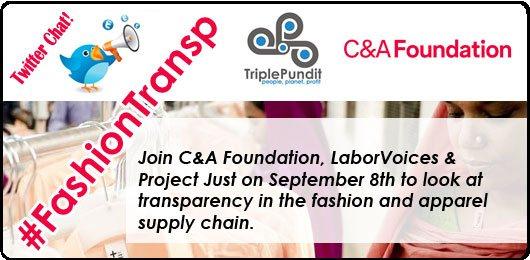 FEATURED PANELISTS
About C&A Foundation
C&A Foundation is the corporate foundation affiliated with global clothing retailer C&A. They are working to transform the fashion industry by providing partners with financial support, expertise and access to networks in order to drive change. C&A Foundation's work focuses on four areas that they believe will have the biggest impact for people: accelerating sustainable cotton, improving working conditions, eradicating forced and child labour and strengthening local communities.
Image credits: Norwood Themes and Marten Bjork via Unsplash