Today, C&A Foundation, Remake, Freedom Fund, and TriplePundit came together to delve into the conversation of forced labor – an issue that still plagues supply chains around the world.
During the #ForcedFashion chat, we discussed the following and much more!


different types of bonded and forced labor


industries where this practice is still occurring


how brands, specifically in fashion, are combating forced labor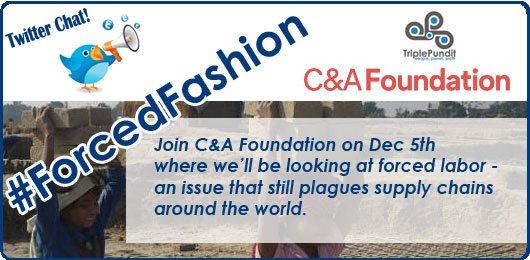 FEATURED GUESTS:


Anindit Roy Chowdhury (@CandAFund) - Programme Manager Gender Justice & Human Rights C&A Foundation


Ayesha Barenblat (@remakeourworld) - Founder of Remake


Ginny Baumann (@Freedom_Fund) - Senior Program Officer, The Freedom Fund
About C&A Foundation
C&A Foundation is the corporate foundation affiliated with global clothing retailer C&A. They are working to transform the fashion industry by providing partners with financial support, expertise and access to networks in order to drive change. C&A Foundation's work focuses on four areas that they believe will have the biggest impact for people: accelerating sustainable cotton, improving working conditions, eradicating forced and child labour and strengthening local communities.
Image credits: Norwood Themes and Sara Kurfeß via Unsplash