Roughly a third of all food produced globally goes to waste. In the US, this figure is closer to 40 percent—at a cost of more than $160 billion annually. If food waste were a country, it would be the world's third largest greenhouse gas emitter.
Figures like these are enough to put anyone off their lunch, especially when considering the 850 million people around the world who are chronically undernourished. Looking to stop the madness once and for all, the United Nations called for a worldwide 50 percent reduction in per-capita food waste between 2015 and 2030, as part of the Sustainable Development Goals (SDGs).
One country, Norway, is going even further. "Our goals are more ambitious than the UN because we are going to reduce food waste by half, all the way down the value chain," Vidar Helgesen, Norway's minister for climate and the environment, told the Guardian.
Last summer, the Norwegian government struck a deal with food purveyors and manufacturers aimed at driving solutions to help them reach their collective goal. "We are collaborating with all the actors in the food industry," Helgesen told the paper. "We are setting targets, and how the industry gets there is up to them. We are unleashing innovation."
The Scandinavian country is targeting a 15 percent cut in food waste by 2020 and incremental reductions leading up to the 2030 finish line. Fresh ideas to help them get there are already going live across the country—and they can serve as an example for other nations around the world.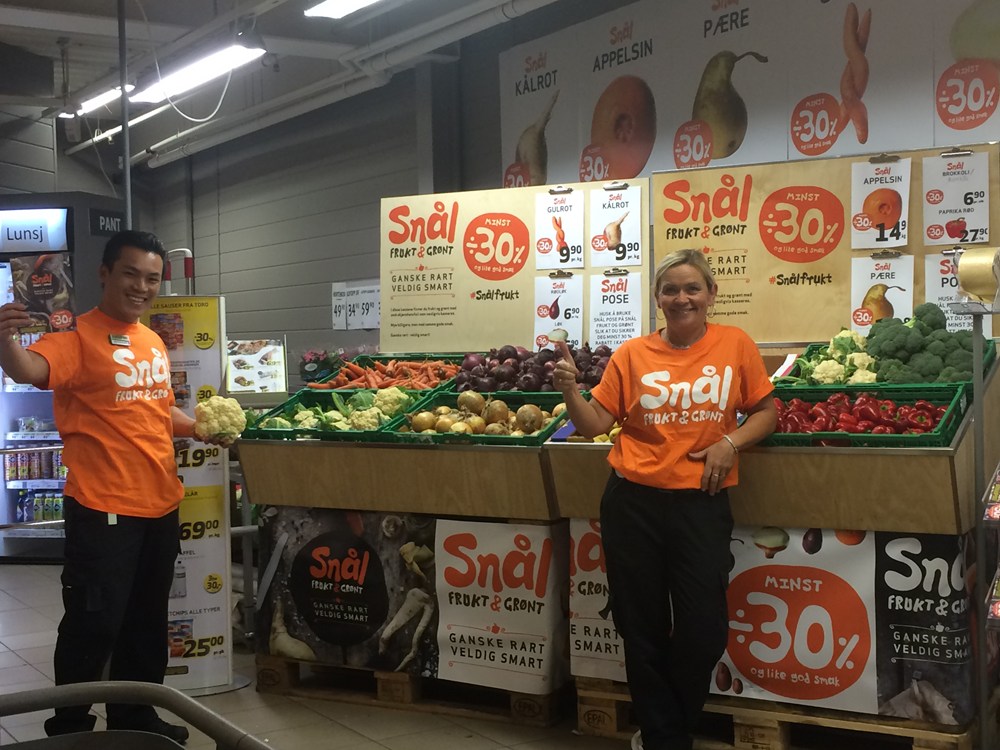 Image: Norwegian startup grocer SNÅL frukt & grøn sells misshapen produce at a discount.
Norway drives innovation to cut food waste
In developing countries, where food is more expensive and thus culturally more valuable, most waste happens on the farm field or in transit. But in Western countries, where the vast majority of waste happens down the supply chain, changing consumer mindsets and improving food management at businesses is the key to cutting those figures down to size.
Norway's public-private collaboration has sparked a host of simple yet impact-driven initiatives to do just that. The online platform Bestfør.no digitally tracks products' sell-by dates and helps grocers identify food at risk of spoilage. The consumer-facing app Foodlist asks shoppers to photograph foods near the end of their shelf life and tells other shoppers where they can find at-risk food. Like a growing number of retailers in the US, startup grocer SNÅL frukt & grøn began selling misshapen produce and off-colored eggs at a 30 percent discount.
Additionally, a growing number of food manufacturers and grocers are changing the way they sell and label food. In January, Norway's largest dairy cooperative, Tine, swapped the standard expiration date on its milk cartons to a label reading, "Best before, but not bad after."
Companies like the dairy brand Q-Meieriene and egg producer Prior pioneered the practice last year. According to Q-Meieriene, nearly one-third of Norwegians have thrown away milk on the expiry date without checking to see if it's still good, prompting the company to take action, the Daily Meal reported.
Tine credited its competitor for the idea, and Q-Meieriene's CEO said the company is happy to see industry peers follow suit. "Food waste is a major societal challenge and we have a common interest in reducing food waste in Norway. Therefore, it is very positive that we can stand together on common labeling," Q-Meieriene CEO Bent Myrdal told the Daily Meal. The new label now appears on perishable products like milk, eggs, juice and yogurt across Norway.
Best Før supermarket in Oslo is taking on food waste—it keeps foods on store shelves for weeks after their best-by date and sells them at discounted prices. The pop-up grocer is an offshoot of the mainstream Lentusgruppen chain, and it's the first of its kind in the city.
"Most supermarkets won't buy products that are within 10 days or so of their expiry date—it often has to be wasted," Naeeh Ahmed, operations manager at Best Før, told the Guardian last year. "We thought, 'Why don't we make a place that has that kind of product, that will be beneficial to every party: the consumer, the supplier, and us. A win-win for everybody."
The concept is already catching on elsewhere. The East of England Co-op, the largest independent retailer in the East Anglia region of the United Kingdom, began a similar program in December. It now sells canned and dried foods past their best-before date for a mere 10 pence (around US13 cents).
The U.S. looks to standardized food labels
On this side of the pond, grocers and manufacturers are looking to standardize food labeling in order to tackle food waste. In the U.S., food packages have more than 10 different date labels, ranging from "use by" to "expires on" to "best before," causing understandable confusion among consumers, reports FoodTank.
The Harvard Law School Food Law and Policy Clinic and the Natural Resources Defense Council (NRDC) promoted standardized food labels in a 2017 policy paper. They suggested using only two date labels—"best by" for quality and "use by" for food safety—and pushed for better efforts to educate consumers about the meaning of each label. The change could save 398,000 tons of food annually and return $1.8 billion in economic value, the paper concluded. The U.S. Department of Agriculture (USDA) made a similar recommendation in December 2016.
In March of last year, two prominent food industry organizations—the Grocery Manufacturers Association (GMA) and the Food Marketing Institute (FMI)—put the suggestion into action, calling on their members to voluntarily adopt the two-label system.
"Eliminating confusion for consumers by using standard product date wording is a win-win because it means more products will be used instead of thrown away in error," Jack Jeffers, vice president of quality at Dean Foods, which led GMA's work on this issue, told FoodTank. "It's much better that these products stay in the kitchen—and out of landfills."
Last fall, the Consumer Goods Forum, a network of the world's largest food and consumer goods companies—including Walmart, Kellogg, Nestle, Campbell Soup and Amazon—followed suit. In addition to streamlining labels, the Forum asked its members to partner with nonprofits and government agencies to educate consumers about how to interpret the dates on their food.
"This is an issue that can only truly be tackled by collaboration across the value chain," Peter Freedman, managing director of the Consumer Goods Forum, said in a statement. "We believe simplified and consistent date labelling will help us get one step closer to meeting [the Forum's] resolution to halve food waste by 2025 while also helping reduce confusion for consumers."
The move is part of Champions 12.3, a coalition of governments, businesses, nonprofits and civil society leaders united around SDG 12.3—to halve global food waste by 2030.
"The Sustainable Development Goals have given us a historic opportunity and we must rise to the challenge," Hans Hoogeveen, ambassador and permanent representative of the Netherlands to the UN Organizations for Food and Agriculture, said in a statement. "Of all the SDGs, Target 12.3 is the only one to my knowledge that is being advocated by a coalition like Champions 12.3 with leaders from every sector mobilizing action to achieve success. We stand a great chance, but a lot of work remains."
The bottom line
Most of the solutions with the greatest potential to reduce food waste are simple tweaks that nudge consumers toward a different mindset about food. Despite our best efforts, changing cultural norms will take time, but we'll need efforts like these and more if we hope to halve food waste by 2030.
"It is good to see clear signs of momentum building behind the movement to tackle food loss and waste," Liz Goodwin, senior fellow and director of food loss and waste at World Resources Institute, said in a statement. "However, 2030 is only 13 years away, and more is needed. We now have a roadmap for how to cut in half the more than 1 billion tons of food that goes uneaten each year, and it's vital that governments and the private sector everywhere put it to use."
Image credits: Vishang Soni/Unsplash and SNÅL