When it comes to advocacy, companies have a choice to make. They can subscribe to economist Milton Friedman's view that "the social responsibility of business is to increase its profits", and that using corporate resources to advocate for social causes is not appropriate. Alternatively, they can recognize that companies are merely facets of society, comprised of people who must live and thrive in the same human-rights battlegrounds as activists, journalists and politicians.
Many companies have already acknowledged this fact, and have joined in the movement to create a society that will enable them to succeed. Nowhere is this more apparent than in the global struggle to advance the rights of lesbian, gay, bisexual and transgender (LGBT) people. Recent political developments—the election of Donald Trump as US president foremost among them—have cast doubt over the dramatic progress made in LGBT rights. Corporate executives are beginning to wake up to this fact: 57% of executives in this year's iteration of The Economist Intelligence Unit's annual Pride and Prejudice survey agree that "if left unchallenged, the current global political climate could undo progress made in LGBT inclusion." Respondents in North America, where the election of Mr. Trump shocked many in the business community, perceive this trend particularly acutely.
Yet amid the conflicts over race, religion, gender, ethnicity and nationality that flood newspaper headlines on a near-daily basis, many fear LGBT rights will be overshadowed. Our executive panel suggests these worries may be justified: only 6% believe LGBT rights are being most negatively impacted by the current global political climate. Only 5% selected LGBT rights as the area in which the public will demand the most change this year.
It is precisely for this reason that LGBT-friendly companies cannot afford to grow complacent in the belief that society will continue to progress in a favorable direction. Among executives that believe companies will become more prominent as agents of progress for LGBT rights in three years' time, the majority cited "increasingly positive attitudes toward LGBT people in society" as the main reason for this shift. Yet this rose-tinted future is hardly guaranteed—research released in January by GLAAD, a non-governmental organization, showed public tolerance of LGBT people in the US decreasing for the first time in four years. Meanwhile, the Trump administration has launched fresh assaults on transgender rights, and persecution against LGBT people overall has risen to alarming levels in other places, from Indonesia to Chechnya.
Companies can and should speak out. Advocacy can take various forms, from advertising campaigns depicting LGBT people to donations to local LGBT-rights organizations. Exercising influence via business networks is also a promising tactic. Hong Kong's LGBT+ Interbank Forum, for example, brings together a multitude of voices in pushing policies with the local government, which has not proven particularly receptive to LGBT causes. Groups like these can also facilitate knowledge transfer between companies with established track records on LGBT rights and their peers that are just starting out on their advocacy journeys.
This is particularly crucial given that companies that do not consider themselves role models for LGBT diversity and inclusion also generally do not expect the environment for advocacy to get more amenable, according to our survey. In other words, companies that are currently "in the shadows" on this issue expect to stay there in future. This places all the more onus on the shoulders of advocacy champions to take the lead in educating the overall corporate ecosystem about the importance of pushing LGBT-friendly practices and policies.
There is much they can teach: the survey suggests companies engaging publicly on LGBT rights may outperform their peers on various business competitiveness factors. This is hardly surprising; LGBT inclusiveness within companies has been shown to associate with increased innovation, productivity and stock performance. There is no reason to believe that external LGBT-friendliness would correlate with corporate strength any less so than the internal variety.
Having the confidence to be an advocate is often the natural by-product of an inclusive company culture; many of the strongest LGBT champions hardly consider their advocacy work to be a choice at all, but rather part of their corporate DNA. Yet there is little denying that this kind of open, diverse mindset that underpins LGBT rights is under assault the world over. No company, even the most forward-thinking, can insulate itself from these pressures. Companies indeed have a choice, and it is incumbent on them to play their part in ensuring that the simple desire of people to be able to love who they wish to love, and to identify with the gender they feel rather than that assigned to them, remains protected the world over.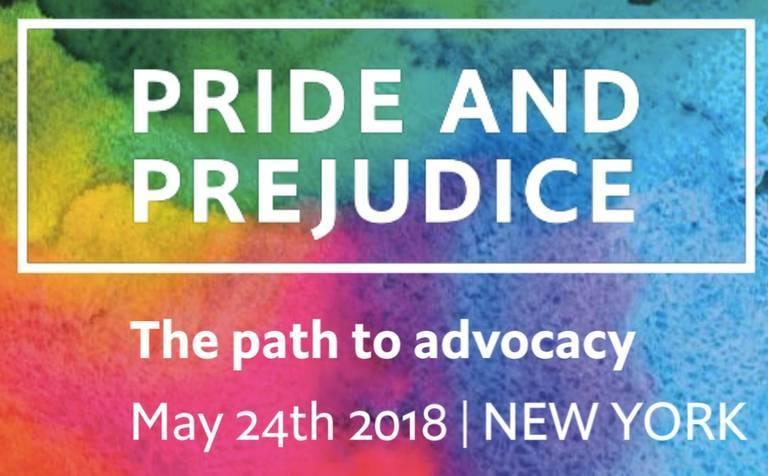 On May 24, 2018, The Economist Events will host its third annual Pride and Prejudice Summit, a 24-hour event hosted by The Economist Events across three cities – Hong Kong, London and New York. This year's summit will continue to challenge and push forward the global conversation around lesbian, gay, bisexual and transgender (LGBT) diversity and inclusion, with a focus on evaluating how advocacy can translate these discussions into meaningful action to improve the legal rights and societal treatment of LGBT people worldwide.
Pride and Prejudice is sponsored by AlixPartners, Morgan Stanley, T. Rowe Price, William Blair, Goldman Sachs, ABN AMRO Bank N.V., American Airlines, Biogen, Nomura, Ogilvy & Mather, Heidrick & Struggles, Manulife Financial Corporation and the United Nations Development Programme. Porter Novelli and Kreab are the public relations partners.
For more information on the full program and speakers, visit the event website.
Image credits: Sharon McCutcheon and Ana Moreno via Unsplash