As is often said, the most sustainable item is one that already exists. Fortunately, resale and re-commerce are booming in the retail segment, and a host of major brands are already involved. To help you lighten the footprint of your holiday shopping this year, we rounded up where to find secondhand gifts that your friends will actually like (you're welcome).
Related: TriplePundit's Sustainable Holiday Gift Guide
REI
Most outdoor enthusiasts are familiar with REI's quarterly garage sales. But if you don't live near an REI store (or aren't brave enough for those lines stretched around the block), the outdoor gear brand has you covered.
Back in 2017, it linked up with Yerdle—a California benefit corporation that designs collection and resale platforms for major brands—to bring its famous sales online. (Yerdle also powers re-commerce for several other names on our list, including Patagonia and Eileen Fisher.) Expanded again earlier this year, REI's secondhand shop includes hundreds of gently used items—from outdoor apparel and footwear to tents, sleeping bags and backpacks.
Patagonia
Patagonia sells gently used outdoor gear and clothing for men, women and children in its online Worn Wear shop. In November, the certified B Corp expanded its foray into reuse and re-commerce with the ReCrafted collection made from goods deemed too damaged to be sold in its secondhand store. Each ReCrafted piece is one of a kind and as durable as new.
Better World Books
Every purchase at online used book seller Better World Books supports literacy initiatives in the U.S. and around the world. The company donates a book for every book purchased through partners like Books for Africa and Feed the Children, and it has raised more than $28 million for libraries and literacy initiatives since 2003.
Taylor Stitch
Casual apparel brand Taylor Stitch offers a buyback program for its old garments and resells them online for a fraction of the price of buying new. Along with the gently used items in its Restitch shop, the brand creates workwear from garments too far gone to resell.
Eileen Fisher
B Corp fashion brand Eileen Fisher has collected more than 1.2 million garments since launching its take-back program over a decade ago. Gently used items are resold in the Eileen Fisher Renew shop, while well-worn pieces are remade into new designs as part of the Resewn Collection.
Etsy
Along with handmade goods, Etsy's marketplace features thousands of vintage and secondhand items—from vinyl records and housewares to toys and games—shipped from independent sellers around the world. Every Etsy shipment is carbon neutral, and the company plans to be powered by 100 percent renewable energy and send zero waste to landfill by the end of next year.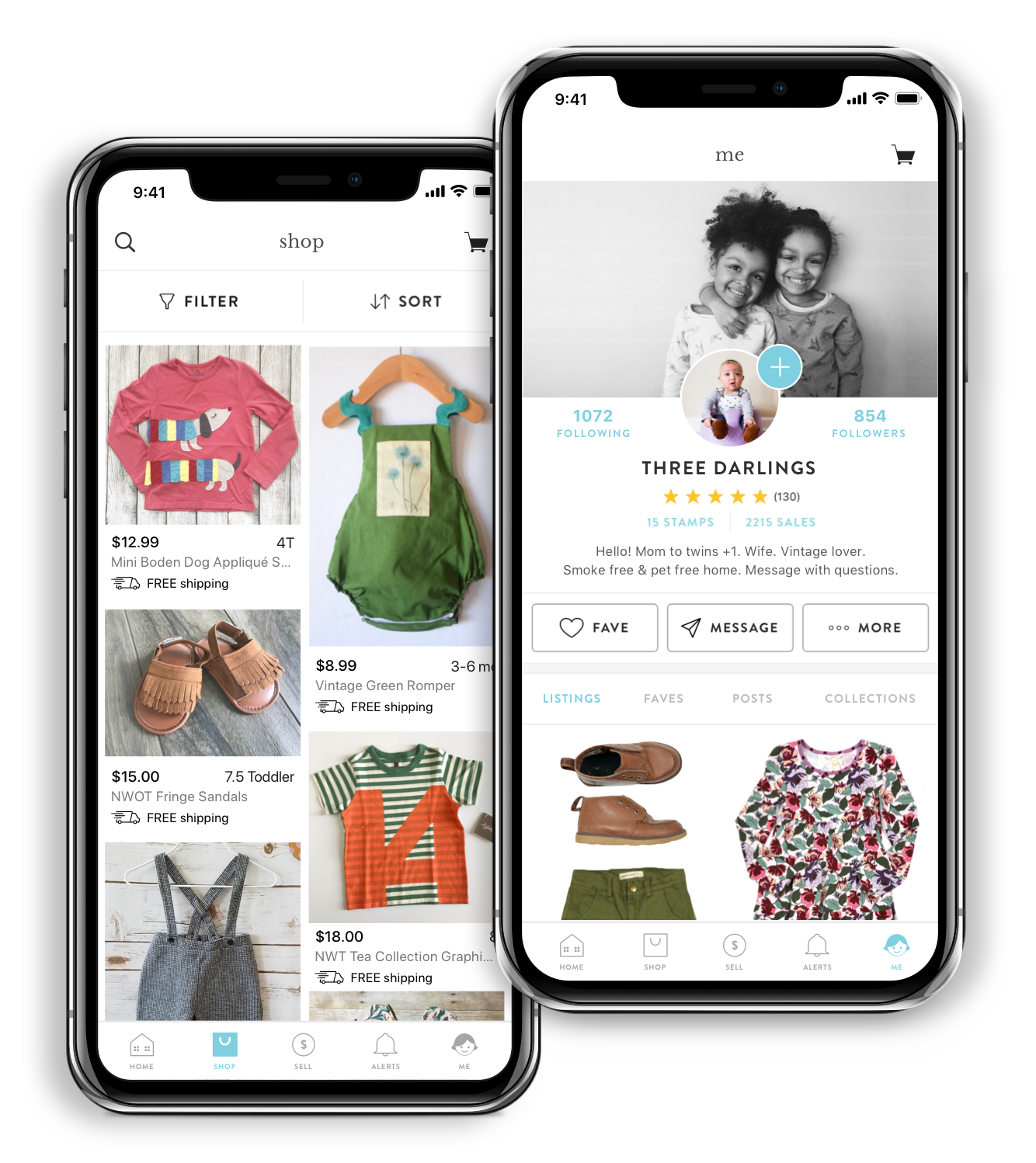 Kidizen
As well as an online marketplace for independent sellers to create and run their own boutiques for children's clothes, Kidizen is a community for moms to connect with one another. Shop online, or use the app for iPhone or Android.
The North Face
The North Face launched its re-commerce platform, The North Face Renewed, in 2018 and has since helped more than 37,000 pounds of used outdoor clothing find a new life.
The brand's parent company, VF Corporation, is eyeing re-commerce as a key trend in the apparel space and plans to launch similar platforms across its family of brands, which includes Vans, Timberland and Dickies.
The Renewal Workshop
Like Yerdle, the Renewal Workshop manages the infrastructure that allows major brands to resell secondhand items online. It works with companies like The North Face to run reuse shops on the brands' own websites and also sells used items in its own shop. You'll find apparel from labels like Prana, Indigenous and Mara Hoffman, as well as backpacks and luggage from Eagle Creek.
Arc'teryx
Arc'teryx offers buybacks for gently used outdoor apparel and sells it online at steep discounts, freeing up space in people's closets and finding a new life for durable goods.
Comma
In a slightly different way to buy used, this curated subscription box service features vintage menswear and accessories shipped monthly or quarterly. The boxes come in varying sizes—from two to six items per box—and are tailored according to a lifestyle survey to make sure no one ends up with stuff they don't want.
A Curated Thrift
Like Comma, A Curated Thrift is a clothing subscription box for vintage and secondhand items for both women and men. Decide how many items go into the box, and choose from several styles to suit every taste.
Image credits: REI/PR Newswire and Kidizen