Global manufacturers and consumers now create around 300 million tons of plastic waste annually, roughly the weight of the entire human population, according to U.N. Environment. Every year, more than 8 million tons of it ends up in our oceans, which—at this rate—will contain more plastic than fish by 2050. As concern over plastic pollution grows, stakeholders are calling on companies to embrace a circular economy—in which materials are infinitely reused and nothing becomes waste.
In this area, multinational technology company HP has been quietly working on solutions with one of its best known products, ink cartridges—and now it's moving on to more products that utilize circular technologies. This week, the company unveiled the HP Elite Display, which it bills as the world's first display monitor made with "ocean-bound plastic."
The new display contains plastic sourced from refuse collectors in Haiti, who earn a living by removing waste from ecosystems and waterways before it can reach the ocean. We spoke with Ellen Jackowski, global head of sustainability strategy and innovation for HP, to learn more.
Ink cartridges and the social side of plastic pollution
For more than 15 years, HP has collected empty ink cartridges for free at retail locations such as Staples, Best Buy and Office Depot. Its team invented a disassembly machine to take the cartridges apart and separate plastic and metal components for recycling. The plastic pieces are fortified with material from recycled plastic bottles to increase strength, before they're turned into new ink cartridges and sold back into the marketplace.
HP now recycles 1 million plastic bottles every day through this process, Jackowski told us at the Sustainable Brands conference in Detroit this week. "The volume is significant," she said. "And with that volume, there was an opportunity to do more."
The company connected with Thread International, a certified B Corporation that works with self-employed refuse collectors in Haiti to source plastic for new products. This model addresses not only the environmental impact of plastic waste, but also the social component—which is often less discussed.
Think of it this way: Western countries have successfully exported our make, take and dispose culture of single-use packaging to developing nations. But we've done little to ensure these countries have the waste management infrastructure necessary to deal with it. Without municipal garbage pickup, single-use plastic packaging ends up as litter. Winds and rains carry it into waterways and, eventually, to the ocean.
In Detroit, Jackowski showed us photos from her recent trip to Haiti, which depict canals choked with plastic packaging—making it painfully clear how our single-use culture impacts quality of life in countries already battling the effects of poverty. "We thought about shifting some of our supply chain," she told us. "Instead of buying that 1 million bottles a day from the North American plastics market, what if we bought some of it from Haiti?"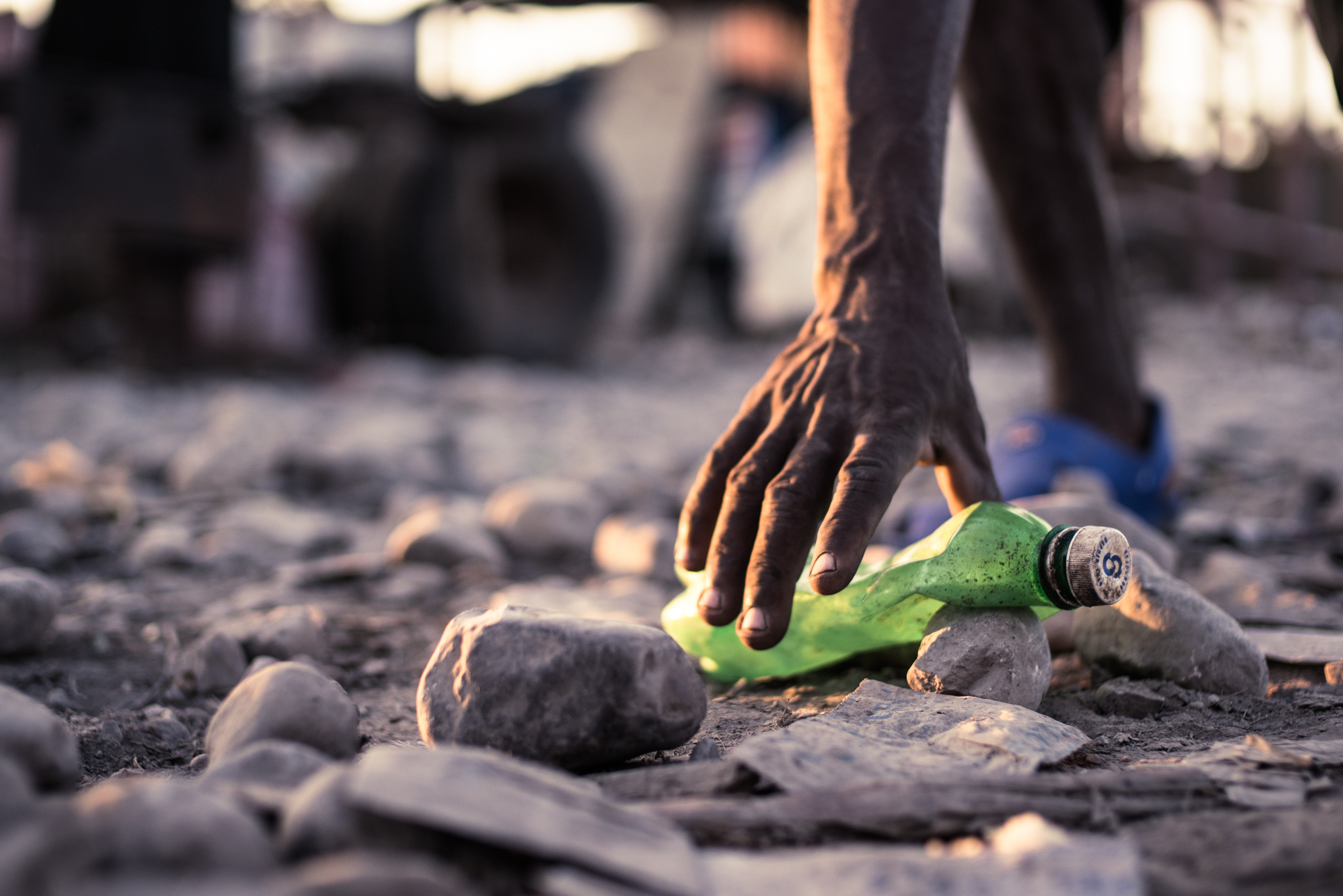 Circularity in Haiti: Building circular models at scale
Notably, HP worked with Thread to address a specific pain point: Several popular Haitian beverages are packaged in opaque, dark-colored bottles. The resulting material has low value in the recycling market, but for the black plastic casing on HP's ink cartridges, it works as well as anything else. By purchasing this type of plastic, HP helps to increase its value—meaning collectors and recyclers can earn more for it.
Since announcing the partnership in September 2016, HP has created nearly 800 income opportunities for Haitian refuse collectors, who are paid a living wage. It's also sourced around 25 million plastic bottles and transformed them into new ink cartridges. "In some respects, this number is insignificant when you consider 8 million metric tons of plastic flowing into the ocean every year," Jackowski said. "But for a company to set up a sustainable supply chain process and stay with it month after month, it's a pretty huge number."
To continue to scale its work in Haiti, the company invested $2 million in a washing line that will allow its partner recycling center to accept more plastic—and employ more people. "We're estimating over 1,000 new income opportunities with this washing line," Jackowski said. The company also holds regular meetings with Haitian collectors and invests in education and other resources through a local nonprofit called Work.
"For us to extend our $50 billion supply chain and put this type of effort in at the very first mile, it's a whole new way for our supply chain to function," Jackowski told us. "This is disruptive. This is doing business differently."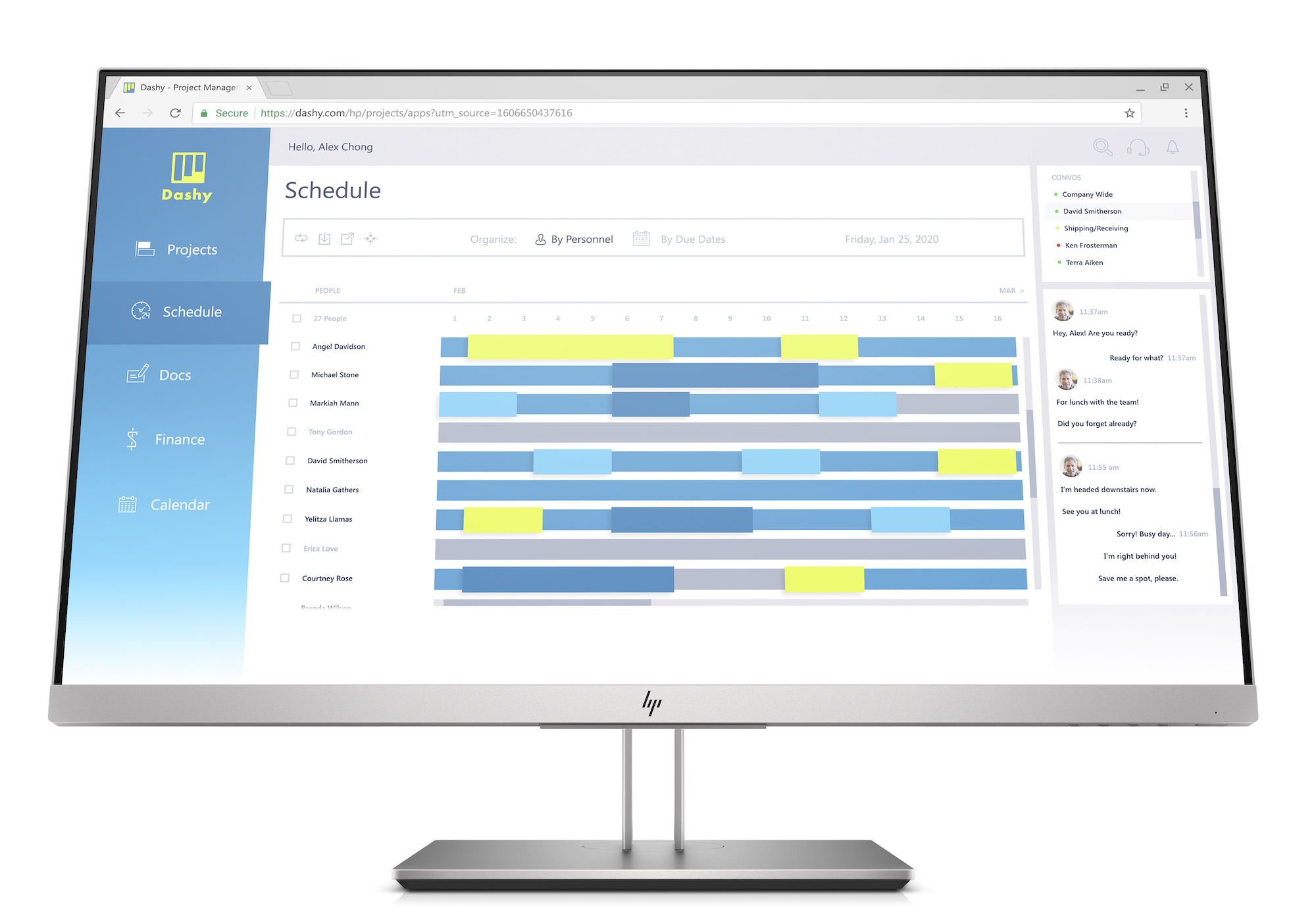 New products bring new opportunities
The new Elite Display represents the next phase of HP's work in the circular economy, graduating from a somewhat mundane product like an ink cartridge to a flashy piece of technology with the potential to draw consumer interest.
More than 10 parts in the new monitor contain ocean-bound plastic, including the back panel, plastic display and web camera, equating to about three bottles per display. "This is a huge innovation," Jackowski told us. "We figured it out—how to remove the contaminants, how to maintain the same performance quality so there's no tradeoff in using this type of plastic, and how to do it while thinking about the connection between ocean plastic pollution and poverty."
The company is sharing what it learned by joining NextWave Plastics, a partnership launched in 2018 by the Lonely Whale Foundation to establish global supply chains for ocean plastic. "We've learned things that we want to share," Jackowski said. "We're working with groups like NextWave to be able to leverage that knowledge and open-source it so other companies can replicate it."
In the coming years, HP intends to keep scaling its use of ocean-bound plastic from Haiti, with the ultimate goal of creating similar collection models elsewhere around the world. "This process is going to last for the long-term," Jackowski concluded. "It isn't something that is one proof point, where we did one product and it was a great example and it made a great story. This is a strategy for how we're innovating for the future. It started with our ink cartridges, moved now to our personal systems products, and there will be more to come."
Images courtesy of HP and Thread International