(Image: Apparel industry insiders discuss sustainability and sustainability communication at a side event during Climate Week NYC.)
Life in 1950s America is perhaps best characterized by the popular idiom "keeping up with the Joneses." Social status was, in large part, determined by accumulation of material goods, as families strived to purchase that new washer and dryer or television set before the neighbors next door.
In the more than six decades since, our march toward a consumer-driven economy has ballooned into a make, take and dispose system dominated by single-use goods that now fill landfills and spill out into our oceans. But after decades of "buy, buy, buy," research indicates that Americans may be ready for a change.
Case in point: Brand and social innovation consultancy BBMG recently surveyed more than 2,000 Americans to find out what matters most to their quality of life. More than 9 in 10 (95 percent) said that "having meaningful relationships with others" is what's most important, while just half said the same about "having a lot of money" (54 percent) or "being able to afford luxury goods" (44 percent).
People were also more inclined to rank "achieving overall happiness despite life's challenges" and "living a healthy, balanced life" over traditional status symbols like "owning a home" or "owning a car."
"If that's what consumers want, how do we use the power and influence of brands to solve for it?" Raphael Bemporad, founder of BBMG, said at a side event co-hosted with 3BL Media during Climate Week. "As a consequence of our consumption economy, we now have a planet in peril, we face rising income inequality, and in many ways we're at a tipping point of what's going to happen to our species."
At BBMG's headquarters in Brooklyn, Bemporad spoke alongside industry leaders from the apparel industry, who discussed how this sector is addressing market shifts toward "meaning over materialism." It's fitting, really, as the fashion industry is arguably both at the epicenter of our consumption culture and among those most attuned to changing consumer appetites.
"This is one of those industries that is super responsive to culture," said Matt Jacobs, sustainability officer for Darn Tough, a sock company based in Vermont. "It's probably more able to change than any other industry I see out there because it is so responsive and dictated by what the consumer demands."
Consumers are looking for sustainability and social impact
Although consumers continue to seek out standard product characteristics like value and convenience, sustainability and social impact are emerging as key differentiators, according to BBMG's research.
In other words: When deciding between similar products, more consumers will choose the item that leaves less impact on people and the planet. In particular, respondents said they're more likely to buy a product that is traced to origin or locally made, bears an environmental label, or supports a cause they believe in.
"Sustainability is increasing in importance and going toward an upward trend," said Jeannette Ferran Astorga, vice president of corporate responsibility for Ascena Retail Group, the parent company behind brands like Ann Taylor, Loft and Lane Bryant. "Brands that are starting to become known as change-makers are the ones that are going to resonate."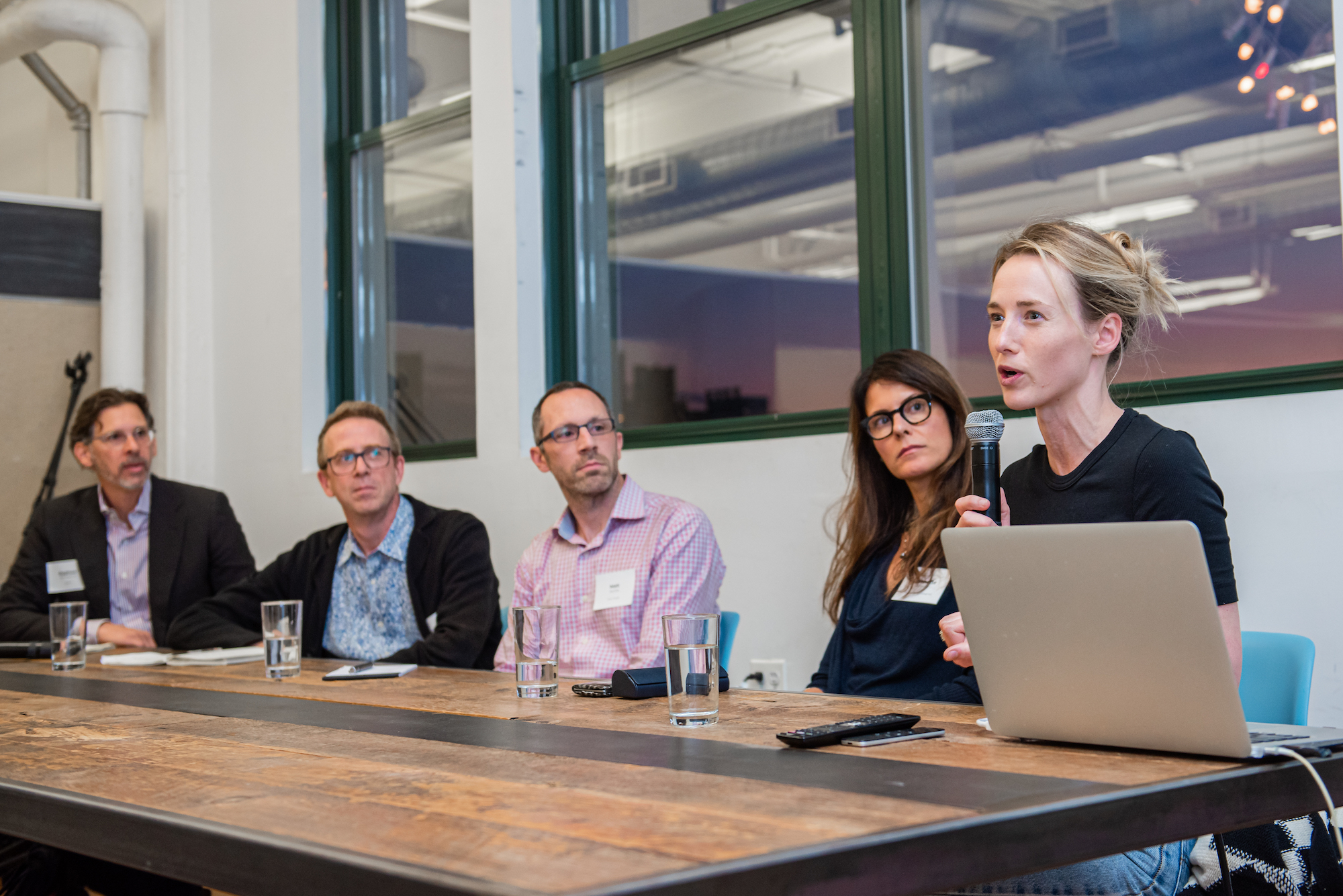 (Image: From left to right: BBMG founder Raphael Bemporad, Jean-Emmanuel Shein of Uniqlo, Matt Jacobs of Darn Tough, Jeannette Ferran Astorga of Ascena Retail Group, and Natasha Franck of Eon Group discuss sustainability in the fashion sector at BBMG headquarters in Brooklyn, New York.)
Sustainability communication is king: Are brands ready?
In short: As people become more aware of the threats overconsumption poses to communities and the environment, from human rights abuses in corporate supply chains to pollution, ecosystem degradation and climate change, they're looking to make some changes to what they buy—and who they buy from.
The companies that will win out are not only the ones doing the right thing, but those that can communicate what they're doing effectively. But making heads or tails of effective sustainability communication is a challenge that still vexes many brands.
Darn Tough, for example, has prided itself on being a good corporate citizen in its community of Northfield, Vermont, since it launched as Cabot Hosiery in 1978. The company, which transitioned from a private-label purveyor for large fashion retailers to its own brand in 2004, still makes all of its socks in Vermont and carefully tracks its environmental impact to avoid polluting the local community.
For Darn Tough's founders, it's all a part of doing business, but that presents a disconnect when it comes to communication.
"We're a brand that is, frankly, run by folks in the older generation who think it looks self effacing to talk about this stuff," Jacobs said. "They think it looks like bragging …. [and they] don't look favorably upon those types of communications. But younger generations think that if you're not communicating about [your impact], you must be hiding something. That's a real conundrum for us to deal with as a brand."
Jean-Emmanuel Shein, global director of sustainability for Uniqlo, a global fashion brand based in Japan, described a similar disconnect, along cultural rather than generational lines. The company's push toward more sustainable denim is one it's sharing loudly and proudly, but this type of communication is rare for Uniqlo, Shein said.
"We're very humble. We don't shout. And we rarely commit to things unless we're ready to go 100 percent, because falling short would be seen as dishonorable and like we're cheating our customers," he explained in New York last week.
But for large companies in particular, overcoming philosophical barriers around sustainability communication is only half the battle. When it comes to tracking the impact of each product and sharing it with customers, many global brands simply don't have the data, said Natasha Franck, founder and CEO of Eon Group, which leverages technology to develop circular economy solutions for fashion brands.
"One of the brands we work with recently shared with us that they do a great job of communicating sustainability in a sustainability report, but it's actually very hard to have data about a product and its sustainability at point of purchase," Franck explained. "For the brands doing this at scale, that's a lot of data to manage. We see massive new opportunities to connect that product from a sustainability perspective with data, so information about each item is available at point of purchase, not just in a [corporate responsibility] report."
Mastering the art of sustainability communication
Increasingly, eco-labels like the Better Cotton Initiative seal, the BlueSign standard and Fair Trade certification give apparel brands more options for tracking—and communicating—their commitment to workers and the environment. And industry-wide collaborations such as the Sustainable Apparel Coalition (SAC) make space for brands to learn from one another.
Brands continue to jump on board, as the SAC now counts nearly 250 apparel, footwear and textile companies among its membership. And they'll likely continue in this direction, as consumers continue to demand it. Because, in the end, what brands do—and how they talk about it—will be driven by consumers, the industry experts predicted.
"People want the nutrition label on their jacket or their shirt, and brands respond to that," Jacobs said. "This is an industry that responds to you. Every line of clothing that you see is dictated by you. So, my ask is that consumers push us. Push these brands to do more, to respond more—and they'll respond."
Image credits: Vitaliy Piltser