The dust from COP25 has settled in Madrid, and after two weeks of negotiations we're left with an outcome that leaves much to be desired.
The parties to the negotiations—nearly 200 governments—failed to bridge the ambition gap between what the climate science demands and the world's current trajectory. They also failed again to iron out the details of vital carbon market mechanisms under Article 6 of the Paris Agreement, as well as rules of the road for compensating the most climate-vulnerable nations for the harms they suffer.
Above all, world leaders failed to act on the clarion call for increased action heard from all sectors of society and every corner of the world, both inside and outside the halls of COP25. In the end, the efforts of countries comprising what is known as the "High Ambition Coalition," from low-lying island nations to the European Union, were stymied by a handful of countries that have made outsized contributions to global emissions, such as the U.S.
While there is no use sugarcoating any of this, it's important we don't lose sight of what gave us hope at COP25. Here are just a few key indicators of progress associated with this COP that we can build on as we head into 2020, a critically important year for tackling the climate crisis. 

1. Investors are mobilizing on climate action more than ever before
While governments did not collectively send a strong signal at COP25, the world's most influential investors did. A record 631 institutional investors, with more than $37 trillion in assets, urged governments to close the climate ambition gap, including by phasing out thermal coal, putting a meaningful price on carbon, ending subsidies for fossil fuels, and strengthening nationally-determined contributions to meet the goals of the Paris Agreement.
Investors made their statement to governments at a COP25 side event focused on the Investor Agenda. Global investors including BNP Paribas, Aviva Investors, PKA Pension Fund, California's pension and teacher retirement funds, and others highlighted their commitments to accelerate the transition to net zero emissions. The event also featured Denmark's Climate Ambassador, Tomas Anker Christensen, announcing the new Climate Investment Coalition to scale private investment in clean energy and climate solutions in the decade ahead, building from the US$50 billion commitment put forth by Danish pension funds in September.
Through a range of COP25 events, several investors actively involved in Climate Action 100+ —the world's largest investor-corporate engagement mobilization to date—were able to illuminate the considerable inroads the effort has spurred in the last year alone. Other investors and financial institutions discussed their commitments to stop funding new coal and fossil fuel projects—including the European Investment Bank's groundbreaking commitment to cease funding coal, oil and natural gas projects by the end of 2021.
Investors also took stock of the rapidly expanding market for green bonds, with well over US$200 billion in green bonds issued in 2019 that are either certified by the Climate Bonds Initiative (CBI) or aligned with CBI criteria.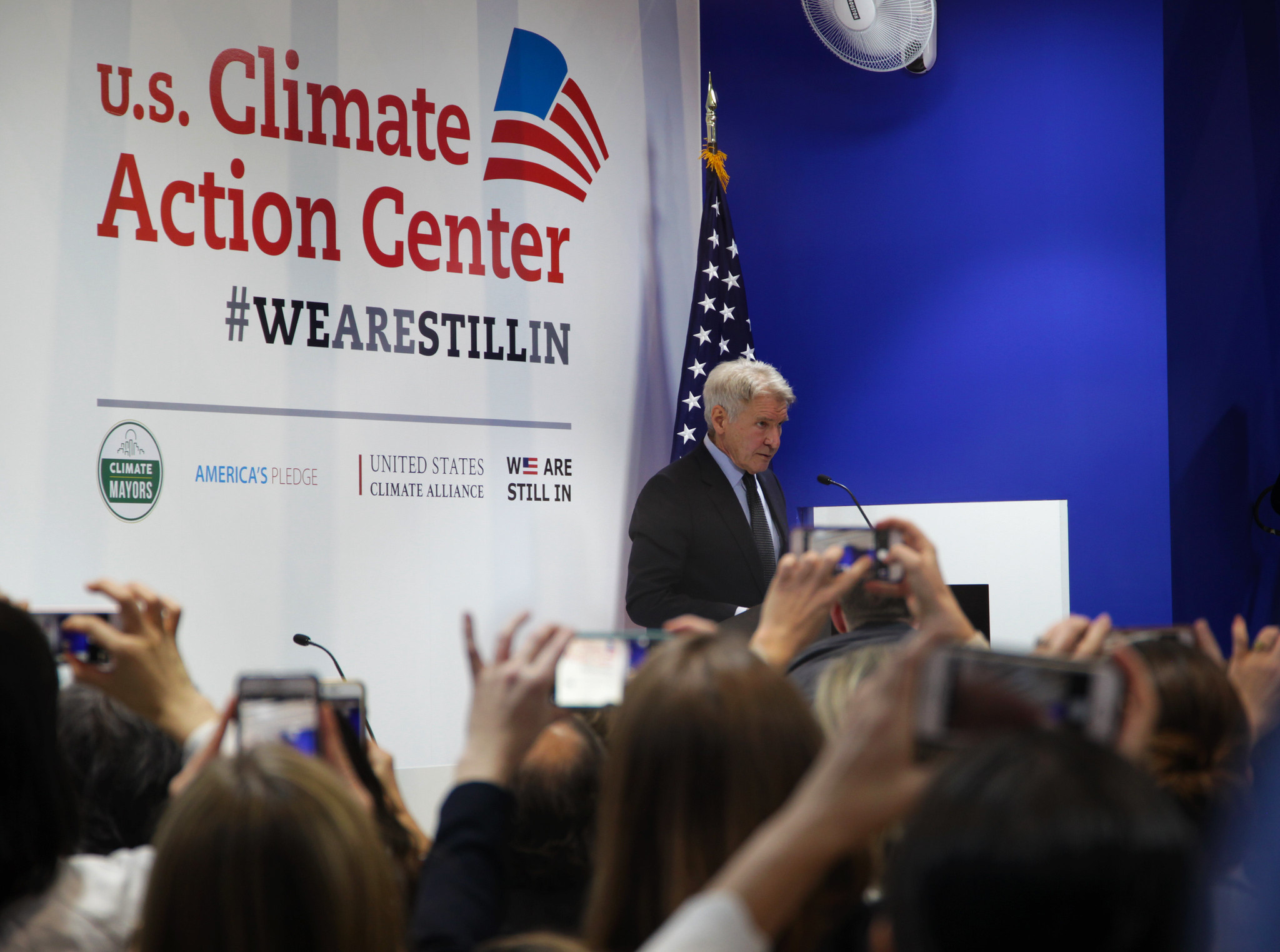 (Image: The U.S. Climate Action Center at COP25.)
2. Companies are committing to net-zero emissions and advocating for a price on carbon
In the absence of U.S. leadership at the national government level, 75 U.S. CEOs, along with union leaders representing 12.5 million workers, publicly declared their support for the Paris Agreement ahead of COP25.
Just a few days later, members of We Are Still In showcased their climate leadership actions at the U.S. Climate Action Center. The coalition is made up of more than 2,200 U.S. companies and investors, as well as hundreds of other city, state, university, indigenous, faith, youth and civil society leaders. Over four full days of programming, companies like Microsoft, Mars, Salesforce, Schneider Electric and Ingersoll Rand made it clear that when it comes to the Paris Agreement, the Trump administration does not represent the business community.
That spirit of diversified, multi-constituency leadership has caught on beyond the U.S. as well, inspiring similar coalitions of "sub-national" leaders in Brazil, Japan, Mexico, and South Africa.
Many of the companies and investors at the U.S. Climate Action Center also voiced their strong support for adopting robust carbon pricing, efforts that are all the more critical after negotiators failed to agree on carbon market mechanisms. What's more, some 177 companies from around the world have made commitments to adopt a science-based target in line with capping temperature rise at 1.5 degrees Celsius, the new standard for corporate climate commitments.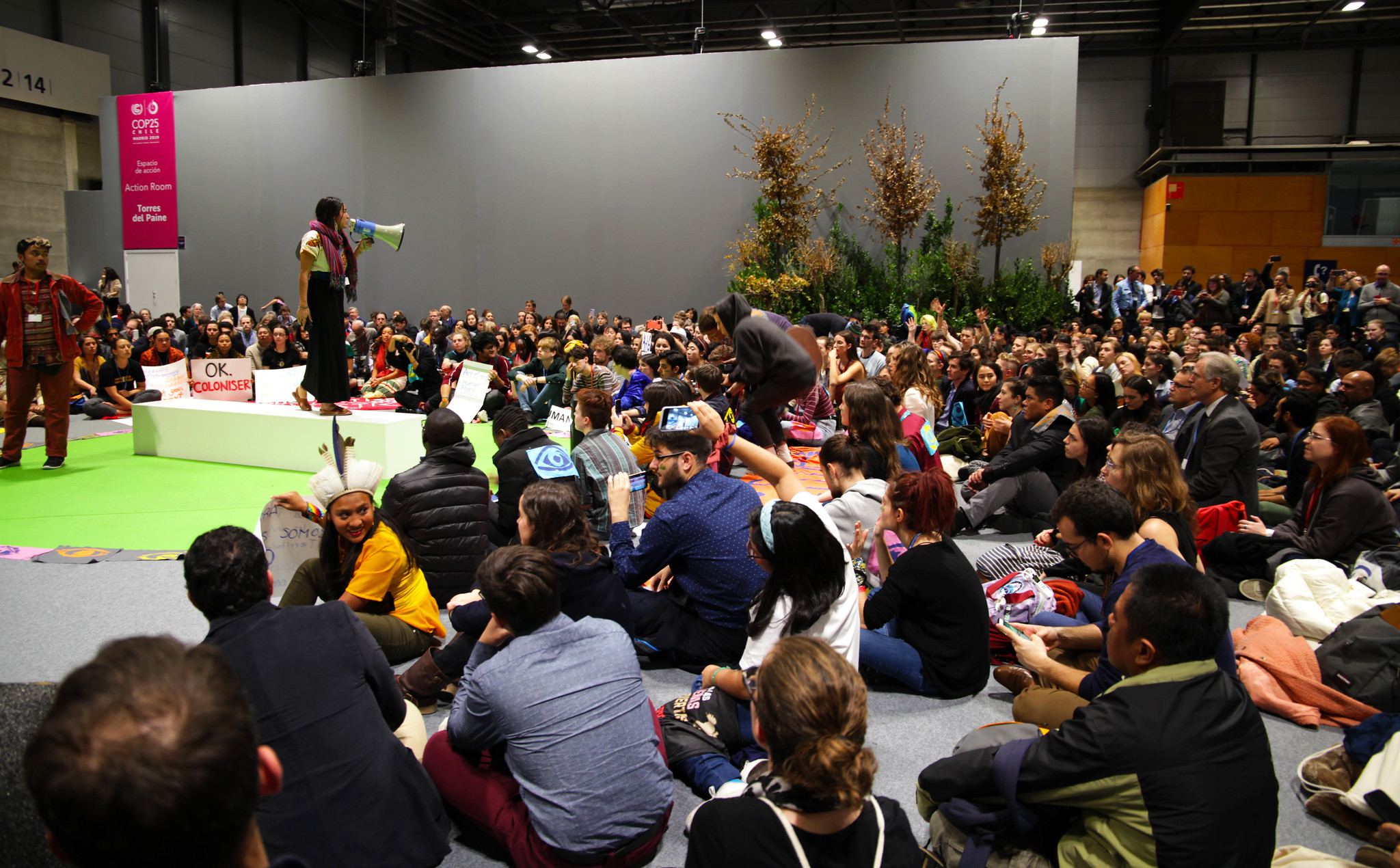 (Image: Youth activists commander the stage at COP25.)
3. Public pressure for climate action at the necessary speed and scale has never been stronger
The voices of the people—particularly of the young, indigenous, and those most vulnerable to the impacts of climate change—were raised loudly and clearly. People of all ages and backgrounds filled the halls of COP25 and the streets of Madrid, demanding those in power take action at the scope and scale the science demands.
Student climate striker Greta Thunberg, fresh off her return trip across the Atlantic by sailboat and on the eve of being named Time magazine's Person of the Year, shared her spotlight with allies from the global North and South. She decried "creative accounting" that masked a lack of progress, saying: "This is not leading, this is misleading."
These voices—though frustrated and sometimes angry—are crucial for helping demand that governments wake up to the urgent need. They laid bare the ambition gap, illuminating not just how far behind governments are, but also how mobilized and aligned the rest of the world has become.
Ultimately, although this COP fell far short of what should have been, these indicators of progress give reason for hope and provide a strong foundation for a redoubling of efforts in the run-up to COP26 in Glasgow. Governments have no choice but to align themselves with the rest of the world and swiftly close the climate ambition gap.
Image credits: UNClimateChange/Flickr