You may not know it but the global food and beverage company Danone is in the midst of inciting a revolution. But unlike the last revolution that took place in the French multinational's home country, this one is non-violent—it's about reconnecting people with the food they eat and building a healthier world through food.
Launched in 2017, Danone's One Planet. One Health. campaign revved up in New York this week where the Danone Institute North America—a not-for-profit established by Danone North America—announced the winners of its inaugural One Planet. One Health. grant program. TriplePundit had an opportunity to meet the grantees, who represent transdisciplinary teams from across the United States and Canada charged with designing, implementing and evaluating actionable, community-based projects for sustainable food systems. Their objective: Inspire local communities to join the food revolution by moving away from standardized food systems to new models based on local diets and leveraging local sourcing.
The winners—all represented at the launch event this week—include:
"We all have a deep, personal relationship with food," said Leslie Lytle, president of Danone Institute North America and professor at the Gillings School of Global Public Health at the University of North Carolina, Chapel Hill, at the event earlier this week. "We are incredibly inspired by this year's applicants who are taking action in fostering more sustainable food systems that benefit their local communities. This type of work requires collaboration to make a meaningful impact, and we are excited to bring together these local teams, as well as experts in sustainability and nutrition, to help us foster a new generation of change agents."
The four winning teams participated in a four-day workshop about sustainable food systems where they presented their proposals and communications plans to a panel of experts. In addition to the $20,000 in grants each winning team was awarded, Project New Village received an additional $10,000 prize for presenting the best communication plan for their project. Each team also received coaching by food systems experts and Danone Institute North America board members to facilitate implementation, communication and evaluation of their projects over the next 12 months.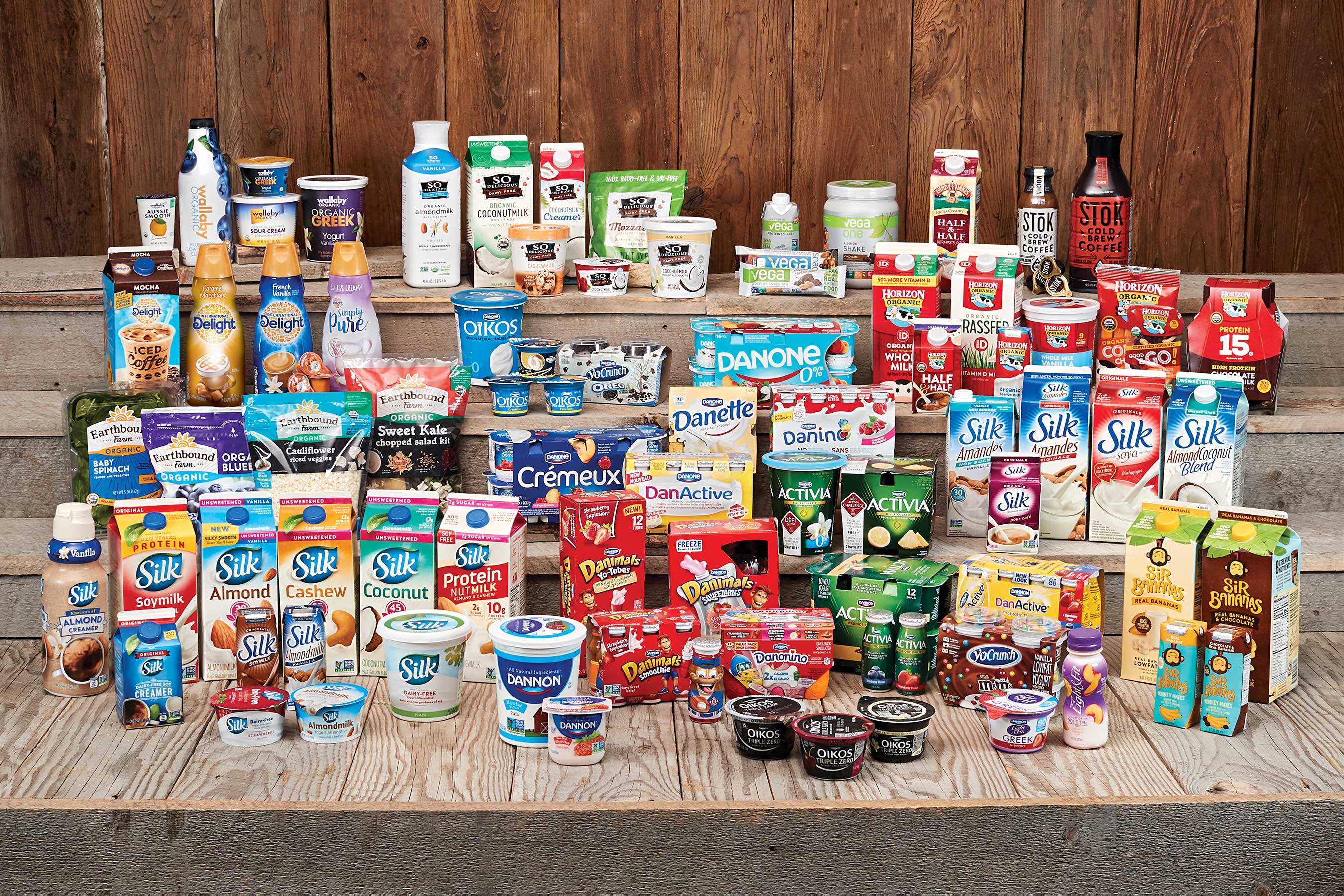 More than public relations
It might be tempting to write off Danone's One Health. One Planet. strategy as a marketing campaign. But that would be wrong. The company has taken significant steps in the past three years to align its core business strategy to its purpose-driven mission.
For example, globally, Danone says it's working to reduce the number of ingredients in its products and proposing new organic and non-GMO product lines. The company is close to achieving its 2020 goals to reduce the amounts of sugar, salt and saturated fats in its products, with nearly 90 percent of products sold in 2018 in "healthy" categories.
The company has also created "Manifesto" brands, which it says "pursue a purpose based on social, health and/or environmental issues that matter to its consumers and communities, and are committed to creating a positive social impact whilst delivering sustainable, profitable growth." These brands—some of which are not sold in North America—include, but are not limited to, Evian water, Alpro oat drink, and the Bledina and Happy Family baby food lines. The company has also committed to make its packaging recyclable, reusable or compostable by 2025 and to achieve carbon neutrality by 2050.
In April 2018, Danone North America was certified as a public benefit corporation, and it remains the largest B Corp in the U.S. As reported previously on TriplePundit, Danone's acquisition of WhiteWave Foods in 2016 was a steppingstone toward its B Corp and benefit corp status, bringing on board popular organic and non-dairy brands such as Silk, Earthbound Farms and Horizon. The company also accelerated what it described as its commitment to environmental and social responsibility, including a "pledge" to help dairy farms become more financially competitive and sustainable.
No company is perfect
In a recent benchmarking report published by the environmental NGO Ceres, Feeding Ourselves Thirsty: Tracking Food Company Progress Toward a Water Smart Future, Danone scored seventh out of 40 companies. The report found that, globally, Danone could do more to assess water risks facing its suppliers and take steps to support and incentivize suppliers to strengthen their water management practices.
While the report focused on Danone's global operations, Danone North America has proactively created an independent advisory committee—chaired by Rose Marcario, CEO of Patagonia—to help ensure adherence to its environmental and social benefit goals. Other members hail from Greenmont Capital Partners, Tufts University, the School of Medicine at UCLA and B-Lab Europe.
While no company is perfect, Danone seems to be taking the right steps toward economic success and social progress. Other companies like Nestle, Unilever and Chobani are taking similar steps in their own journeys. Perhaps it's time they join forces in the same revolution.
Image credits: Daria Shevtsova/Pexels, Toa Heftiba/Unsplash and Danone North America