As governments continue to falter on their commitments to the 2015 Paris agreement, the U.N. Intergovernmental Panel on Climate Change (IPCC) predicts warming in excess of 3 degrees Celsius above pre-industrial levels by the end of this century if ambitions do not increase.
IPCC scientists consider 1.5 degrees Celsius of warming to be a significant tipping point, upon which the severity and intensity of storms, droughts, floods, and heat waves will increase around the world. In a 2018 report, the IPCC warned that we're on pace to exceed the 1.5-degree mark in less than 12 years and that warming even half a degree more could substantially worsen climate impacts.
At the Climate Action Summit during the annual U.N. General Assembly in New York this week, Secretary-General António Guterres challenged world leaders to come prepared with long-term net-zero targets and new, more ambitious national climate action plans. "The climate emergency is a race we are losing, but it is a race we can win," he said in a statement. "This is not a climate talk summit. We have had enough talk. This is not a climate negotiation summit. You don't negotiate with nature. This is a climate action summit."
Meanwhile, the rising youth movement led by teenage climate activist Greta Thunberg brought a renewed sense of urgency to the proceedings. In an emotional speech at the Assembly, which quickly went viral on social media, Thunberg put world leaders on notice, saying: "You have stolen my dreams and my childhood with your empty words."
"We are in the beginning of a mass extinction, and all you can talk about is the money and fairy tales of eternal economic growth," she continued. "For more than 30 years, the science has been crystal clear. How dare you continue to look away and come here saying that you're doing enough, when the politics and solutions needed are still nowhere in sight."
As Guterres implored world leaders to increase their commitments to the Paris agreement, the United Nations Global Compact (UNGC)—which convenes businesses around U.N. goals—is looking to bring the private sector into the fray.
Back in June, the UNGC and U.N. Development Program called on business leaders to set emissions reduction targets that align with the global push to cap temperature rise at 1.5 degrees Celsius. On Sunday, ahead of the U.N. Climate Action Summit, the UNGC announced that 87 companies had signed on to its Business Ambition for 1.5°C campaign.
The latest companies to come on board include American power company NRG Energy, Danish multinational pharmaceutical company Novo Nordisk and natural household products company Seventh Generation, among others. These businesses—representing more than 4.2 million employees and a combined market capitalization of over US$2.3 trillion—committed to setting science-based emissions targets that support a 1.-5-degree trajectory.
Can a public-private "ambition loop" move the needle on climate change?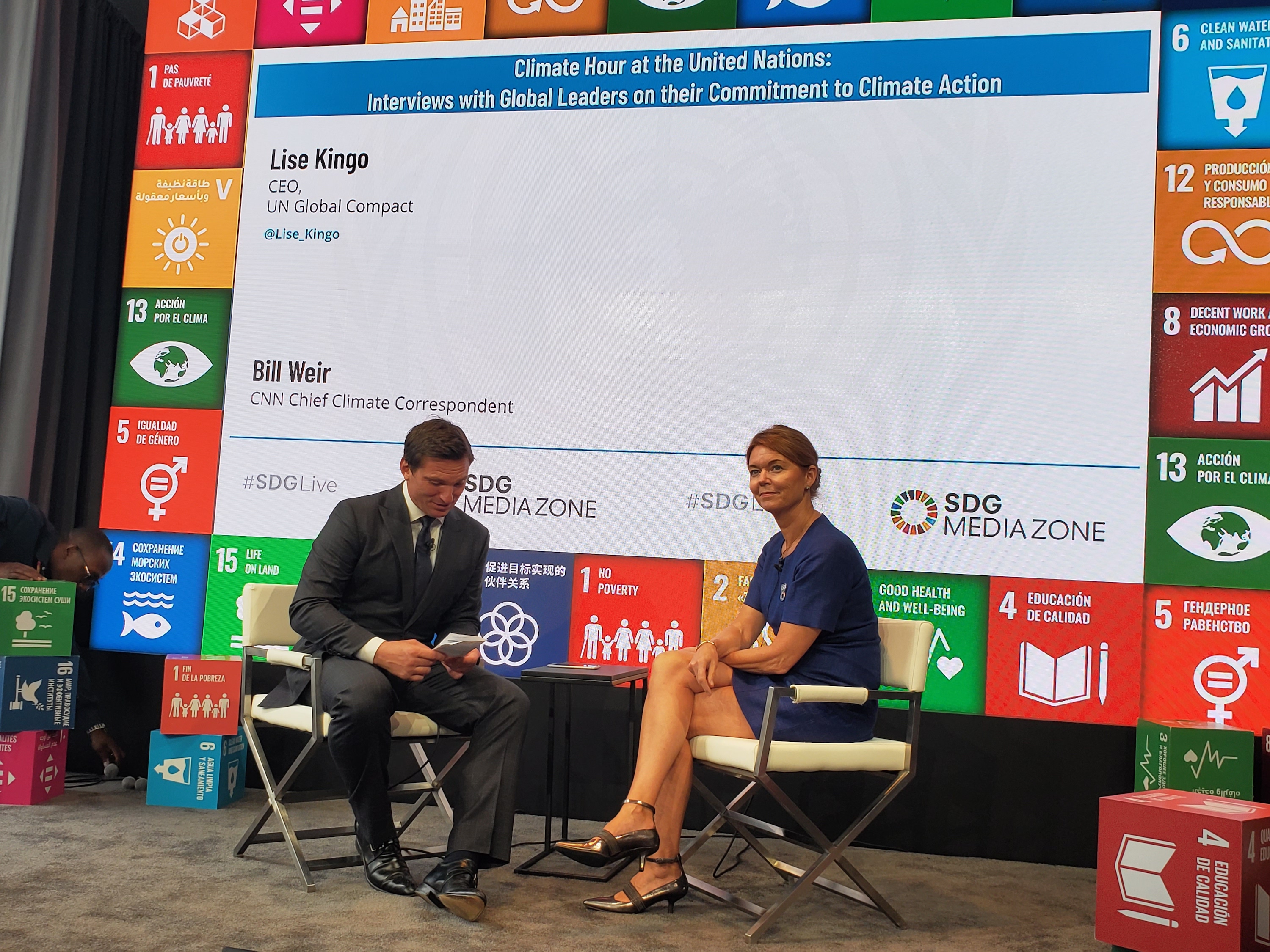 (Image: UNGC CEO Lise Kingo speaks with Bill Weir, CNN's chief climate correspondent, at a side event during the U.N. Climate Action Summit in New York on Monday.)
Importantly, signatories of the Business Ambition for 1.5°C campaign agreed to track—and reduce—greenhouse gas emissions across their entire value chains. On average, value-chain (or Scope 3) GHG emissions are 5.5 times greater than those associated with a company's operations, according to the UNGC and CDP, yet few companies account for them. To put this in perspective, these companies' annual operational emissions alone are equivalent to the annual emissions of 73 coal-fired power plants. (You do the math.)
Companies including Hewlett Packard Enterprise, SAP, Levi Strauss and Unilever extended their GHG commitments to their entire value chains as part of the new campaign, after previously committing to 1.5-degree-aligned reductions for their operations.
According to the UNGC, this action from the private sector has the potential to create an "ambition loop," with governments and businesses playing off one another and ultimately driving climate action to the next level.
"We need an ambition loop between the business sector and governments to really push this agenda forward," Lise Kingo, CEO and executive director of the UNGC, said at a side event during the Climate Action Summit on Monday. "The Secretary-General has been very bold and very inspirational, so we want to do everything we can to support him."
More than 10,000 corporate members already file annual reports with the UNGC that track their alignment with U.N. goals around climate change, human rights and fair labor. Signatories to the Business Ambition for 1.5°C campaign must also have their emissions plans approved by the voluntary Science-Based Targets initiative (SBTi) within the next two years and commit to reach net-zero emissions by no later than 2050.
Of course, this is easier said than done. "The commitment is easy to understand, but the road there is very challenging," Jesper Brodin, CEO of Ikea Group, said in New York on Monday. Ikea Group has committed to become climate positive by 2030, meaning the GHG reductions associated with its renewable energy and clean technology investments will exceed its annual value chain emissions. "Then we ask: How is that even possible?" Brodin continued. "It's part of a systematic equation that begins with science-based targets and with verifying that we are serious about them."
Guterres praised the signatories for their early action but warned that this must be a beginning, not an end, if we hope to avert a 3-degree warming scenario. "It is encouraging to see many first-movers in the private sector align with civil society and ambitious governments by stepping up in support of a [1.5-degree] future," he said in a statement. "Now we need many more companies to join the movement, sending a clear signal that markets are shifting."
TriplePundit is covering the U.N. General Assembly and Climate Week NYC through the weekend. You can follow our coverage here.
Image credits: Mary Mazzoni/TriplePundit