For those of you attending 3BL Forum this week, in National Harbor, Maryland, welcome! The timing is certainly perfect, to start, thanks to the 100 speakers who will be onstage across two days – and also because of the crisp fall weather. Of course, we'd be remiss if we didn't mention the exciting fact that the Nationals are in the World Series, a first for Washington, D.C. since 1933.
If you arrive today or tomorrow, there are plenty of ways to occupy your time before this turbo-charged agenda starts Tuesday morning in National Harbor. And if you are staying an extra day or two, we also have some suggestions on what to do in the District or across the greater area.
Getting around Washington, D.C.
Capital Bikeshare: Do you want to cram in all the sights, but don't have a lot of time AND you want a workout? Then purchase a pass to enjoy Capital Bikeshare. The scarlet red bicycles will get you to those hard-to-reach sites like the Kennedy Center, Washington Cathedral or the Jefferson Memorial. Mind you, this system has been designed for local commuters; so while you can only ride a bike for 30 minutes at most, it's easy to dock a bike, check out the views or score that coffee, and then saunter back and dislodge another bike to continue your merry capital way.
Be sure to download Capital Bikeshare's app – it will let you know, with pretty good accuracy, where the closest bicycle docking stations are and how many bikes and docking stations are available. A tip: the stations around the Lincoln Memorial tend to be most crowded, so be sure you have plenty of time to park your bike within that 30-minute time frame so you don't get dinged additional fees.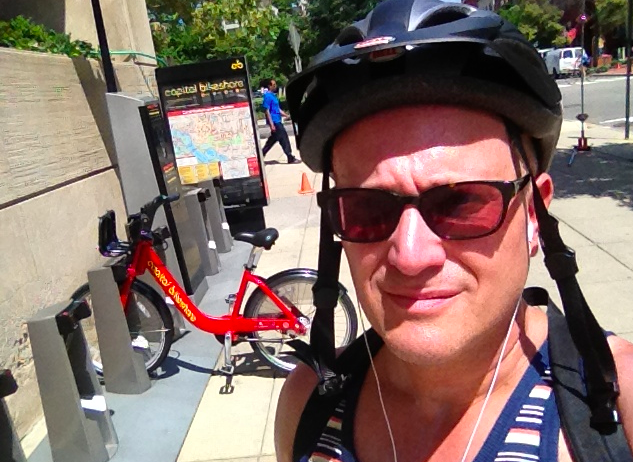 Above: the author at a Capital Bikeshare docking station in the DuPont Circle neighborhood of D.C. Note that some docking stations are far more frequented than others.
The great outdoors
Great Falls Park: About a 35-minute drive from downtown D.C., this 800-acre park (shown at the top of this page) along the Potomac River, run by the National Park Service (NPS), makes you forget you're in one of the most populous (and congested) metropolitan areas on the East Coast. The rapids gushing at full speed through the spectacular rock formations could fool you into thinking you're in the Rocky Mountains or the Sierra Nevadas instead of Northern Virginia.
Fort Washington Park: Less than a 20-minute drive from National Harbor, Fort Washington's origins lie as a fortress built in 1809 to defend the fledgling new national capital. The fort didn't always work – the British certainly had no problem getting by on their way to destroying much of D.C. in 1814. Over the decades this imposing set of buildings took various names as it continued to be vital to defending the capital until World War II. NPS has run the site since 1946 and has done a fantastic job preserving this wide-open space. The thick walls and lines of cannons are impressive, as is the nature that can be found lining the Potomac – plus the best part about Fort Washington is that even on a glorious Sunday day, visitors are sparse.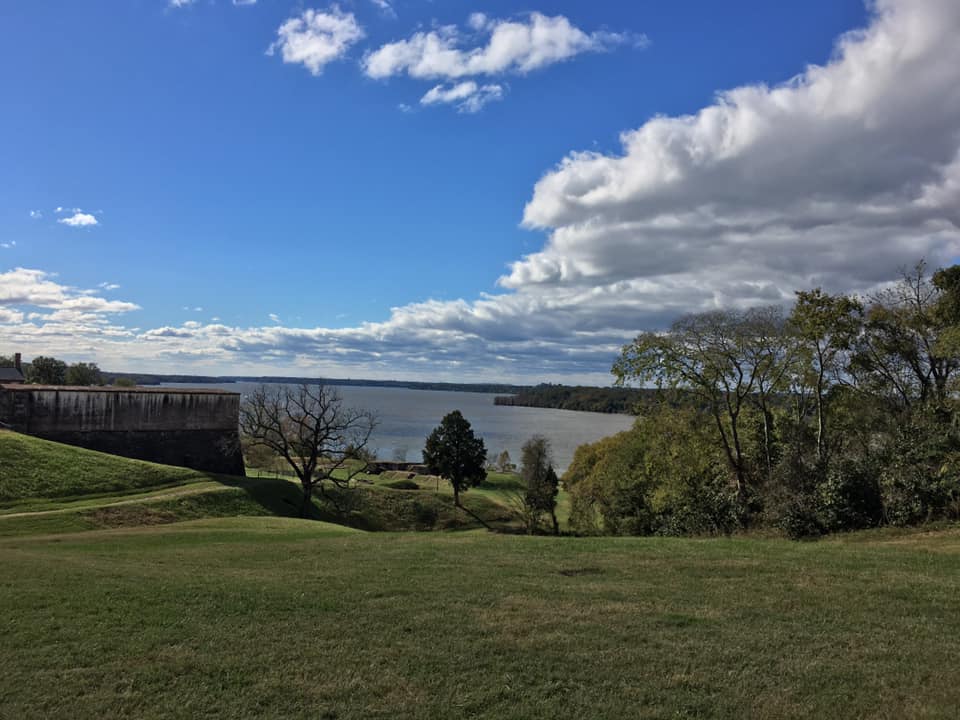 Above: Fort Washington offers spectacular views of the Potomac and a window into U.S. history
Hanging out
DuPont Circle: Before "inclusion" became one of this decade's most overused buzzwords, DuPont Circle was the only neighborhood in D.C. where the region's LGBTQ community could feel they were a part of anything "inclusive" while hanging out hung out in this vast safe zone of bars, cafes and restaurants that line Connecticut Avenue and Q Street. Like many gay neighborhoods in the pricier U.S. cities, the demographics are changing. If you have time, chilling out by the massive fountain that marks the actual DuPont Circle is a great way to whittle away time people watching.
U.S. Botanic Garden: George Washington had a vision for a botanical garden that would highlight the vast bounty of flora in the young United States. First established in 1820, the U.S. Botanic Garden offers a healthy dose of nature just a short walk from the east end of the National Mall, the Supreme Court and U.S. Capitol. If you happen to be in this area during a cold snap, the joy of this building, besides the displays and gardens, is the fact you can warm up and shed a few layers of clothing.
Eating and grazing
Alexandria, Virginia: In the cute and trendy district of Del Ray in Alexandria, the appropriately-named Del Ray Café serves organic and local fare in a historic white clapboard house. The restaurant's egg dishes work nicely for breakfast or lunch; the seasonal vegetable hash is another fab option. Just a few steps away is the Bon Vivant Café + Farm Market, which offers a bevy of keto, paleo, vegan and gluten-free menu options.
Foggy Bottom: Home to the State Department, George Washington University and one of Margaret Truman's murder mystery novels, this neighborhood offers plenty of food options if time won't allow you to venture farther northwest into Georgetown. Founding Farmers, which is owned by a 47,000-member farmers union, scores raves for its vast menu, which includes handmade pasta and solid vegetarian options – including a meatloaf with protein courtesy of Impossible Foods.
Eastern Market: Located less than a 20-minute walk from the U.S. Capitol, Eastern Market has emerged as the leading showcase for D.C.'s artisanal food scene. Its history is a long one: when Pierre L'Enfant designed the layout of the nation's capital in the 1790s, he envisioned a city with public markets akin to what he remembered in his native Paris. L'Enfant's vision took a while; Eastern Market did not open until 1873. It is now one of the oldest public buildings in the District, and has certainly had its share of ups and downs, notably a catastrophic fire in its main all in 2007. Reopened a couple years later, Eastern Market can still brag that it's been in operation for 146 years without interruption. The market's vendors boast stellar flowers, local dairy products, humanely-produced meats and of course, fruits and vegetables – it's all here. Side note: If you can't make it to Eastern Market, this Curbed article has a good layout of other farmers' markets in the wider D.C. area.
Image credits: Preston Low; Leon Kaye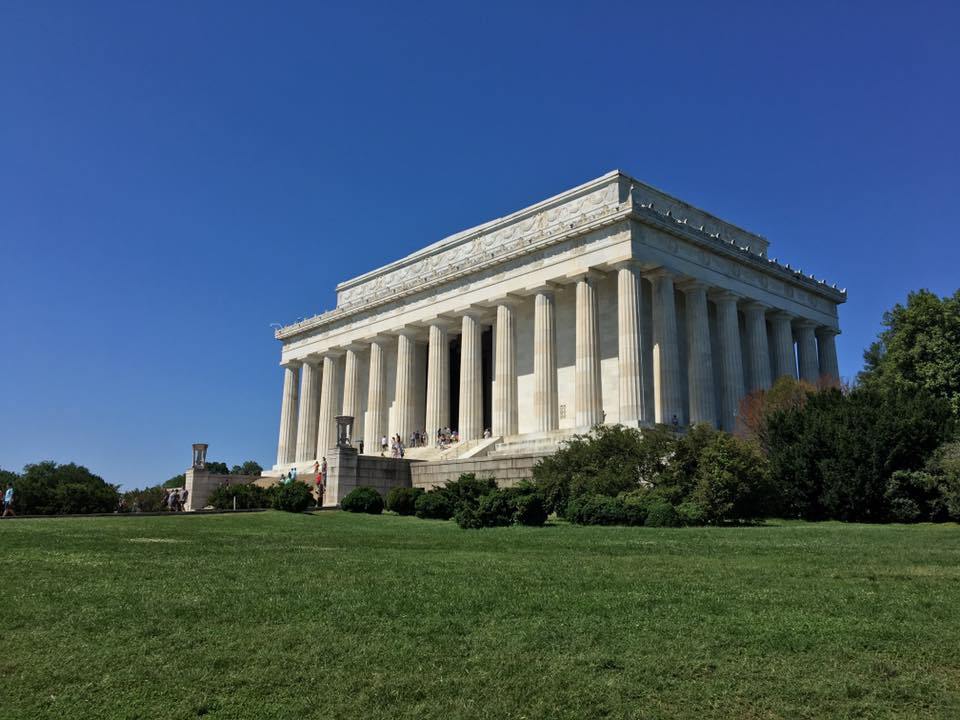 Above: Of course, the Lincoln Memorial is the perfect stop on a Capital Bikeshare bike on the way to noshing in Foggy Bottom