In case you've followed various television shows over the years, such as Hawaii Five-O and Magnum P.I. (as well as their recent next-gen series) . . . along with High School Reunion and Dog the Bounty Hunter, you've probably noticed the Aloha State enjoys a few waves here and there along its islands' coasts.
Those waves could soon power more than surfboards.
This year, Hawaii seeks to prove that wave power can help electrify the remote, energy-strapped islands. Residents and businesses across the state have long been frustrated by high electricity costs, and occasional reliance on diesel-powered generators also hurt the state's air quality. Add the fact these sources of power have to be hauled to Hawaii across long distances, and it is easy to understand the state's quest to become energy independent.
In 2015, Hawaii's government announced a long-term plan to run entirely on renewables by mid-century. The state has been edging closer to that goal, and by most accounts it's leading all U.S. states in just about every single clean energy category. Nevertheless, plenty of hurdles, frustrations and setbacks remain.
Wave power could provide another step toward achieving Hawaii's renewable energy goals.
The concept is simple in theory but has proven to be difficult to execute in practice. The air accompanying waves is pushed through turbines, which in turn rapidly spin and can create energy. Attempts have been made since at least 1890, but commercialization has proven to be a pesky task.
Ireland-based Ocean Energy, however, says it has the answer to harnessing this potential source of power. The challenge for the company is to build a platform that can withstand the harsh Pacific Ocean environment while being able to transmit power to Hawaii's grid. But after three years of testing in the Atlantic, Ocean Energy suggests its turbine system is ready for prime time. The company has partnered with a Portland, Oregon-based engineering firm to build an 826-ton wave energy turbine platform (shown below) that soon will be shipped across the Pacific for testing this fall off the windward coast of Oahu.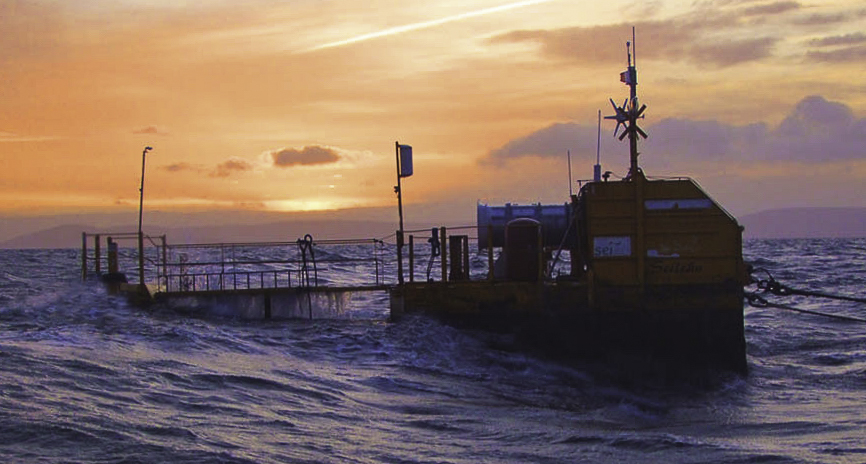 Ocean Energy's $6.5 million project is part of a $12 million program underway at the U.S. Navy's Wave Energy Test Site. The site tests for wave energy's environmental impact, wave power devices' performance and long-term durability.
The U.S. Navy has long had keen interest in harvesting power from the ocean. As TriplePundit cleantech reporter Tina Casey discussed several years ago, projects such as this one in Hawaii open new opportunities for companies that are developing wave power (also called marine power) technologies, because such research and development is led by private sector innovation rather than deploying in-house research.
The U.S. military has long been focused on having reliable and secure sources of power, especially in remote locations; Hawaii's tourism will always be important to its economy, yet needs to grow sustainably; and new sources of electricity can provide good paying jobs. If Ocean Energy's technology succeeds, Hawaii scores a win many times over.
Image credits: Ocean Energy; Leon Kaye