(Image: HP executives discuss the new carbon-neutral printer and the company's long-term sustainability plans at a press junket in Nashville.)
Over the past year, TriplePundit has tracked HP's increasing use of ocean-bound plastic—or plastic recovered from ecosystems and waterways before it can reach the ocean.
"We've deliberately worked across our businesses and our functions to think about the future as an interconnected ecosystem," Nate Hurst, chief sustainability and social impact officer for HP, said at the 3BL Forum last week.
In June, the company released the Elite Display, which it bills as the first computer monitor made with ocean-bound plastics, sourced from self-employed refuse collectors in Haiti, who earn a living wage by removing plastic from the outdoors and selling it into the reuse market.
Three months later, it unveiled the HP Elite Dragonfly laptop, the world's first PC built with ocean-bound plastics. Half of all plastic used in the computer is recycled, including 5 percent ocean-bound plastics from its supply chain in Haiti.
And last month, HP invited tech professionals and media to its recycling center in Nashville to show off its newest release: the Tango Terra printing system. The printer itself is made from 30 percent recycled plastic, and the system is certified as CarbonNeutral by Natural Capital Partners.
"This is our first certified carbon neutral product," Ellen Jackowski, global head of sustainability strategy and innovation for HP, told reporters in Nashville. "This printing system really establishes the vision of where we're headed across our entire portfolio."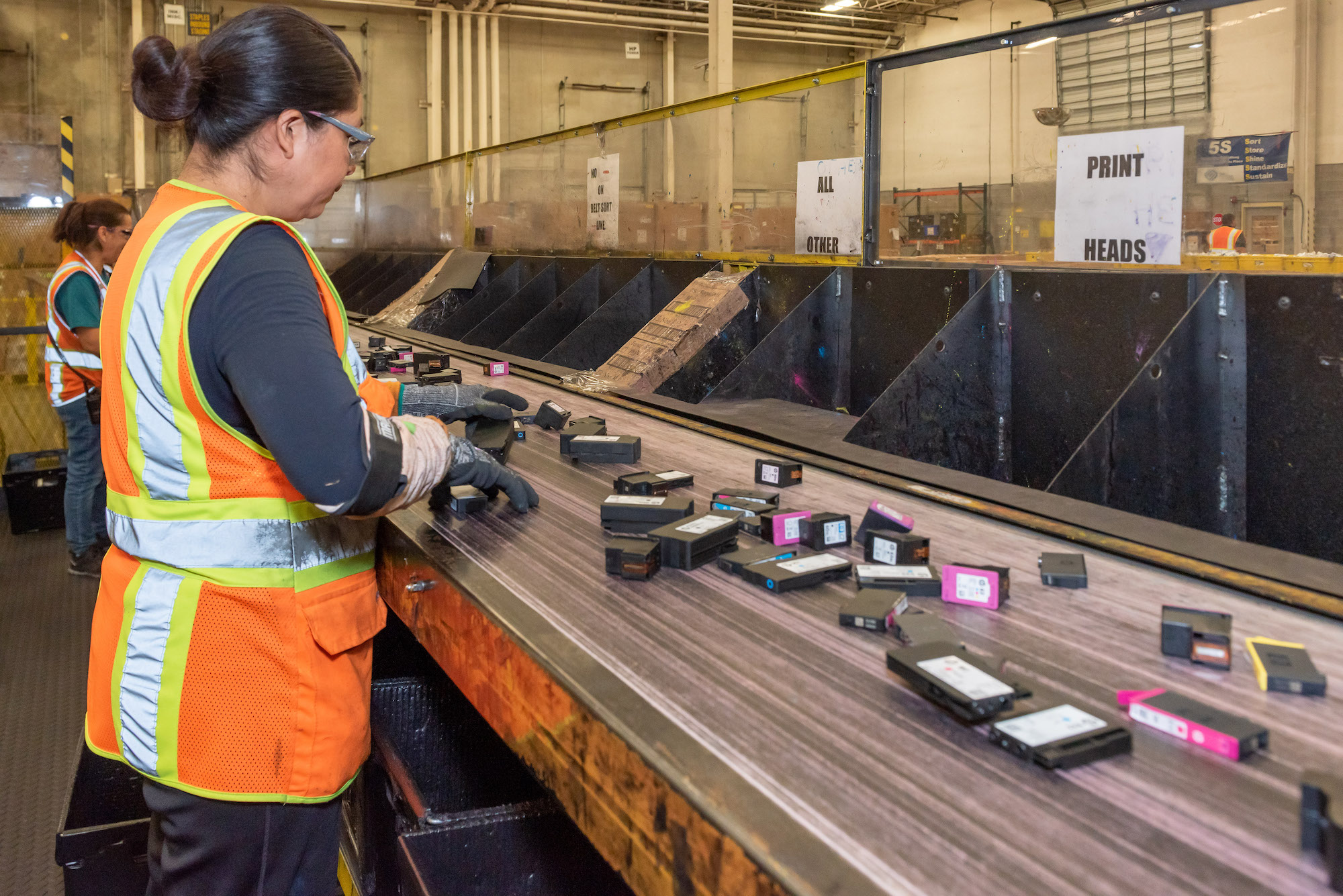 (Image: Manual sorting complements the high-tech recycling equipment at HP's ink cartridge recycling facility in Nashville.)
Building a closed-loop system
HP has recycled old ink cartridges through its Planet Partners program since 1987. Its team invented a disassembly machine to take the cartridges apart and separate plastic and metal components for recycling. The plastic pieces are fortified with material from recycled plastic bottles and apparel hangers to increase strength before they're turned into new ink cartridges and sold back into the marketplace.
HP now recycles 1 million plastic bottles every day through this process. Through last year, the company has manufactured over 4.2 billion ink and toner cartridges using more than a cumulative 107,000 tons of recycled plastic.
By upcycling these materials for continued use, an estimated 830 million HP cartridges, 101 million hangers and 4.37 billion post-consumer plastic bottles have been kept out of landfills, according to company estimates.
These numbers are surely impressive, but they also represent a complex supply chain that includes a whole lot of transport. Recycled cartridges are mailed back by consumers or collected for free at retail locations like Best Buy, Staples and Office Depot. They're sent to HP's recycling plant in Nashville then shipped to Montreal, where they're combined with recycled plastic from Haiti and around the world before being manufactured into new cartridges.
"Is it really an environmental benefit when you've got all of those logistics and transport involved?" asked Shelley Zimmer, sustainable impact program manager for HP. "The answer is absolutely yes.
"We find that by using recycled plastics in our ink cartridges—including all of those logistics—we reduced the carbon footprint of the plastics by 30 percent, we reduced the fossil fuel usage in that system by 60 percent and we reduced the amount of water usage in the system by 39 percent, compared to using virgin plastics."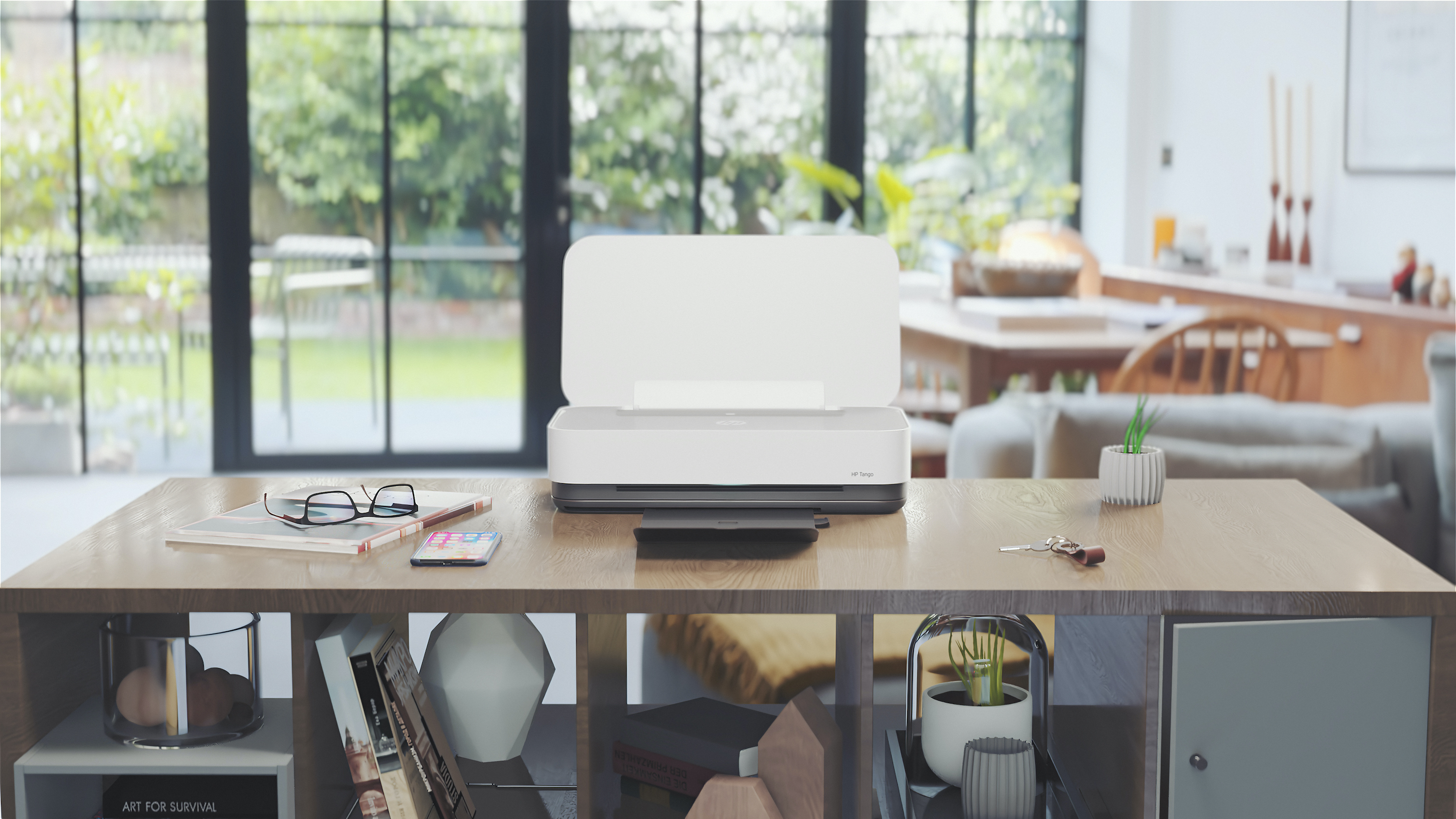 (Image: The HP Tango Terra printer contains 30 percent post-consumer recycled plastic.)
Rising ambition around the circular economy
Having established a closed-loop process for one of its signature products, HP is now looking to increase its ambition by using more recycled plastic and giving it a home in splashier pieces of technology with the potential to draw consumer interest.
All new HP Elite and HP Pro desktop and notebook computers launching next year and after will contain ocean-bound plastics. And the company has committed to use 30 percent recycled plastic across its entire product line by 2025.
"This is a big, bold, hairy goal," Jackowski said. "We're not exactly sure how we're going to get there yet. Today we're at 7 percent, so we have quite a lot of work to do."
Pioneering new collection models
So, why is a 30 percent goal so hard to achieve anyway? The world is lousy with plastic waste—we create around 300 million tons of it every year, roughly the weight of the entire human population.
But it's not a matter of too little plastic—it's about how much plastic large users like HP can get their hands on. It's estimated that only 9 percent of the plastic ever produced has been recycled, and as economics threaten the viability of recycling systems worldwide, this trend appears poised to continue—at least in the near term.
Meanwhile, more companies are getting into the recycled plastic game.
"No doubt, other companies will see the opportunity based on customer demand for more recycled content in products that everyone sells, including our competitors," Jackowski said. "As the rest of the world starts turning this way, there isn't enough recycling infrastructure to generate the volumes of some of these commitments that companies like HP and others are making."
With its own recycling facilities in Nashville, which accept ink cartridges and electronics of any brand and recover the components for reuse, HP is already ahead of the game. And by creating new supply chains in regions like Haiti, it's well positioned to continue building its recycled plastic supply while addressing the social side of plastic pollution and how it affects developing countries.
Of course, that "big, hairy goal" is still a long way off.
"We need to be thinking about how to reinvent our entire supply chain to move away from virgin materials and use more recycled content," Jackowski said. "And that's what we're doing."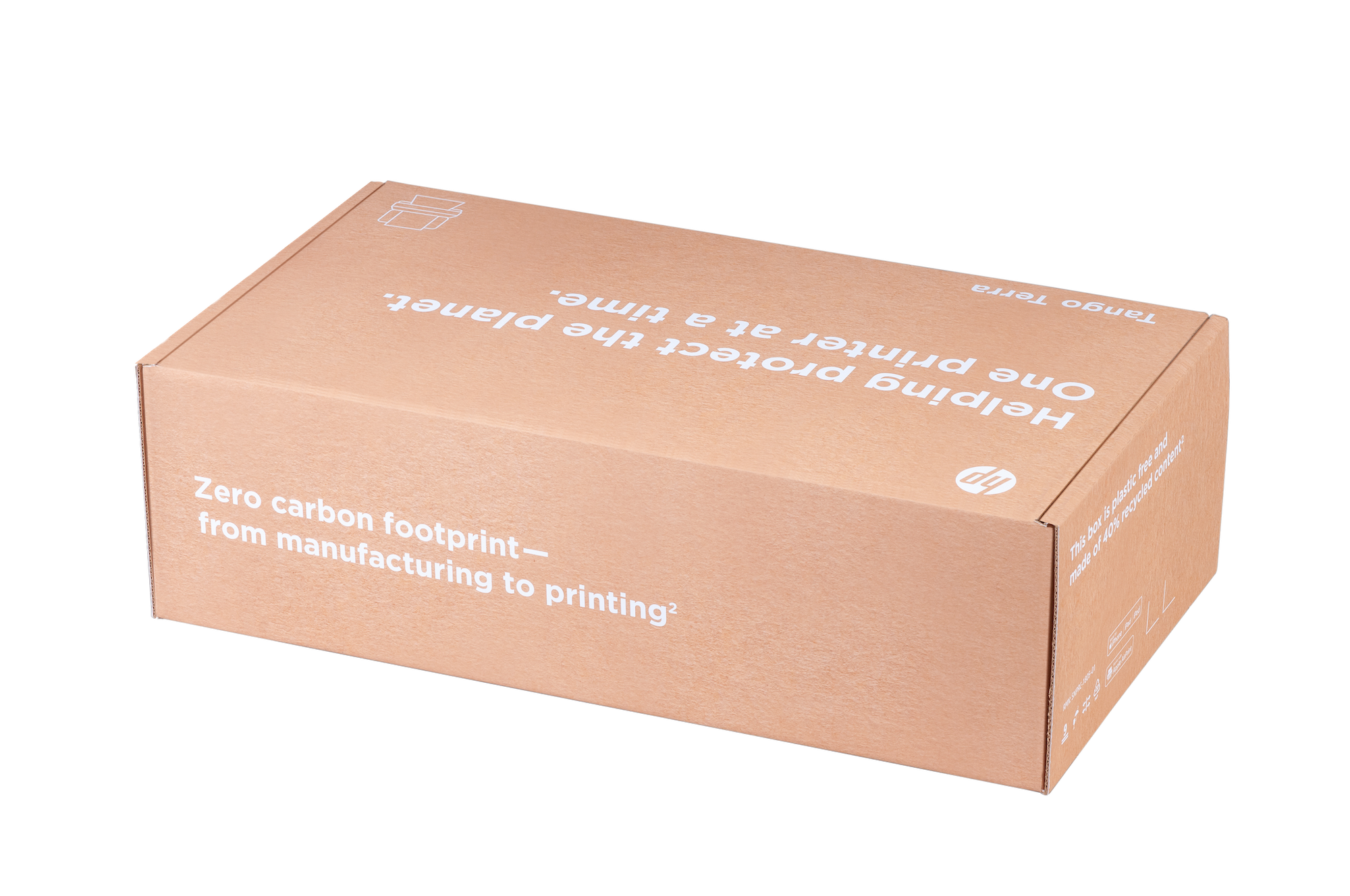 (Image: On-pack messaging reminds consumers about the sustainability of the new HP Tango Terra printing system.)
The new carbon-neutral printing system: A sign of what's to come at HP
Released last month, HP's Tango Terra is carbon neutral, from raw material extraction and processing, to printer manufacturing and transportation and all the way up to consumer use—including electricity, paper and cartridges. The system also contains a sample of HP's deforestation-free paper, certified by the Forest Stewardship Council, and an opt-in to its cartridge subscription service, which includes free recycling.
The entire system was designed with sustainability in mind: Inside, it contains no shrink wrap around the printer and instructions are printed on the recycled cardboard package, rather than being included as a separate insert. At end of life, spent cartridges, as well as the printer itself, can be recycled through HP for free. The white recycled plastic, which comprises 30 percent of the Tango Terra printer, is partially sourced from discarded refrigerators.
This type of bottom-up design is the future for HP, its leaders told reporters in Nashville.
"We're thinking about the entire process of what we're selling and how our users are interacting with it," Jackowski said.
And this move toward sustainability is no coincidence, she said. Last year, HP tied $900 million in revenue directly to its sustainability programs alone and estimates potential revenue at around $20 billion per year from scaling this work.
"Our customers care," Jackowski concluded. "This is real—and we're facing pressure from our customers. This is part of how we intend to be successful financially long term, and it does have direct business impact."
Images courtesy of HP
*Travel and accommodations in Nashville were provided by HP. Neither the author nor TriplePundit were required to write about the experience.