T-shirts are a common way to share publicly what matters to you – whether it's a local coffee shop logo, your alma mater, or a charity road race you ran. The shirts and other apparel printed at Spectrum Designs carry another message: They support inclusive hiring and economic opportunities for the autistic community in Long Island and across the country.
The backstory of Spectrum Designs
Spectrum Designs Foundation began in 2011 as the employment initiative of The Nicholas Center for Autism. Cofounders Stella Spanakos, Nicole Sugrue and Patrick Bardsley wanted Spectrum Designs to create a social enterprise that offered meaningful employment and training opportunities for individuals with autism as they "aged out" of school-based services (usually around age 22, depending on the state). Spanakos and Sugrue are both parents of children on the autism spectrum.
"Individuals with autism don't have as many opportunities to explore as they get older, to grow and thrive. We must change that," Spanakos said in a 2018 interview with Forbes.
Today, Spectrum Designs Foundation also includes two additional enterprises: Spectrum Suds, a laundry service, and Spectrum Bakes, a bakery specializing in granola bars. Together, Spectrum has a combined total of 42 employees, more than half of whom are on the autism spectrum. Clients range from Google to Benjamin Moore to Mothers Against Drunk Driving (MADD).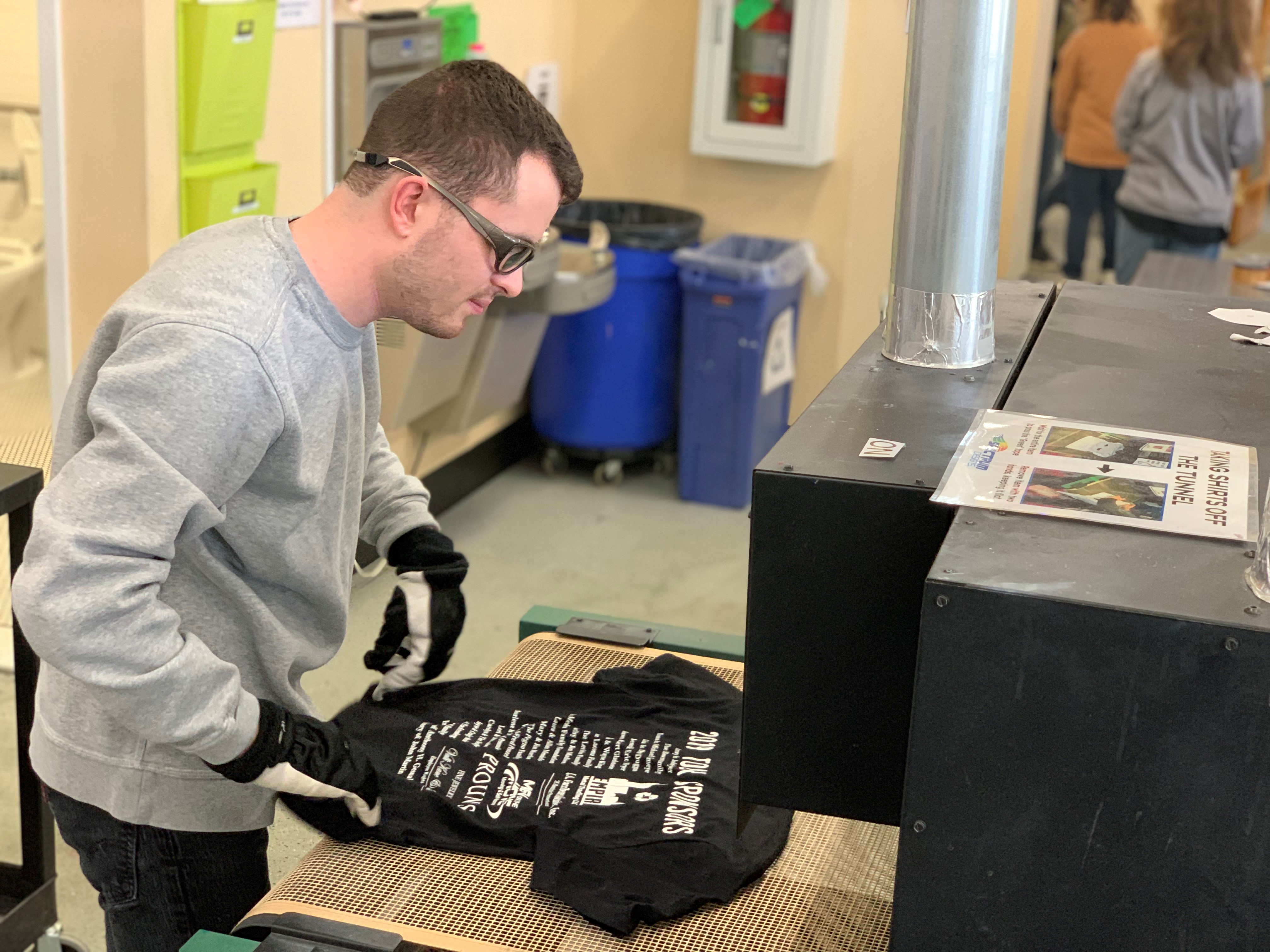 Photo: Employees at Spectrum Designs are paid at or above minimum wage, going above and beyond U.S. and state employment laws.
"We are knee-deep in client orders from all over the U.S. and beyond, having moved over a year ago into a new 7,500 square foot production facility [in Port Washington, N.Y.], which tripled our production capabilities and hiring options," said Bardsley, who now serves as CEO of Spectrum Designs Foundation, during an interview with TriplePundit. "We are in the process of creating Spectrum Designs II in Westchester, N.Y., by the end of 2019, which we hope will create at minimum 10-plus jobs in the first year of operation."
Bardsley said that from the beginning, Spectrum set out to create a fully inclusive environment where each employee knows his or her needs are being addressed. Employee benefits include wellness initiatives specifically designed for a neurodiverse community. And unlike many organizations, Spectrum compensates all employees at or above minimum wage. (Currently, most U.S. states allow employers to pay disabled workers below minimum wage.)
"We are well aware that disabled individuals face challenges not only with obtaining and keeping jobs, but being compensated in a fair and just manner," Bardsley said. "Fair pay for fair work was fundamental as we set about putting our business model into place."
"Part of the group"
Spectrum Designs' Lead Production Assistant Josh Mirsky said that for him, inclusion means "being part of the group, not an outsider."
"I have so many stories of being not included. That's pretty much my entire childhood and … up until Spectrum," Mirsky said in Episode 19 of his podcast Sounds Like Autism. The episode was specifically focused on inclusion in the workplace.
Mirsky produces and hosts the weekly podcast with Spectrum Designs' Workforce Development Director, Dave Thomson. The duo recently completed a TEDx Talk. Additionally, Mirsky has joined Bardsley in presentations at several organizations in the greater NYC area.
"[Josh Mirsky] has gained confidence and independence, … finding a niche speaking to businesses and universities about his experiences at work, where he is understood, encouraged and invited to grow and be himself," said Lee Anne Vetrone, Development Manager at Spectrum Designs Foundation.
The economic argument for inclusive hiring
Many employers are starting to recognize the financial and economic benefits of inclusive hiring. But while there are great strides being made, the reality is that people autism face very real barriers to finding employment.
The Autism Self-Advocacy Network (ASAN) offers many suggestions on how to expand employment opportunities for the autistic community. Solutions include improved public transportation options, equal employment opportunity enforcement and awareness, and transition assistance programs providing job coaching and training. While initiatives such as these may cost more up front, they will more than pay for themselves in the long run, as employees earn money to spend in the community, and pay taxes to state and federal governments.
As Bardsley wrote in a 2018 article for the Long Island Business News:
"Helping people with autism secure paid employment is not just a social initiative, but an economic one. You are simultaneously diminishing dependency and fostering contribution when you step away from the traditional way that people view social causes as a hand out and instead are offering a hand up."
And as long as organizations like Spectrum Designs Foundation continue providing a hand up to members of the autistic community, people like Josh Mirsky will continue to contribute to both the economy and the ongoing conversation about the importance of inclusion.
(Author's note: There is much debate regarding the language used to identify and describe someone with autism. This article uses person-first language to stay consistent with Spectrum Designs Foundation's and Sounds Like Autism's terminology. For more information regarding person-first versus identity-first language, please visit ASAN or the National Center on Disability and Journalism.)
Don't forget: Next week, we'll be hosting 3BL Forum: Brands Taking Stands – What's Next, October 29-30, at MGM National Harbor, just outside Washington, D.C. We're proud to have Spectrum Designs as a sponsor; for those attending the Forum, please stop by and visit them at the event's Marketplace.
Image credits: Spectrum Designs