As reported in several publications, L'Oreal recently launched a series of advertisements that showcase creative interpretations of its products as a measurement of the power of female leaders. The displays are based on research that L'Oreal conducted with the advertising firm McCann Worldgroup Deutchland in Germany.
Among the various messages, one ad uses varying lipstick heights as a bar graph comparing the number of women in a company's leadership with performance and profitability. The graph's message is clear: There is a strong positive correlation between the percentage of female leaders of a company and its revenues. According to McCann's research, as cited by The Drum, companies with 30 percent female leaders can gain an increase of 15 percent in revenues compared to peer organizations with a dearth of women in leadership roles. The gist is that female leaders bring more to the table beyond simply diversifying a firm's workforce numbers.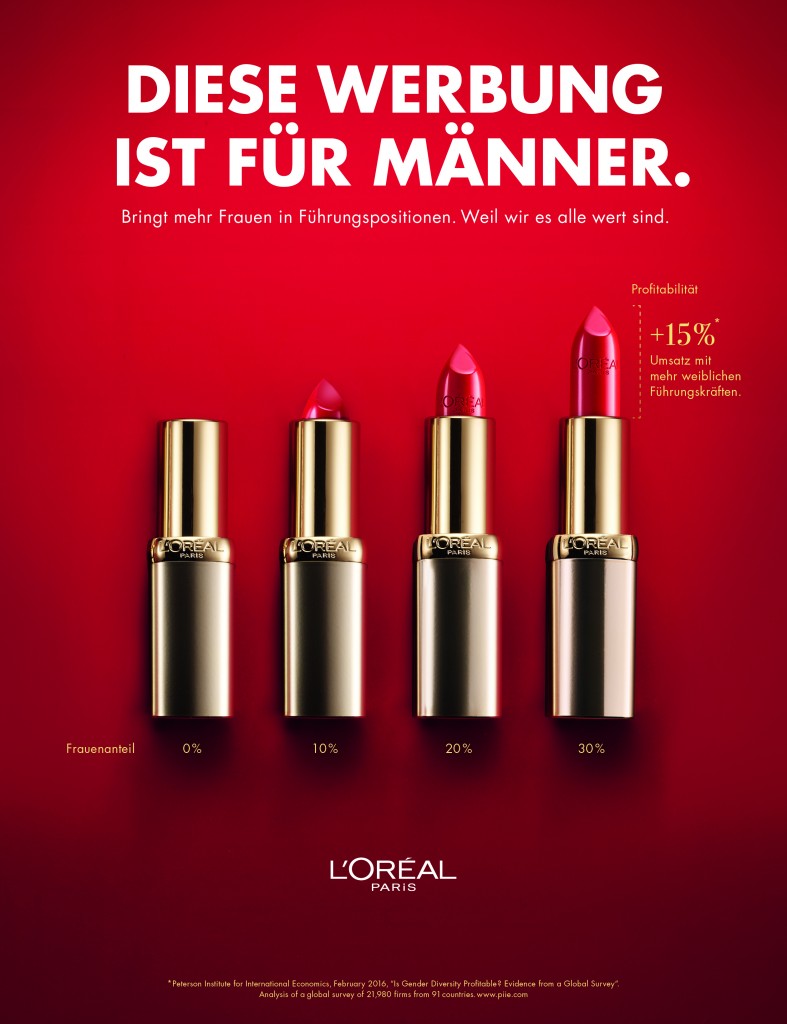 "What women lacked in numbers they more than made up for in results, significantly outperforming their male peers on occasions where they do reach the top," wrote The Drum's John Glenday.
The advertisement reflects L'Oreal's statement earlier this year that it has identified gender equality as a long-term goal. To keep itself on track, the company says it undergoes regular audits by two separate independent gender equality organizations. These groups' audits evaluate the hiring policies and staff at all L'Oreal subsidiaries.
It's important to see that women do more than fill a quota when they are elected to leadership positions. A 2017 report by Morgan Stanley found that more women in business translates to improvements across the board: in productivity, employee retention, innovation and decision-making. Firms that properly utilize women's potential claim better team decisions and progress toward new product innovation. Women also know how to appeal to other women, which widens a firm's customer base, according to this survey.
More organizations are recognizing L'Oreal's commitment to gender equality. Bloomberg listed the company as one of 230 firms on its most recent equality index. This index is a standardized measure of gender diversity on an international scale. Companies that make the list have demonstrated a commitment to equality and empowering women in their ranks, according to Bloomberg. Stockholders are inclined to invest in companies listed on the index with the idea that an increase in contributions by female employees and leaders can lead to more profitable companies. There is a strong positive relationship between gender diversity in a firm and return on equity. These firms that place a priority on gender diversity manage to achieve higher rates of return with lower volatility, making them an attractive addition to an investor's portfolio.
The benefits of gender diversity are seen throughout a company's organizational structure. For example, a Massachusetts Institute of Technology economist tracked the revenues and survey results of a large international firm over eight years. The study found significant differences in the performance of solely male or female offices and gender-balanced offices. An equal gender split may lead to a 41 percent increase in revenue, which can be explained with the various skills and experiences that a diverse workforce offers. This added value is a problem-solving resource and could lead a to an office to function even better than one lacking gender parity.
For the past two decades, women have outpaced men in completing higher education degrees. Nevertheless, the joint L'Oreal-McCann study in Germany found that a whopping 91.4 percent of leadership positions are still held by men. Although women comprise a little over half the global population, women represent only a third of all employees worldwide and a quarter of business management roles. The limited number of female leaders results in over half of the world's population relegated to only a tiny voice in corporate boardrooms. If we are to achieve equality, women must be empowered in their workplaces to contribute their ideas to solving business challenges.
Image credit: McCann Worldgroup Deutchland/Facebook