The concept of a nationwide Green New Deal remains mired in political debate, but it seems local and state governments aren't waiting for Washington to put similar plans in action. City and state lawmakers across the country are looking toward the Green New Deal—which seeks to address climate change while investing in jobs and economic equality—as a starting point for their own policies.
In January, New York Gov. Andrew Cuomo introduced his own version of the Green New Deal as part of his 2019 executive budget, which targets a statewide shift to 100 percent renewable energy by 2040. Three months later, New Mexico Gov. Michelle Lujan Grisham followed suit with similar legislation, which also funds retraining for displaced fossil fuel workers.
And this week, Los Angeles Mayor Eric Garcetti rolled out a set of broad-sweeping social and environmental goals which he dubbed LA's Green New Deal. The plan targets carbon neutrality for the city's energy consumption, transportation and buildings by 2050, along with zero waste and zero wasted water. It also puts forth lofty plans for investment in housing, food systems and zero-emission vehicles. In a city known for two-hour commutes and a cloak of smog, the plan is bold—to say the least.
In Garcetti's vision for a new LA, 80 percent of the city's vehicles will run on electricity or zero-emission fuel by the mid 2030s, and residents will drive 2,000 fewer miles annually than they do today. "It's a far cry from today's LA, where gridlock, tailpipe pollution and smoggy air have come to define a way of life," energy reporter Sammy Roth wrote in the Los Angeles Times.
Still, the city has already come a long way in recent years. Since Garcetti introduced the city's first Sustainable City Plan back in 2015, Los Angeles has become the top city in the U.S. for solar power use. The plan helped LA cut greenhouse gas emissions by 11 percent in 2016 alone—putting it on track for a 45 percent reduction by the mid 2020s.
Additionally, Los Angeles will phase out three of its natural gas power plants over the next 10 years and replace them with renewable energy, making it "the first big city in America to declare the beginning of the end of natural gas," said Lauren Faber O'Connor, the city's chief sustainability officer.
As for that stressful commute, the mayor led a coalition to pass Measure M in 2016, which his administration calls the largest local infrastructure initiative in American history. Among other things, the plan calls for the construction and expansion of 15 public transit lines, which has the potential to create nearly 800,000 new jobs, according to the Garcetti administration.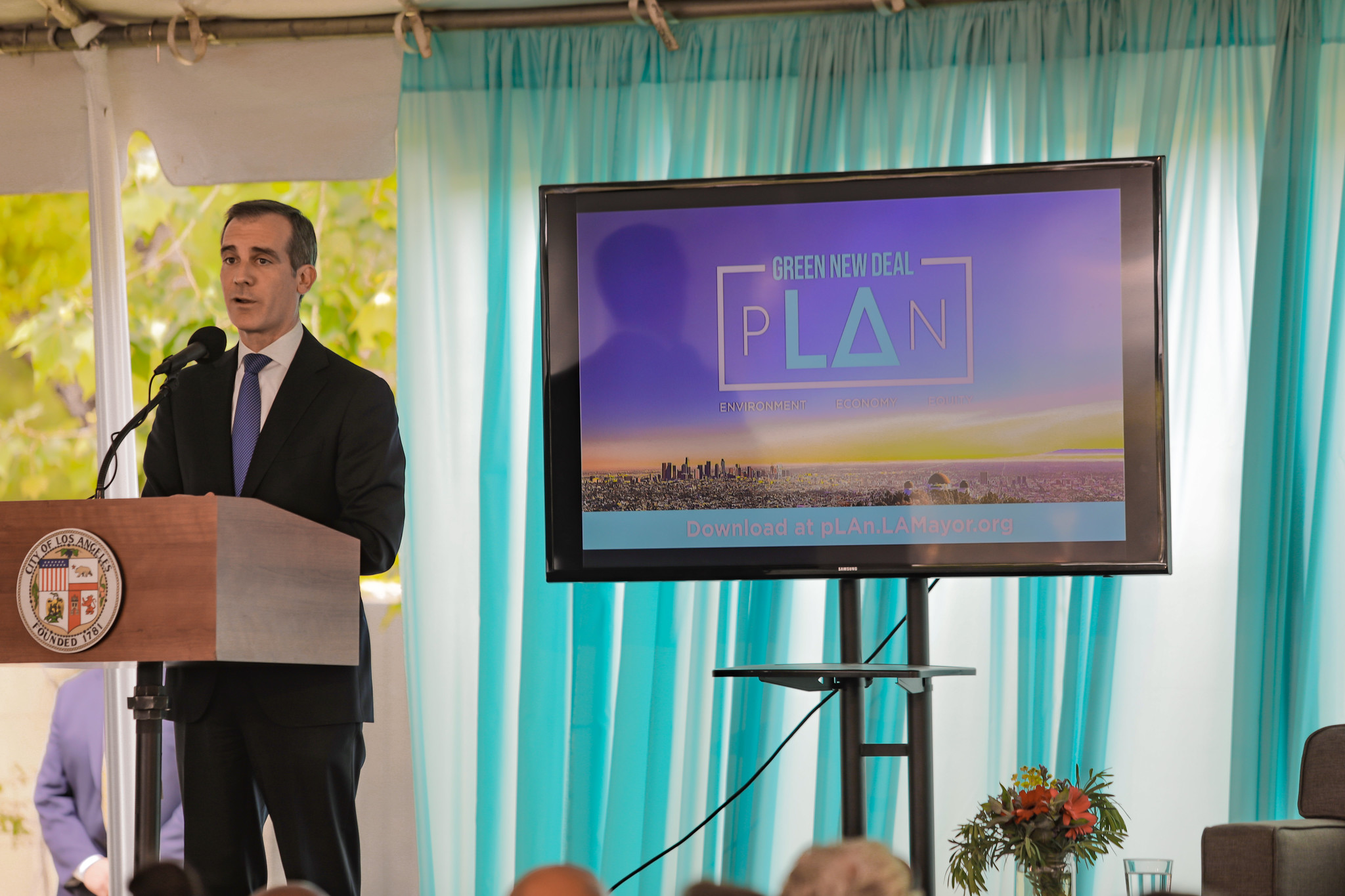 Image: Los Angeles Mayor Eric Garcetti announces the city's Green New Deal.
This type of progress, in such a short time, is commendable for any city government, but Garcetti said more action is needed in order to address the magnitude of the environmental challenges we face. "The scale of our ambitions must meet the magnitude of [the climate] crisis," Garcetti wrote in a letter to Angelenos announcing the Green New Deal.
"The United Nations has warned us of the dangers of inaction or incrementalism. But we don't need a report to confirm what's right in front of us. The rising temperatures. The pollution we inhale, the flames on our hillsides, the floods on our streets. This crisis is real," Garcetti wrote. "This moment demands immediate solutions. This is the fight of our lives."
Like the federal Green New Deal concept championed by lawmakers like Rep. Alexandria Ocasio-Cortez of New York, LA's plan is about more than fighting climate change. It's meant as a roadmap for pursuing climate action in a way that enables economic equality—rather than solidifying old systems of poverty and disparity.
"Our Green New Deal is not just an environmental vision," Garcetti wrote. "It is designed to prioritize communities that bear the brunt of climate change first." For example, the mayor established a Jobs Cabinet to help train workers in fields like energy efficiency and clean power, "so that Angelenos will be prepared to fill 400,000 good, green jobs that can't be shipped overseas," Garcetti continued. The plan also includes provisions for affordable housing and targets an end to street homelessness by 2028.
Further, the Green New Deal plan establishes a Climate Emergency Commission, which will "draw the best ideas from neighborhoods on the front lines of climate change, harness the expertise of scientists, and recommend long-term actions to reduce rising temperatures," Garcetti said.
But not everyone is convinced. Sunrise Movement Los Angeles, an organization that is part of the national push for a Green New Deal, responded in a Medium post—writing bluntly that Garcetti's plan "is not a Green New Deal," the Los Angeles Times reported Monday. The group argues that sufficiently moving the needle on climate change requires carbon neutrality by 2030, two full decades earlier than Garcetti's proposed timeline.
If that's the benchmark to hit, other city governments may soon face similar criticisms: New York City's version of the Green New Deal, which its city council passed in April, calls for a 40 percent cut in emissions by 2030—putting full-fledged neutrality a long way off.
Still, it's telling that lawmakers are so willing to slap the Green New Deal moniker on their climate action proposals. As support for this type of policy grows—and state- and city-level movements continue to pick up steam—the landscape may very well give way to a race to the top that's defined by the biggest, most ambitious and most short-term climate policies.
Image credits: Dillon Shook and Pedro Marroquin via Unsplash and Mayor Eric Garcetti via Flickr