REI has long been an outlier in the retail sector. While many retail chains are shuttering locations, the Seattle-based outfitter keeps opening new stores. And for the fifth consecutive year, as more retailers are determined to turn Black Friday into Black Thanksgiving Weekend, REI will once again shut down all of its locations.
And REI isn't just closing stores. If you happen to order something online the day after Thanksgiving, your order won't be processed that day. Furthermore, the company is asking its 13,000 employees to venture outdoors – as well as making the same ask of its 18 million members, who together make the 81-year-old company America's foremost retail co-op.
This year, the company is asking employees and members to ratchet it up a few notches – and we're talking massive notches.
If you're a dedicated Instagrammer and are an outdoors fiend, you've probably seen the #OptOutside hashtag here and there – especially on and around Black Friday. Well, that's REI's social media brainchild, and yes, once again, next month's Friday holiday will be all about #OptOutside.
Opting big time to take on climate change
Only this year, REI is urging people to "opt to act." The company is asking for a nationwide clean-up effort, with the goal to leave the outdoors better off than when people arrive at their favorite national or state park, or any outdoors space for that matter. According to the company, employees have already been opting to act when it comes to clean-up, collecting over 3.4 tons of garbage as of press time.
This effort is all part of what REI says is a "fight for life outdoors" – whether its revamping its linear business model to a more circular one in which returned and used items are bought and sold; taking on waste; and eliminating unnecessary packaging used to store and ship its products.
Climate change is a threat to REI's business
True, climate change is a long-term risk to all industries – but it poses a huge threat to REI, which banks on selling apparel and gear designed for folks who choose to spend the bulk of their free time in the great outdoors.
Climate change is also a threat to REI's travel business – which so far features dozens of adventure travel itineraries worldwide, including one of its most recent trips, a hiking and camping escape to the Pinnacles National Park in central California's coastal ranges (shown above).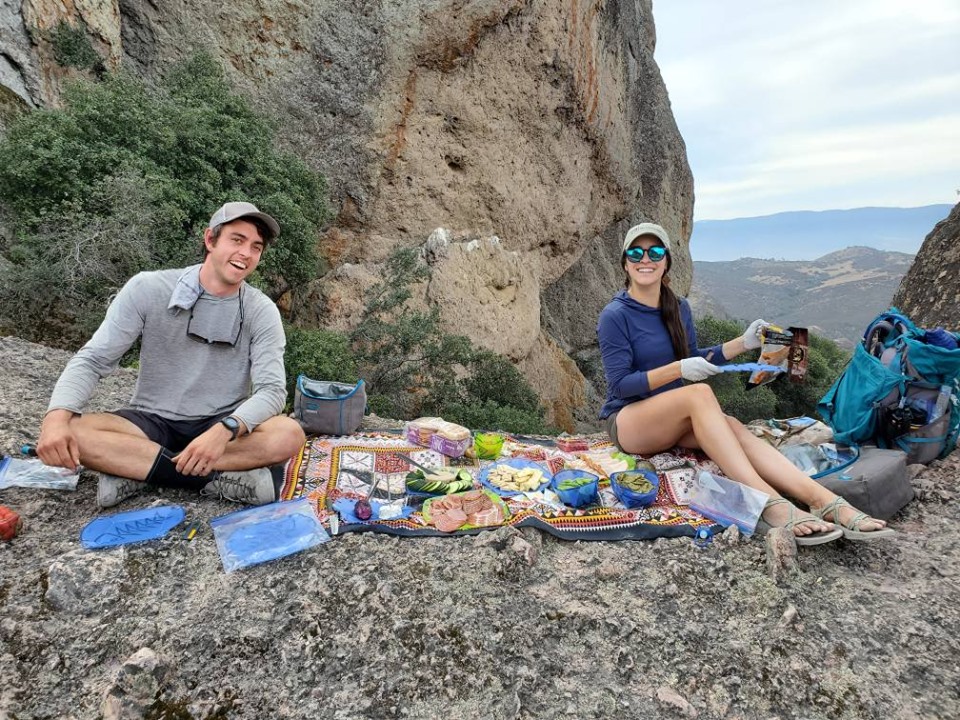 Photo above: REI guides prepare a lunch spread in the middle of Pinnacles National Park
REI's challenge, and that of its competitors, is not all that different from the sports industry or the global food and beverage sector. Aggressive climate adaptation won't help the sport of hockey if there's no ice to play on; most farmers don't have the option to pack up and move their fields north if where they live becomes too hot and arid; and in the case of REI, it will lose a lot of business if snow-capped peaks lose all that ice and snowpack forever.
Small changes add up to lasting impact
The challenges seem daunting, but if any company and its stakeholders can inspire change, it's REI. The co-op's ambitious sustainability commitments are a start, but as any REI employee will tell you, little changes we all make can together generate a huge difference. Yes, there's long been the argument that companies and governments need to move faster to scale up change, but as plenty of evidence suggests, if everyone makes small changes to their everyday routine, the results can be huge.
"As a single company, our impact is limited, but as a community, we can drive change that powers meaningful action beyond our walls," said Eric Artz, CEO of REI, in a public statement. "As a co-op, we know that many people taking many small steps together can add up to big changes. Collective intention will drive collective impact."
Many companies say they are taking on the climate crisis, but those commitments are often buried in "goals" that will purportedly come into fruition in 2025 or 2030. REI is one of those few companies that understands the time to tackle climate change was yesterday – and is matching its words with deeds.
Image credits: Leon Kaye