In a state full of incredible scenery, one route that shouldn't be missed in California is Highway 20, which takes you through the Mendocino Range west into Fort Bragg. Redwoods that pierce the sky eventually recede as you enter Fort Bragg and arrive at the spectacular Mendocino coast. Among the many reasons to visit, this town of 7,000 is becoming a haven for pollinators, due in part to its participation in the Bee City USA program, a Xerxes Society initiative.
Fort Bragg became the first California city to participate with Bee City USA three years ago. Cities, towns and counties that join the program make various commitments to raise awareness about the role pollinators have in our food supply, as well as the development of habitats that attract the likes of bees, butterflies, bats and hummingbirds. Cities that align with this movement are encouraged to develop teams that include local environmental leaders, municipal employees and experts well-versed in how to boost local populations of pollinators.
Nationwide, the Bee City program includes Duke Energy and the information technology firm DelCor as sponsors. Local supporters in Fort Bragg include a local coffee roaster, which has marketed one coffee blend in a partnership with the NGO Friends of the Earth to help raise funds for projects designed to create ecosystems that can help pollinators thrive locally. The results have included a bee garden at one of the city's central attractions (the historic Guest House Park, shown above), as well as educational programs in surrounding Mendocino County.
Bee City USA is still at a nascent stage, and could certainly benefit from more awareness and corporate support. The challenge is huge: research published in the journal Biological Conservation earlier this year concluded that over 40 percent of insect species worldwide are confronting the risk of extinction over the next few decades. Another study published in 2017 suggested that there has been a 75 percent loss of insect biomass since the 1980s. Rampant overdevelopment, the use of pesticides, increased diversion of land to farming and of course, climate change are among the reasons the plight of pollinators has surged from a problem to crisis across much of the world.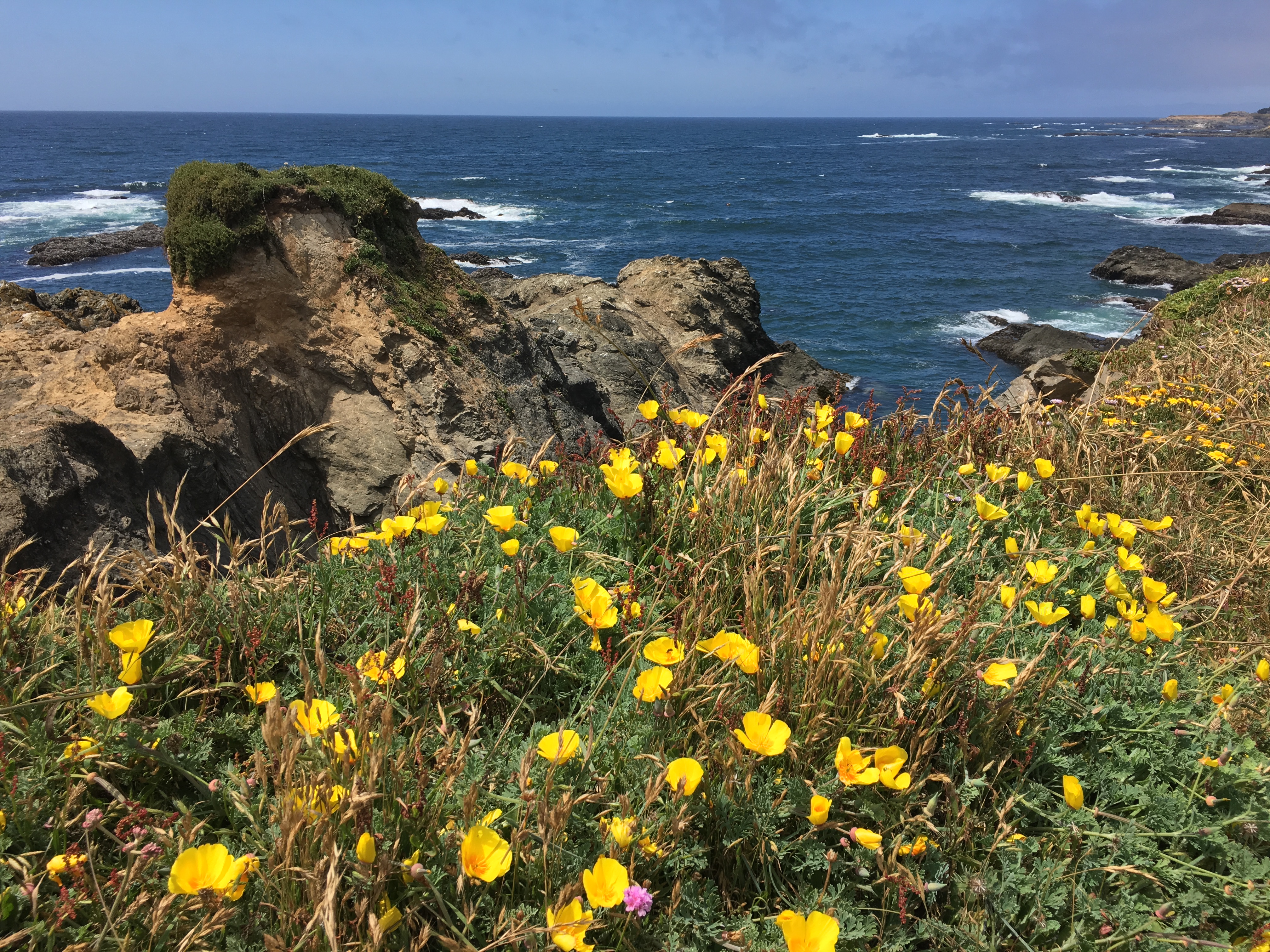 (photo above: California poppies along the Mendocino coast)
The drive to save pollinators certainly offers a compelling reason for cities, with local business support, to align with the Bee City USA movement. But there are other reasons to become a Bee City – including another boost for local tourism as well has providing more aesthetics to a town's central core and surrounding neighborhoods. Walking along the town's main drag along Highway 1, Fort Bragg benefits from the pops of color resulting from its drive to revive local bee populations. Varieties of lavender, lilacs, poppies, sage, goldenrod and Mendocino Coast Indian paintbrush complement the town's historic buildings. Locals, visitors and pollinators all win.
Image credits: Leon Kaye