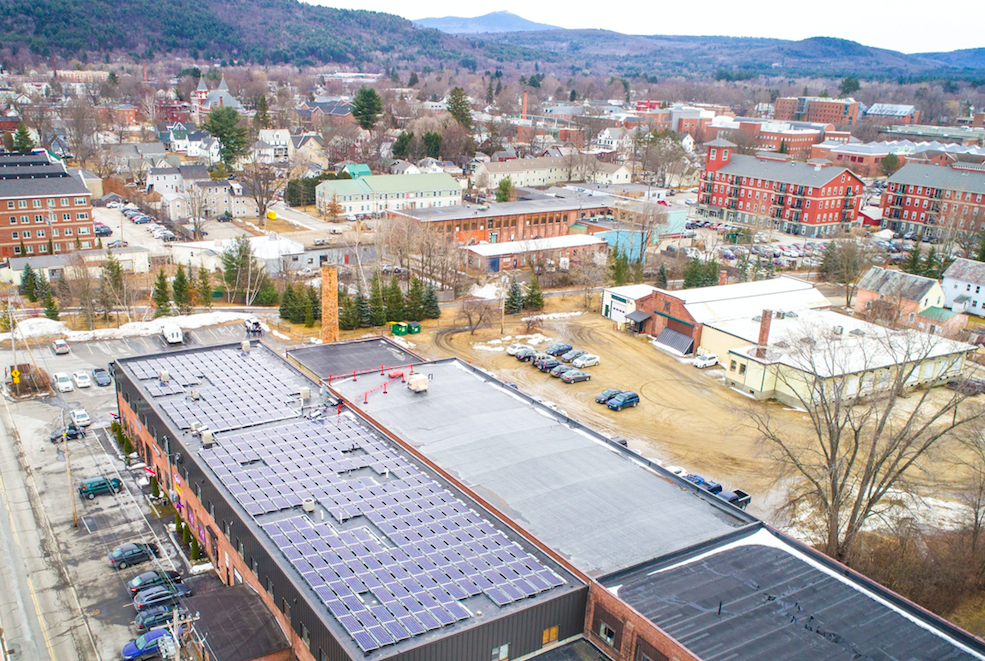 Keene, New Hampshire, was in the news earlier this year over a new restaurant's controversial name. But now the town can boast about its role in the renewables revolution.
If you live outside New England, perhaps you've heard of the southwestern New Hampshire town of Keene because of the kerfuffle earlier this year over a new Vietnamese restaurant. The owners of Pho Keene Great thought they found a golden name for their new restaurant on Keene's Central Square. City officials, however, thought differently, and a bureaucratic battle ensued, with many of the volleys being lobbed from Facebook and Twitter. Largely because of the First Amendment and an outpouring on social media support, Pho Keene Great won.
But in more recent news, Keene has also won, as the town took another step closer to its 2030 goal of having 100 percent of its power derived from renewables.
The story is very New England, or could we say, very post-industrial America. In the case of Keene, a new solar power rooftop system atop an old silk textile mill is generating clean power on what is now a mixed-use commercial development that includes office, retail and storage space. New England's old textile mills make for great work-live spaces but aren't always the most energy-efficient. Solar panels can help on this front—and prove that "smart cities" don't have to be in the western U.S. or within America's largest urban areas.
Encore Renewable Energy, which managed the Keene project, is already leaving its mark across New England with 60 solar projects in neighboring Vermont alone. According to Encore, this 140-kilowattpeak (kWp) solar installation atop the historic Silk Mill property will offset over 2,300 metric tons of carbon dioxide, equal to the emissions of almost 6 million automobile miles, over the next 25 years. A renewables grant from the New Hampshire Public Utilities Commission helped make this project a reality.
To paraphrase that previously mentioned star restaurant's name, this is . . . pretty great news.
The Silk Mill project will help New Hampshire inch toward its long-term renewables goal. Currently, the largest nuclear power plant provides over half of the state's electricity. Almost half of New Hampshire's households rely on home heating oil to stay warm during those frigid winter months. But wind power outpaced coal for electricity generation in New Hampshire for the first time in 2016, so the state's 2025 goal of sourcing 25 percent of its power from renewables shouldn't be too uphill of a climb.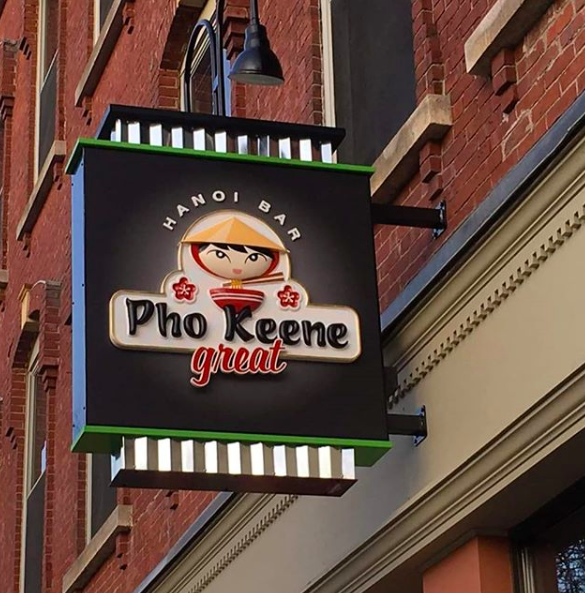 As of press time, it's not clear whether the monthly bills for Pho Keene Great (pictured above) will benefit from this project. What is clear is that projects like this new one in Keene can help New Hampshire's state motto of "Live Free or Die" (at least when it comes to some monthly bills) become a tad more realistic.
New Hampshire's residential electricity bills trend lower than the national average; but pho sure, the promise of even lower bills for the state's homes and business will come across as . . . great.
Image credits: Encore Renewable Energy; Pho Keene Great/Facebook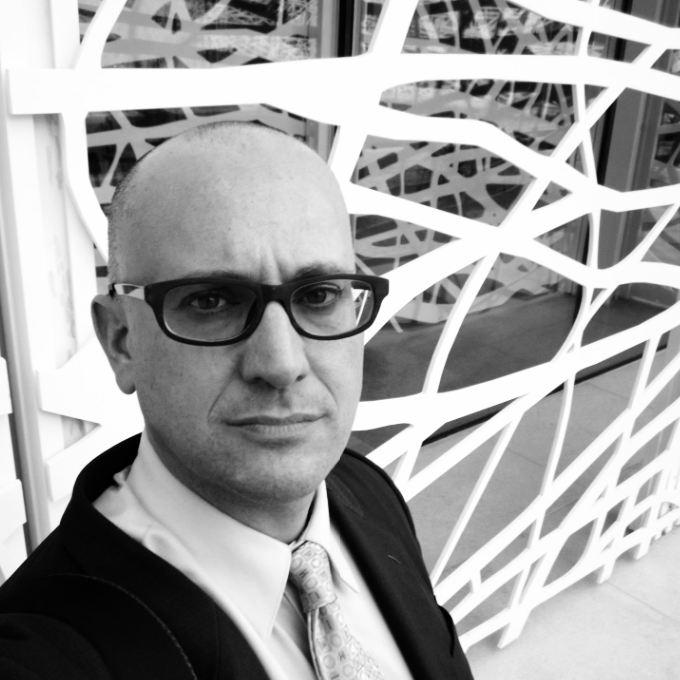 Leon Kaye has written for 3p since 2010 and become executive editor in 2018. His previous work includes writing for the Guardian as well as other online and print publications. In addition, he's worked in sales executive roles within technology and financial research companies, as well as for a public relations firm, for which he consulted with one of the globe's leading sustainability initiatives. Currently living in Central California, he's traveled to 70-plus countries and has lived and worked in South Korea, the United Arab Emirates and Uruguay.
Leon's an alum of Fresno State, the University of Maryland, Baltimore County and the University of Southern California's Marshall Business School. He enjoys traveling abroad as well as exploring California's Central Coast and the Sierra Nevadas.