Image: Barefoot College trains women to build, install, maintain and repair solar electrification systems in off-grid villages.
The common goal of reducing the gender gap by investing in women is what brought together law firm Hogan Lovells and social enterprise Barefoot College. The result is an award-winning corporate social responsibility program bringing transformational change to business, society and the environment.
Globally, 1.1 billion people live without power. In India alone, more than 300 million people still live in the dark, according to the World Bank. Once the sun goes down, they cannot work or learn, hindering their personal and economic growth. Many people end up using kerosene lamps that release toxic smoke that is hazardous to health and the environment.
Addressing this issue, the partnership between Hogan Lovells and Barefoot College supports the training of 400 women to build, install, maintain, and repair solar electrification systems in off-grid villages in developing countries as part of Barefoot's Solar Mamas Program.
Under this program, women are trained for six months to build solar electrification systems, such as LED lamps, charge controllers, home lighting systems and solar lanterns, that are shipped to their villages and used to provide electricity to the community. This will help bring clean, renewable light to an estimated 20,000 families in rural communities.
Other synergies that solidified their partnership were their mutual focus on the energy sector, geographic overlap between Hogan Lovells operations and Barefoot's target expansion countries, and Barefoot's approach to innovation and ambition coupled with a proven-track record, the organizations said.
"In choosing our partners, we set key performance indicators for both societal and business benefits across three areas: pro bono legal advice, community investment volunteering, and fundraising. We work with partners over a three-year period as experience shows us that is the amount of time needed to build trusted and beneficial relationships between organizations, engage staff, and make a tangible difference," said Amy Roma, partner and energy lawyer at Hogan Lovells.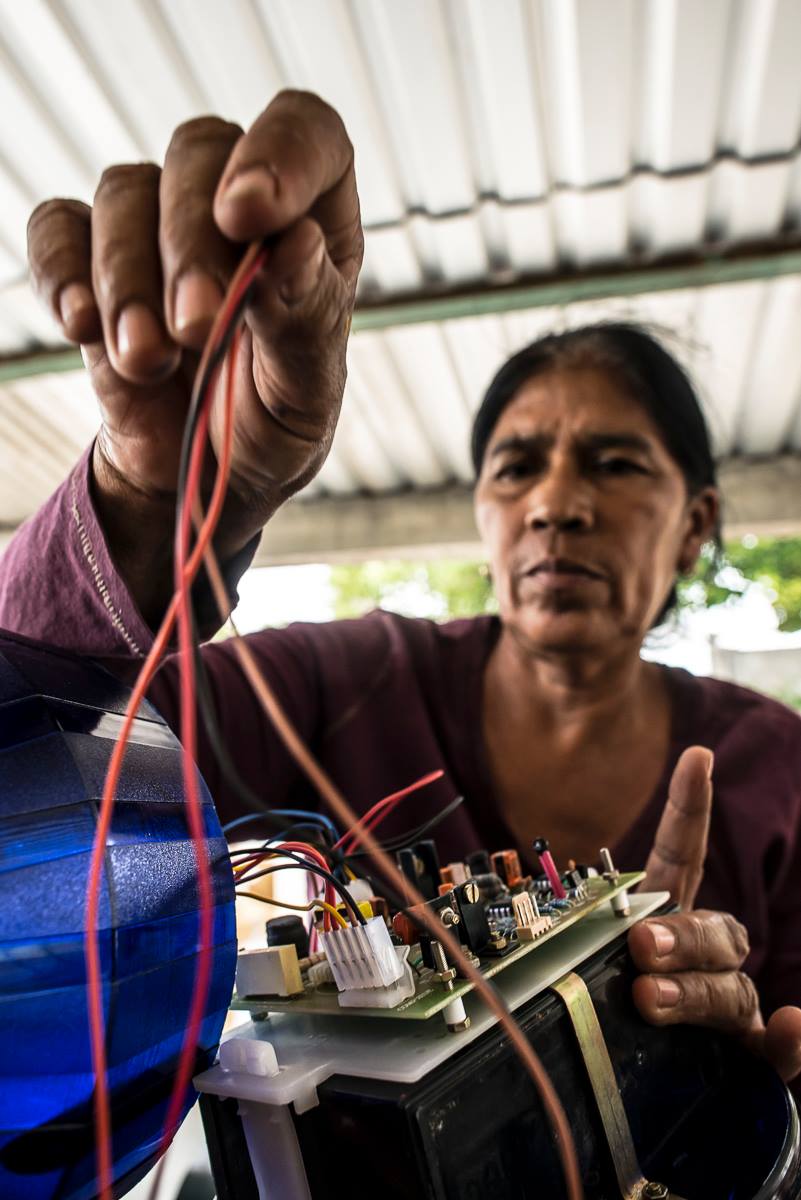 Image: In partnership with Hogan Lovells, Barefoot College has trained more than 400 women.
Since 2016, 92 percent of Hogan Lovells' 46 offices worldwide have been engaged with Barefoot College. Over 100 of their lawyers have spent more than 1,300 hours providing pro-bono advice between Barefoot, governments, and development finance institutions to enable Barefoot to open regional training centers in Burkina Faso, Liberia, Madagascar and throughout the Middle East. The law firm has also worked on delivering human rights research to create digital learning materials for Solar Mamas to learn about their rights and how to protect them. "So far, 384 women have been trained in 35 countries, and we have raised [more than US$500,000] for Barefoot," Roma said.
"This is our first global, cross-sector partnership, and we are delighted with the results," added Sue Stevenson, director of strategic partnerships and international development at Barefoot International. "Hogan Lovells and Barefoot College's vision on global social impact, the importance of shared values and women's empowerment for the betterment of all are very much aligned. We are delighted to be supported by such a forward-thinking organization, where social impact is recognized as a key component of the firm's global business strategy and is inspired and led by their global managing board."
Overall, the partnership focuses on achieving seven of the 17 U.N. Sustainable Development Goals (SDGs): no poverty, gender equality, affordable and clean energy, good jobs and economic growth, reduced inequality, responsible consumption, climate action, partnerships for the goals.
"Our time and investment in social impact projects is worth every minute and every penny," Roma concluded. "Throughout our partnerships, we have endeavored to use our status as a global law firm to inspire multi-sector partnerships as a critical collaborative approach to systemic change. This approach has now set the bar for our future corporate responsibility partnerships and what can be achieved for both Hogan Lovells and Barefoot College. In our final year [of this partnership], we strive to gain international recognition for the work of Barefoot College and connect them to influencers so they can continue to scale their work."
Hogan Lovells, along with Impact NYC, created the documentary Flip the Switch: a 30 minute film about how critical women's empowerment is for the 21st century and the solutions that arise through partnerships.
According to the U.N., women invest 90 percent of their earnings back into their families and communities, whereas men only invest 35 percent. A 2015 report by McKinsey Global Institute found that advancing women's equality could contribute up to $12 trillion to global annual GDP by 2025. Investing in girls and women can therefore stimulate economic progress, but it can also grow markets and enhance people's health and education.
The Hogan Lovells-Barefoot College partnership offers insight and inspiration on this front. Flip the Switch received official selection status at 12 international film festivals, with upcoming screenings in New York (April 30) and Washington, D.C., alongside panel discussions on the business case for sustainable development. And Hogan Lovells won the CSR Program of the Year award for this partnership at the 2019 Legal Business Awards.
Image credits: Barefoot College and Flip the Switch via Facebook