(Image: Ben & Jerry's CEO Matthew McCarthy at the 2019 3BL Forum.)
A hush fell over the crowd at the 2019 3BL Forum as Ben & Jerry's CEO Matthew McCarthy walked on stage, save for the click-clack of keys as dozens of tweets scrolled by using the #BrandsTakingStands hashtag.
It makes sense that McCarthy's remarks were among the most shared on social media during the 3BL Forum. When it comes to speaking out on social and environmental issues, Ben & Jerry's is the real deal, the OG, its namesake founders the proverbial grandfathers of corporate purpose.
From cause-driven product launches and consumer engagement campaigns to supply chain sustainability, Ben & Jerry's has done it all. And McCarthy, who took the helm as CEO in 2018 after over 20 years at parent company Unilever, had no shortage of lessons to share about how to identify your corporate purpose and live it every day.
"We're in the urgency business," he said last week at 3BL Forum, the earnest sentiment behind his message tempered slightly by his friendly Southern drawl. "We need a much more aggressive approach within our organizations."
Read on for his top takeaways for purpose-driven leaders.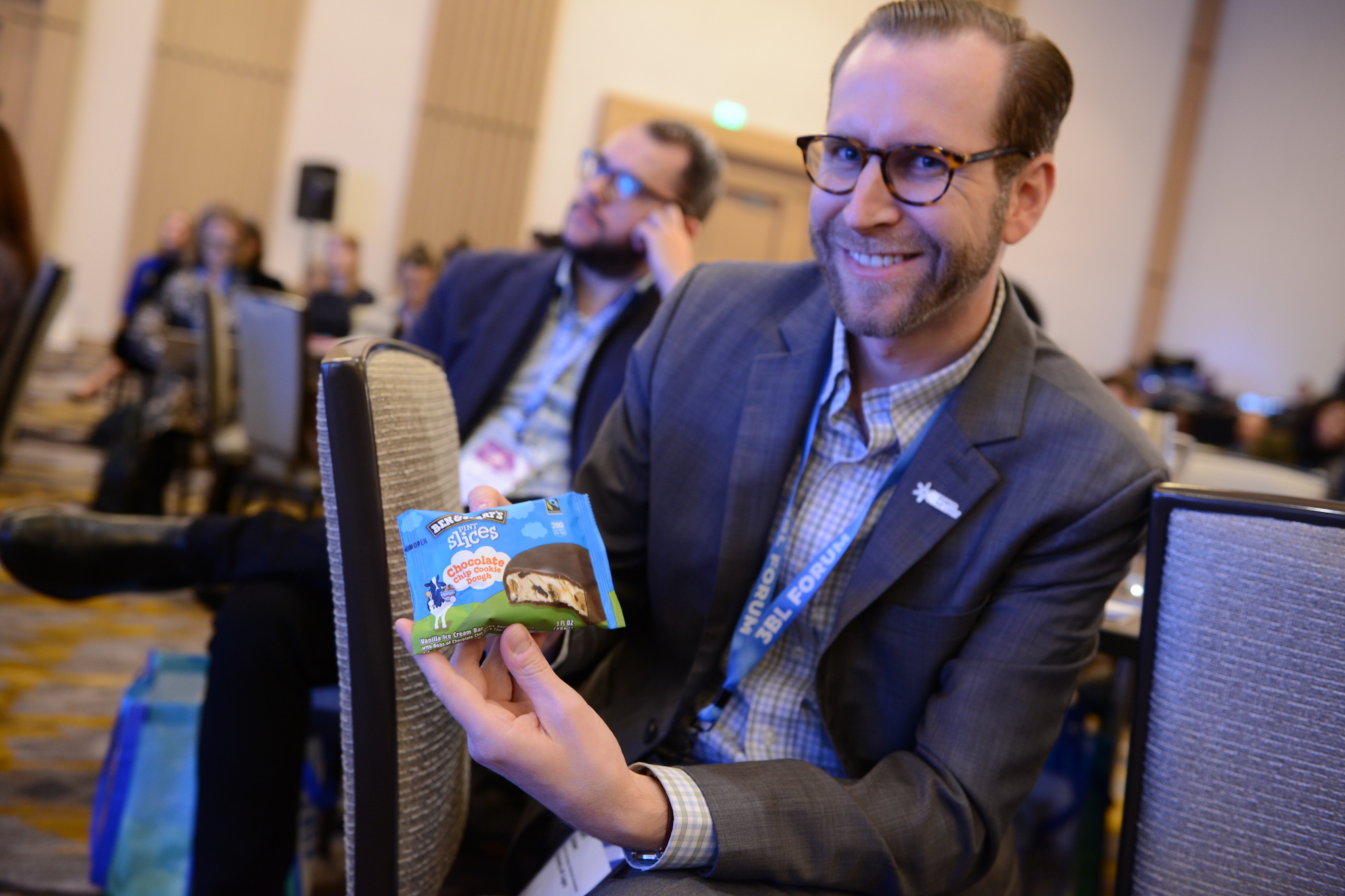 Ice cream with a side of social purpose? Count us in!
Don't let fear block your progress
"No one wants to screw up, but the reality is that the distance between where you are and where you want to go as a business usually involves a good wipe-out," McCarthy told business leaders at the 3BL Forum. "And in fact, in this world of hyper transparency, how you recover from a mess-up is one of the best opportunities to build authenticity with the people you serve.
"I know why organizations are afraid because I used to be afraid—and I still am. I don't want people to say bad things about my business or me. But in fact, getting criticized is just part of it—and I consider it a barometer of our success. If we're not getting some flack, we're probably not pushing hard enough."
Make purpose the mission of your entire company
"Don't just delegate to marketing or your corporate responsibility department or your social justice team—it's not just their job to do," McCarthy said. "A lot of companies set up a group [around their purpose] or they ask marketing to come up with something when, in fact, some of the biggest opportunities for impact is through our supply chains."
It's not about selling more products
"My team doesn't do what they do in order to sell more ice cream," McCarthy said. "The minute you restrict action that attacks a real social or environmental ill to sell more stuff, you have tethered it to failure."
Put resources behind it
Many business leaders feel a conflict between spending money on their purpose activations and investing in their core business and operations. McCarthy called this a "death loop" and said feeling as if every dollar spent on purpose somehow takes away from the core business is a "completely flawed logic."
"In fact, forget about your core and spend on purpose," he said. "I guarantee you, your friends will thank you."
Still curious? Click here for more insights from Matthew McCarthy and other purpose-driven speakers at the 3BL Forum.