(Image: Ben & Jerry's CEO Matthew McCarthy talks cause-brand connection and what it means to live your corporate purpose at the 2019 3BL Forum.)
The brands taking stands movement reached new heights in 2019. We saw Gillette and Anheuser-Busch air Super Bowl ads with purpose-oriented messaging, Procter & Gamble and LUNA Bar fight for equal pay for women's soccer players, and brands including Dick's Sporting Goods, Walmart and Walgreens enter the push for gun safety.
Still, some business leaders view the movement with trepidation. If I speak out on a social or environmental issue, will I alienate potential customers and employees? What about boycotts, should I worry about those? I've taken a hard look at my brand and my products, and I just don't see how they align with purpose. Maybe I should wait until I find the right fit.
Well, Matthew McCarthy, CEO of Ben & Jerry's—which has taken no shortage of stands in recent years, from voting rights and criminal justice reform to single-use plastics—has some news for you.
"Stop wasting time trying to find the perfect cause-brand fit. Just do it," he said at the 2019 3BL Forum last week. "What does ice cream have to do with structural racism and social justice? Not a lot, except that we care about it and our team cares about it."
A brand without a cause is a dead brand walking
Of course, we see plenty of purpose activations that align closely with a company's products or operations. Look no further than Ben & Jerry's fellow Unilever brand, Vaseline.
While it may sound strange at first to call Vaseline a purpose-driven brand, it turns out its signature jelly is used by healthcare professionals in developing countries to ward off skin disease—particularly in temporary shelters like refugee camps, where people live in tight quarters and access to sanitation is limited. From this realization, the Vaseline Healing Project was born, and it's now active in 52 countries, providing medical help to people who are displaced by natural disasters, conflict and extreme poverty.
But we can find just as many purpose missions aligned with the spirit and values of a company, not its products. What do LG electronics have to do with life skills that spur happiness? What do Bridgestone tires have to do with LGBTQ rights? Again, not a lot, but these companies, their teams and their customers resonated with the cause, so they took it and ran with it.

No matter what you do, make sure you do something—or your days may be numbered, McCarthy said. "The biggest under-told story in business right now is that the main reason why so many businesses are struggling is because they're not doing anything to make the world better," he said at the Forum. "If you're not doing something to help the world, you're probably dead and you just don't know it yet."
Young people are raising the bar—and it goes way beyond cause-brand connection
As business leaders struggle to find that perfect cause-brand connection, consumers—particularly young people—are already moving beyond this mindset, said Meredith Ferguson, managing director of DoSomething Strategic, the social impact consulting arm of DoSomething.org.
"When thinking about taking a stand, it's not just about selling your product or aligning with your product anymore," she said at the Forum. "It's about using your power, influence and platform to solve the world's most pressing problems. And we've got enough of them that we really need your voice."
In fact, DoSomething Strategic—which regularly surveys DoSomething.org's young members—has found that taking a stand on causes aligned with your products and operations is simply what's expected from today's young people.
"If you're a clothing brand that isn't size inclusive, that's just poor business strategy. Being size inclusive is not taking a stand. That's just being a responsible business," Ferguson said. "Young people are saying that is table stakes now. We just expect that of you."
"Don't think the cause platform you support has to be in lockstep with what your brand sells," she continued. "It just has to be in lockstep with what your brand is about from the inside out."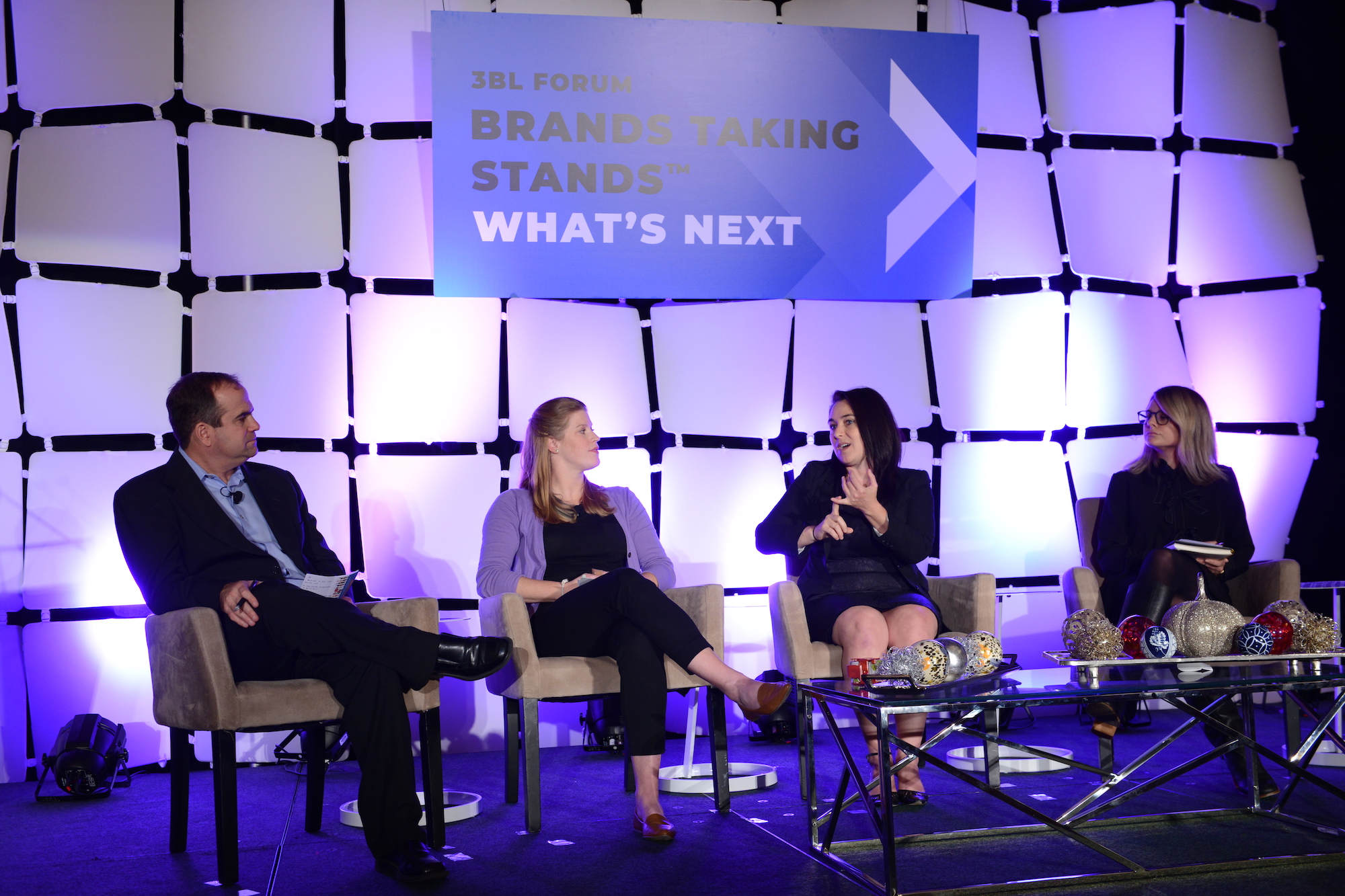 (Image: Allison Alt (second from right), executive director of Social Impact 360, talks about what young people expect from brands at the 2019 3BL Forum.)
Your stakeholders want to see purpose—and they want to get involved
A 2018 study from DoSomething Strategic indicates that although young people positively recognize brands that take stands, what they're really looking for is a way to get involved. "The easiest way to make an impact on a consumer and an employee is to invite them to be a part," Ferguson said at the Forum.
Allison Alt, executive director of Social Impact 360, which trains young people to lead purpose-driven businesses, agrees. "What I find in speaking with young CEOs and young business leaders is that meaning and purpose in their daily work is what they are really looking for," she said at the Forum.
"We're starting to see more brands stand for something, which is wonderful, because it signals to the next generation that you care about their need to be engaged and passionate in the work they're doing. But companies need to ask themselves: What am I doing to bring that purpose into everyone's daily work?"
Curious about how to embed your purpose and live it daily? These insights from business leaders shared during the 3BL Forum will get you off on the right foot.