The holidays came early for YouTuber Jimmy "MrBeast" Donaldson and the Arbor Day Foundation as their viral #TeamTrees campaign crossed the finish line of funding 20 million tree-plantings worldwide.
Launched on Oct. 25, the campaign aimed to raise $20 million to plant 20 million trees in celebration of Donaldson's YouTube channel reaching 20 million subscribers. Inspired by a Reddit challenge from a fan, #TeamTrees quickly went viral—raising $12 million by November and attracting attention from high-profile donors like Elon Musk, Twitter co-founder Jack Dorsey and YouTube CEO Susan Wojcicki.
The campaign hit the goal on Friday, over a week before its self-imposed deadline of Jan. 1. "We did it!!" Donaldson announced on Twitter. "Thank you so much to the over 500,000 different people that donated and the hundreds of influential people that promoted the campaign! Teamtrees was more than planting 20 million trees, it was a movement that shows we care and we want to make change."
The campaign is the largest crowdfunding effort in YouTube's history and "one of the fastest-growing environmental fundraising initiatives to-date," according to the Arbor Day Foundation. Through its global network, the Foundation will plant the promised 20 million trees across every continent except Antarctica, from January 2020 through December 2022. Tree species will be native to each area, ensuring survivability and maximum benefit for local ecosystems.
"We are proud to have partnered with #TeamTrees and are humbled at the outpouring of support," Dan Lambe, president of the Arbor Day Foundation, said in a statement on Friday. "We recognize the trust that's been placed in us. Now it is time to begin carefully planting these 20 million trees all over the world."
Influencers taking stands
As TriplePundit follows the brands taking stands movement and the rising trend of corporate, executive and employee activism, the prominent role of online influencers has come into sharper focus.
A powerful economic and cultural force in their own right, the social media influencer market is expected to be worth up to $15 billion by 2022, and U.S. teens say they look up to influencers more than traditional celebrities like actors, musicians and athletes.
In the case of #TeamTrees, hundreds of these high-profile voices leveraged their clout for good. YouTube videos related to the campaign earned a staggering 276 million views, with help from Donaldson and former NASA engineer Mark Rober, who himself has over 10 million subscribers on the platform. A single YouTube live stream by user Jacksepticeye raised $154,000 from 9,000 donors in a matter of hours, according to #TeamTrees.
As news of the campaign spread across the Web, it turned into scores of memes on Reddit, live-stream benefits on Twitch, half a billion views on TikTok and fundraiser bake sales IRL (that's "in real life" for the grups in the room).
"When Mark [Rober] and I started this campaign, we couldn't have predicted the incredible support #TeamTrees would receive," Donaldson said in a statement. "From hundreds of YouTube creators, to the biggest names in Silicon Valley, to kids holding bake sales, a huge team came together to make this possible. This is a big win for the planet."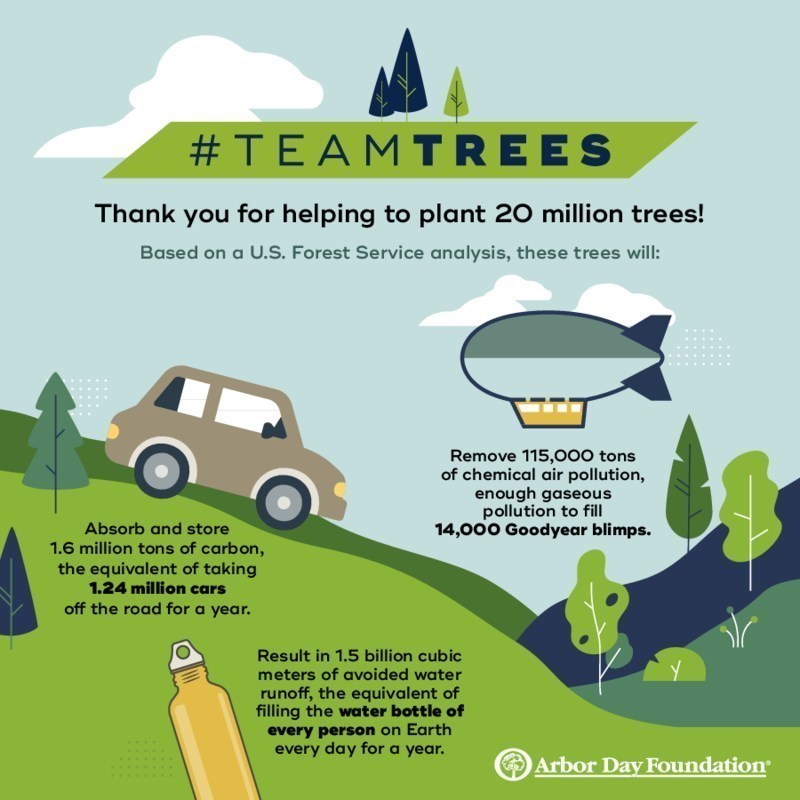 (Image: The impact of planting 20 million trees, according to the Arbor Day Foundation.)
#TeamTrees succeeds where COP25 failed
The success of #TeamTrees is timely for a number of reasons. Nature-based climate solutions emerged as a key point of focus at the annual U.N. climate talks (COP25)—and for good reason.
Nature-based solutions could could deliver 37 percent of the emissions reductions scientists say is needed to limit global temperature rise, according to the World Business Council for Sustainable Development (WBSCD). And, per the National Academy of Sciences, forest restoration has the most global climate mitigation potential compared to all other natural solutions.
Though COP25 ended in disappointment, with world leaders again unable to agree on key issues, campaigns like #TeamTrees illustrate how much influence everyday people have, organizers say.
"#TeamTrees is a prime example of youth leadership—especially the Gen Z 'Change Generation'—moving beyond retweet activism and harnessing the power of social media to address key societal issues," said Lambe of the Arbor Day Foundation. "The 20 million trees planted through this campaign will absorb and store 1.6 million tons of carbon, the equivalent of taking 1.24 million cars off the road for a year."
The campaign will continue to collect donations beyond the Jan. 1 deadline, with proceeds going toward the Foundation's Time for Trees initiative, a commitment to planting 100 million trees by 2022.
"We know 20 million trees won't cure climate change but this is a clear message that we care about our planet and about each other," said Matt Fitzgerald, campaign director for #TeamTrees, in a statement. "Solutions are all around us and it's time to get to work. #TeamTrees is here for it. This is just the beginning."
Image credits: Akil Mazumder/Pexels and the Arbor Day Foundation