We all know that online influencers have revolutionized popular culture: Ask folks under 18 about their favorite celebrity, and they're far more likely to name an Instagram model or YouTube personality than an actress or musician.
But can all of those makeup tutorials, prank challenges and sketch scenes shake up the way we view decidedly more serious topics like purpose and philanthropy? For YouTube sensation MrBeast, real name Jimmy Donaldson, the answer is a resounding yes.
Earlier this year, a Reddit user challenged Donaldson to do something special to celebrate reaching 20 million subscribers on YouTube: plant 20 million trees.
Donaldson—known for increasingly fantastical YouTube videos like "Paying People $10,000 To Eat Ghost Pepper"—quickly accepted. But of course, he couldn't accomplish such a feat on his own, so he linked up with the Arbor Day Foundation to turn his fans' eco dreams into reality.
Out of the collaboration, #TeamTrees was born. The unprecedented influencer campaign has raised more than $12 million since mid-October. Along with do-gooder YouTube fans, the campaign proved a hit with another high-profile influencer set: tech companies and their executives.
Tesla and SpaceX founder Elon Musk pledged $1 million to the campaign, bested only by Shopify CEO Tobi Lutke, who threw a touch of shade with a $1,000,001 donation. Jack Dorsey, co-founder of Twitter and fin-tech firm Square, donated $150,000. YouTube CEO Susan Wojcicki pledged $200,000, while the company committed to match $1 million in donations, Donaldson wrote in a tweet last week. And the support keeps rolling in.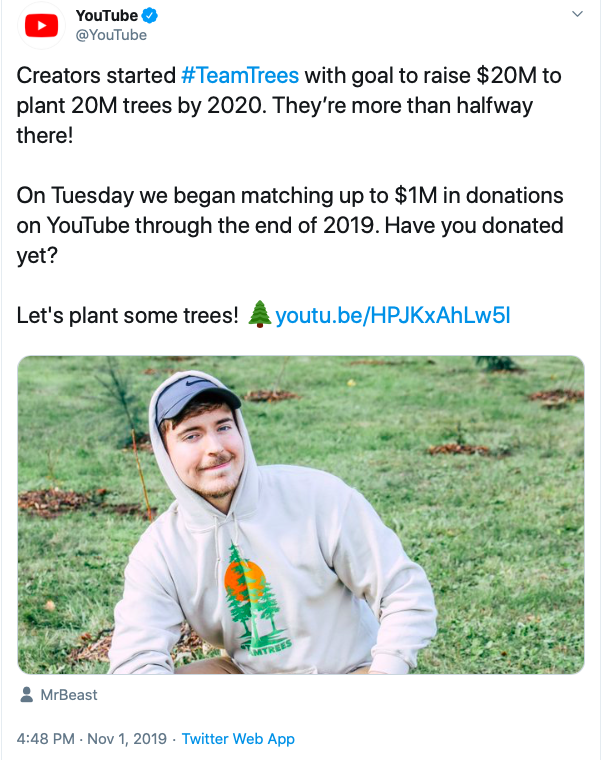 Donaldson (pictured above) and the Arbor Day Foundation have set a deadline of Jan. 1, 2020, to raise the $20 million needed to plant 20 million trees. Through its network spanning around the globe, the Foundation will plant the trees on every continent except Antarctica, from January 2020 through December 2022. Tree species will be native to each area, ensuring survivability and maximum benefit for local ecosystems, according to the campaign's website.
The case for tree-planting to fight climate change
For many in the sustainability community, tree-planting is something of a table stakes move. It's great and all, but with the urgency of the climate crisis and accelerating ecosystem degradation worldwide, is it really enough to match the challenges we face?
#TeamTrees doesn't kid themselves. On its FAQ page, it willingly answers the question, "Can planting trees solve climate change?," with a transparent: "No, not on its own."
Still, as we've reported before here on TriplePundit, the world loses 18.7 million acres of forests every year, according to the WWF. Research indicates that if current deforestation levels continue, the world's rainforests may completely disappear in the next 100 years.
This is bad news for the fight against climate change. Forest restoration has the most global climate mitigation potential compared to all other natural climate solutions, according to the National Academy of Sciences. That's because forests are natural carbon sinks: U.S. forests alone store 14 percent of all annual carbon emissions from the national economy, and restoring global forestland has the potential to contribute over a third of the total climate change mitigation scientists say is required by 2030.
Additionally, healthy forest ecosystems are critical to help communities stay resilient to natural disasters, which are increasing in severity and intensity due to climate change, Arbor Day Foundation President Dan Lambe said at the 2019 3BL Forum last week.
"The U.S. lost 8.5 million acres of forest lands due to wildfires last year alone," Lambe said at the Forum. "The five hottest years on record were the last five years, according to NASA, and we're all seeing the increasing frequency and severity of natural disasters. All of these things are taking a toll on our forests, which are critical part of our health, wellness and resiliency."
In response, the Foundation collaborates with governments, NGOs, community groups and corporate partners around the world on tree-planting efforts that maximize resilience to climate change.
"We're planting millions of trees, strategically with government and non-government partners, to help restore forest lands and to strategically buffer and create natural solutions to resiliency," Lambe said. "If ever there was a time for trees, now is that time. If ever there was a time for natural solutions and leadership through conservation efforts, that time is now."
Influencers taking stands
The 3BL Forum included a panel on the power of influencers—including eight members of the sustainerati, including our very own Leon Kaye. They spoke to the potential of leveraging millions of followers to spark positive change—and #TeamTrees presents what is perhaps the most apt example to date.
"The #TeamTrees initiative has taken off thanks to the creativity of YouTube creators who are harnessing the power, the influence and the passion of their followers," Lambe told InsideEdition. "Twenty million trees is going to make an enormous difference in helping to fight and combat climate change and other important and pressing issues all around the world."
Is viral tree-planting just the start of a new chapter in the brands taking stands story? All we can say is: We certainly hope so.
Image credit: Unsplash/Noah Buscher, Twitter/YouTube