Research over the past decade has verified that mangroves are among the most important carbon sinks on the planet. Environmentalists have suggested that in addition to similar "blue carbon" ecosystems, including many coastal wetlands, mangroves are 10 times more effective at sequestering carbon than tropical rainforests. Their usefulness is matched by their wealth of biodiversity, as well as their alluring beauty marked by these trees' intricate roots and swooping branches.
But from the shores of the United Arab Emirates to the Caribbean coast of Colombia, mangroves' various roles—such as buffering communities from storm surges and providing building materials and food for local residents—are under constant threat due to rapid development, overfishing, illegal logging and climate change.
So, earlier this week, Apple scored plenty of attention when the company announced that it would partner with Conservation International to protect 27,000 acres of mangrove forests in Colombia's Cispatá Bay, located about 125 miles (200 km) south of Cartagena. Conservation International has estimated that the project could help capture and sequester approximately 1 million metric tons of carbon dioxide during its lifetime.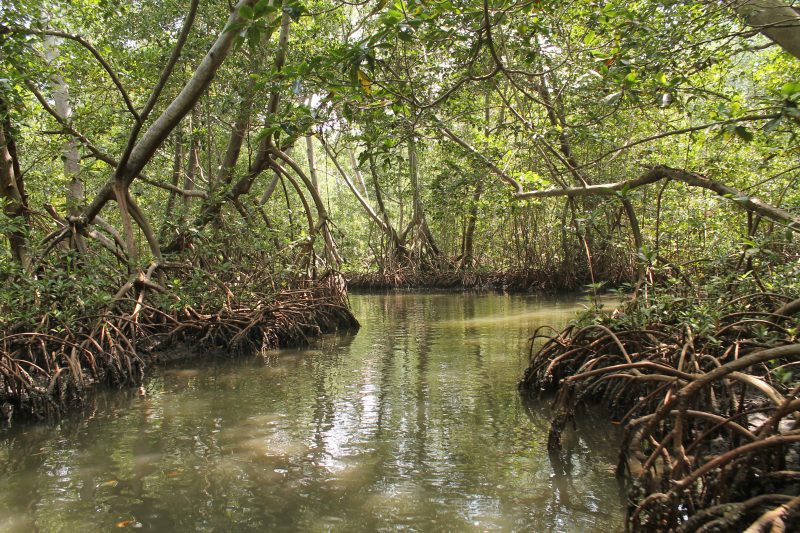 Image: One of the mangroves dotted along Colombia's Caribbean coast.
Why would a Silicon Valley giant invest in a project that, at face value, would seem to have nothing to do with iPhones and iPads? Probably for the same reason Apple has worked on similar projects, including one that boosted forest protection in Maine.
It's no secret that Apple has exacted its fair share of emissions across the planet. Simply compile all of the emissions released during the manufacturing and shipping of Apple's products, as well as the management of all those data centers storing customers' photos, files and music. Apple says it is doing what it can to mitigate its carbon footprint; for example, the company announced last year that its facilities worldwide are powered by renewables. But as is the case with any company, Apple can do better.
Considering the amount of carbon these mangroves can store, Apple has an opportunity to boost its sustainability chops while reaping plenty of bang for the buck. The company can also bolster its tenuous brand reputation by inspiring other companies to act. While tech companies (for obvious reasons) do not want their ideas copied, in this case, imitation is a most welcomed and sincerest form of flattery—and scaled up imitation on this front can slow the rate of deforestation while securing economic stability for some of the world's most vulnerable communities.
The 50 million people who live within one of Latin America's more stable economies stand to benefit as well.
Colombia is rich in biodiversity; for example, the country is home to over 1,500 species of orchids (like the one photographed above, in a mangrove reserve near Cartagena) that can't be found anywhere else on the planet. While we're discussing nature, this country, almost twice as large as France, also hosts over 1,900 species of birds. Colombia's biodiversity in part can be explained by its varied landscapes—from its vast Amazonian rainforests to small deserts and remote Caribbean islands. Hence the abundance and variety of flora and fauna are among the reasons Colombia, from its countryside to its dynamic cities, is quickly becoming a leading tourist destination—a trend that is contributing to the country's ongoing sustainability challenges.
Projects like the Apple-Conservation International partnership can help stall environmental degradation, support sustainable development and boost companies' overall reputation—including in middle-income countries like Colombia. After all, even though Colombia's impressive economic growth has hit the brakes over the past year, its citizens' purchasing power continues to increase. As companies like Apple seek to develop new markets worldwide, they also have to contend with these consumers' rising concerns over sustainability. Hence Apple's investment on Colombia's Caribbean coast is as much about trust as it is about mangroves.
Image credits: 1) Leon Kaye; 2) Conservation International