Across the world, municipalities enacted bans on mass gatherings to slow the spread of COVID-19. Many people choose to self-isolate to do what medical experts say needs to happen: flatten the curve. Live streaming is one way to lift spirits. And luckily, live streaming options abound.
While people are not able to attend conferences in the flesh, musicians across genres are offering concerts via social media. Russian-German pianist Igor Levit began offering live performances through Twitter last week, and as of press time he continues to do so. He is not the only classical musician to live stream performances. The Berlin Philharmonic, London Symphony Orchestra and the Philadelphia Orchestra are just three among many symphonies with plans to live stream performances.
From opera to punk, the virtual concert halls are open
The Metropolitan Opera announced on March 13 that it would stream its performances for free through its website starting on March 16 with the 2010 performance of Bizet's Carmen. Every night the Met will offer different performances from the past 14 years on its website. The nightly stream starts at 7:30 pm EDT and remains available for 20 hours. "We'd like to provide some grand opera solace to opera lovers in these extraordinarily difficult times," said Met General Manager Peter Gelb.
The Celtic punk band Dropkick Murphys has long held a concert on St. Patrick's Day. This year, the band offered the concert for free through a live stream on YouTube, Facebook, Instagram, and Twitter. "For the first time in 24 years, we are not playing on St. Patrick's Day weekend. The current world situation is the ONLY thing that would ever stop us from doing so," the band stated on its website.
Other musicians have chosen to offer daily streams. Ben Gibbard is one of them. The singer-songwriter and guitarist known best as the lead guitarist of the indie rock band Death Cab for Cutie live streams every day at 4 pm PST via YouTube and Facebook.
There are countless other musicians of every genre imaginable offering performances online for their fans. The message is clear from musicians whose work has been canceled due to COVID-19: the show must go on.
Museums, art galleries, and zoos offer virtual tours
Many schools are closed for at least a month, leaving parents scrambling to find activities for their children. More than 2,500 museums and galleries worldwide have partnered with Google Arts and Culture including Musée d'Orsay in Paris, National Gallery in London, Van Gogh Museum in Amsterdam and National Gallery of Art in Washington, D.C. The Google Arts & Culture app makes it easy to view participating museums and galleries on a smartphone.
Google's The Open Heritage series allows people to view at-risk heritage sites in 3D. The offerings include Ananias Chapel in Syria. Viewers can get an up-close look at the ancient underground chapel in Damascus, Syria and find out information about it.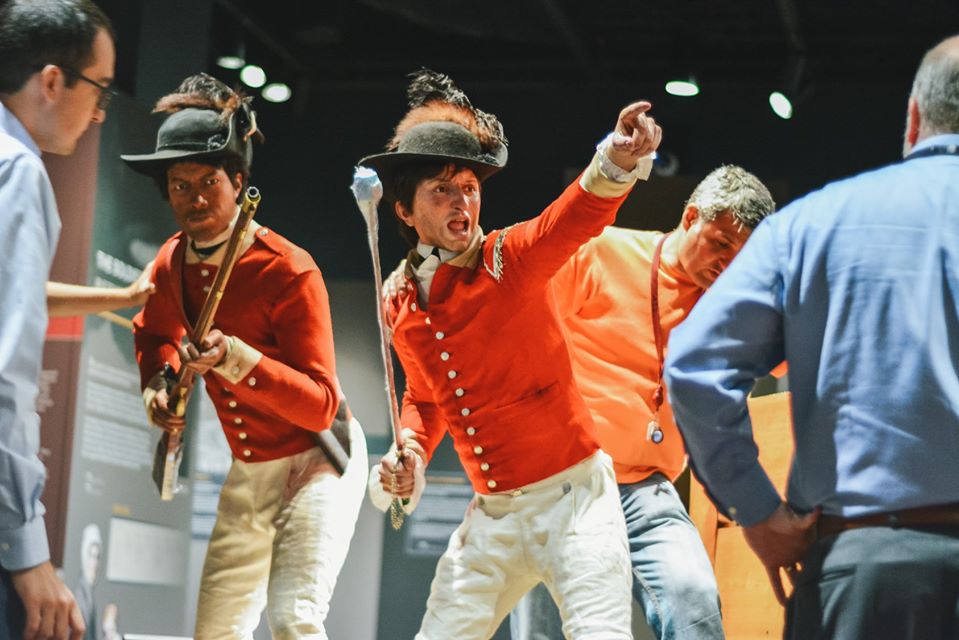 Photo: Philadelphia's Museum of the American Revolution is offering virtual tours
In Philadelphia, the Museum of the American Revolution is temporarily closed to the public, but virtual visitors can check out the museum's content from anywhere with free digital resources for all ages. Options include a virtual tour, a virtual field trip, an archive of book excerpts focused on the revolution and a digitized collection of the museum's art and artifacts.
Zoos around the world also offer live streams of exhibits and certain animals. The San Diego Zoo offers a variety of live streams for its exhibits, including ape, panda, elephant, and tiger exhibits. The Cincinnati Zoo and Botanical Gardens offers Home Safaris Live on Facebook on weekdays at 3 pm EDT. The Monterey Bay Aquarium has live streams that include a coral reef cam, Monterey Bay cam, and an open sea cam.
As we wait out COVID-19, streaming options keep multiplying
Sports fans this spring are out of luck. The NBA and NHL ended their seasons in a move to contain the spread of COVID-19 while baseball ended its spring training. The NCAA canceled March Madness. Ken Burns announced via a tweet that PBS will stream his 18-hour series Baseball for free, "so we can participate in the national pastime together." PBS is not the only one to offer something for sports fans to view. The NFL and NBA offer fans a chance to view old games. NFL fans have free access to NFL Game Pass until May 31 and NBA fans have free access to NBA League Pass until April 22.
Media companies keep adding more content: Disney, for example, released Frozen 2 far earlier than planned on its streaming service. The streaming service Sling TV announced it will offer some of its content for free. The free content includes movies, children's content, lifestyle and entertainment programming, and ABC News Live. "With many Americans finding themselves staying at home, we have an opportunity to use our platform to help them deal with this rapidly evolving situation," said Warren Schlichting, group president, SLING TV.
Image credits: San Diego Zoo; Museum of the American Revolution/Facebook