Attractive as they are, these Kartell chairs look fairly ordinary at first glance. The midcentury modern feel is typical of the Italian furniture maker and its design collaborator, renowned French visionary Philippe Starck. But that sleek matte finish hides a secret: a unique partnership between human and machine.
The so-called AI Chair was created using generative design, a form of artificial intelligence that can devise hundreds of design alternatives from a single idea.
Developed by U.S. tech giant Autodesk, generative design uses simulation analysis to explore all possible solutions to a given challenge. In Kartell's case, that challenge was creating a desirable piece of furniture made solely from the scraps of its own industrial production.
"It's not a question of simply creating a product that seems green, but of generating an industrial strategy that involves the entire manufacturing process," Claudio Luti, chairman of Kartell, said in a statement.
The 100 percent recycled piece is a first for a company that's been a household name in contemporary furniture since the 1960s. And what is one small step for Kartell may prove to be one giant leap for the product design field, as companies from the auto sector to the architecture space eye generative design as a means of improving performance and sustainability.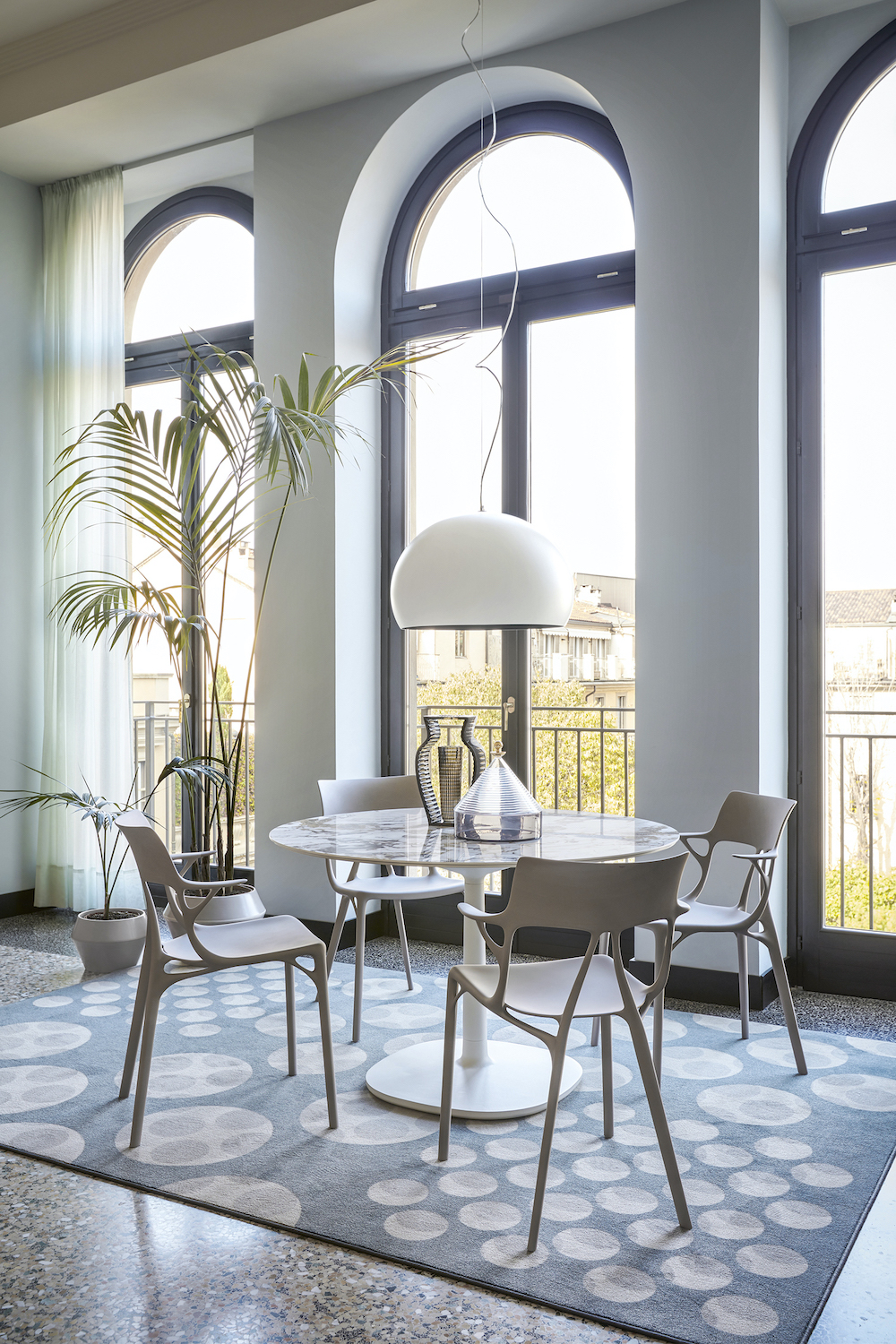 Generative design: The creative process of the future?
Today's product design process goes something like this: Designers get a brief from their client, outlining the goals, timing and budget for a given project, and they mock up a handful of concepts. One or two ideas move on to physical testing, and the team continues to iterate on those concepts until it's time to go to production.
"With generative design, you can start right from the brief, input your goals and constraints, and arrive at hundreds of design options within minutes," Arthur Harsuvanakit, a senior designer on Autodesk's industry research team, told TriplePundit.
"The biggest benefit is to quickly validate a design intention and a designer's assumptions of how things will perform. You get to more optimal designs faster without having to do physical testing," he explained. "It speeds things up. It saves on material. And it saves on prototype time."
The ability to speed up the design process has huge benefits for sustainability, Harsuvanakit added. "You can cover much more possibilities from the very beginning, and that allows you to consider things you might not have been able to consider using the traditional approach."
The wide variety of options afforded by generative design allow engineers and designers to eliminate excess material, consolidate parts and components, and create the possibility for more uniform materials, which can ease recyclability at end of life. "If a product is multi-material or too complex to disassemble, it's usually going to end up in the trash. If it's mono-material, there's a higher possibility for recyclability," Harsuvanakit explained.
Additionally, as new sustainable and recycled-content materials come to market every day, the ability to test their performance in a virtual environment can help them get into products faster, he said. "There's definitely a stigma of recycled plastics being not as high-performing in both structure and aesthetics compared to virgin plastics, for example. The more data we can gather about those recycled materials, the more we can bring truth to those assumptions."
(Image: An engineer uses generative design to create new car part concepts for GM.)
From car parts to buildings: Unlocking the potential of generative design
After more than five years of incubation and study within Autodesk's industry research department, generative design is now on the open market as part of the Fusion 360 platform for designers and engineers.
A recent collaboration with General Motors further tested its potential. "Generative design is a way for us to explore different design solutions for parts and components of our vehicles by using the cloud and artificial intelligence to combine the engineer and the computer," Kevin Quinn, GM's director of additive design and manufacturing, told Autodesk. "By getting them to work together, we can come up with part-design solutions that would be impossible to generate with either the computer or the engineer working on their own."
In one example, GM engineers used the AI-driven platform to create an optimized seat bracket, which secures seatbelt fasteners to car seats and seats to floors, reducing eight individual pieces down to one. In another, they created a new stabilizer component that combined 27 pieces into a single piece, cutting weight by 42 percent.
The motivation to cut down on individual components is twofold, Quinn said. "One, we can optimize for mass. But another ancillary benefit is that you're reducing all the supply-chain costs associated with having many different parts that may be made by many different suppliers, which then have to all be joined together."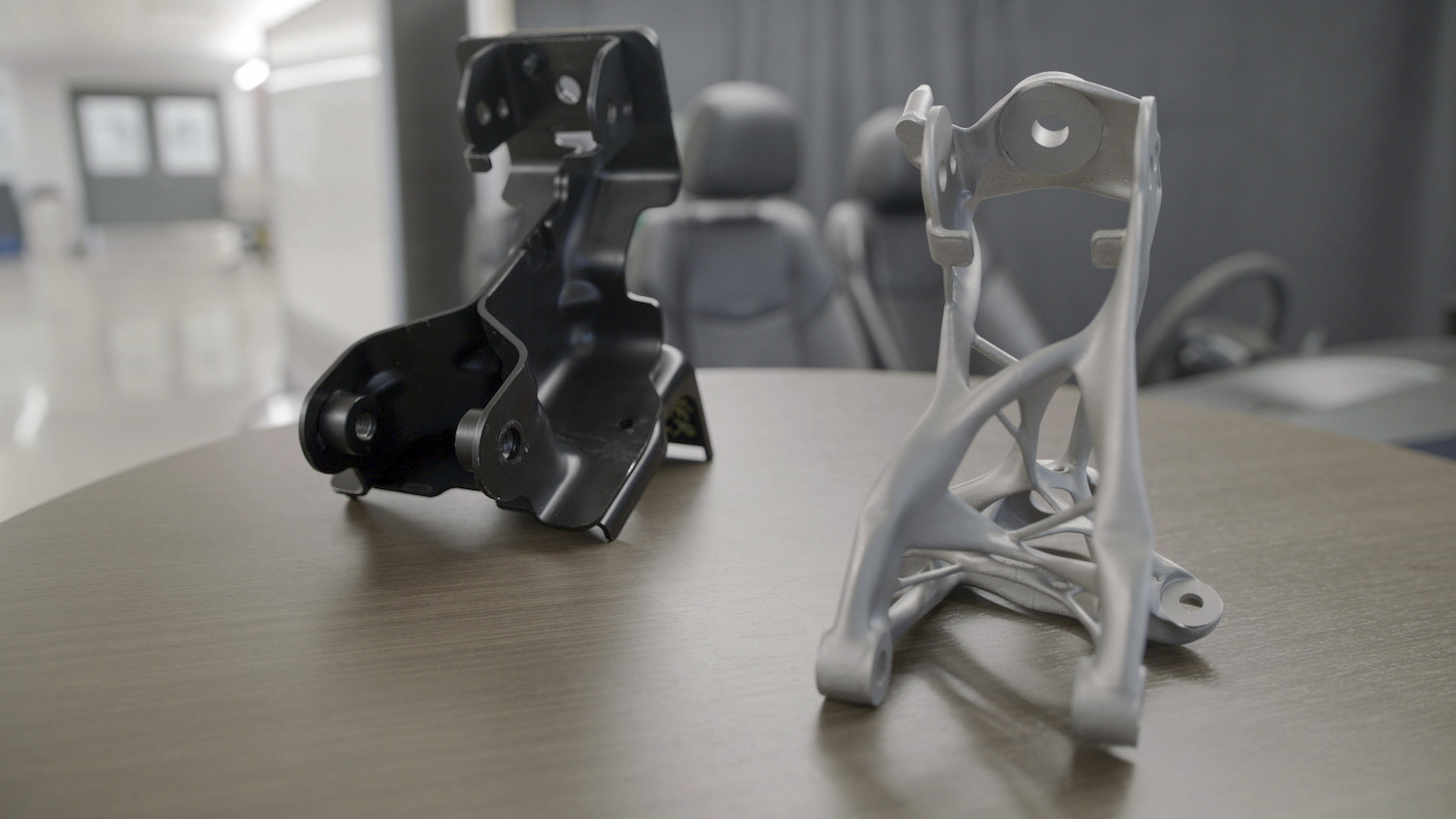 (Image: Using generative design, GM engineers reduced eight components in a vehicle seat bracket down to a single piece.)
Further, the new parts were created in-house using industrial-scale 3D printing (known in the industry as additive manufacturing), again cutting supply-chain costs. And with weight reduction potential of 40 percent or more, it's easy to see how generative design could aid in GM's plans to roll out more electric and fuel-efficient vehicles.
"If we can use generative design and additive manufacturing to give another mile per gallon of fuel economy or to extend by 10 miles the range of our electric vehicles, that can be a huge competitive advantage for General Motors going forward," Quinn said.
Volkswagen also used generative design to develop an all-electric doppelgänger of its 1962 Microbus. And Stamhuis, a Dutch firm specializing in retail shop construction and renovations, put the system to the test on an even larger scale. Using Project Refinery, an Autodesk generative design beta for the architecture, engineering and construction industry, Stamhuis engineers created 40 design options for a retail liquor store in only 15 minutes.
The best may be yet to come
Generative design is still in the very early phases, and the functionality is still growing, Harsuvanakit said. But, as case studies like GM and Stamhuis demonstrate, engineers and designers already have a lot of options in terms of leveraging AI to speed up their work, improve performance and lessen environmental impact.
"There's very relevant information that exists today to make sustainable choices using generative design, and I think it's also a matter of communicating to the designer what is a sustainable choice," Harsuvanakit told us. "There's always a tradeoff: What happens to cost when you change a material? What is the environmental impact? To get metrics on those things and bring them to the stakeholders who are producing the product, that's a really powerful way to tackle these challenges that hasn't been done before."
Images courtesy of Autodesk