As anxiety runs high amidst the novel coronavirus pandemic, fear-stricken people around the world are stockpiling supplies like toilet paper, hand soap and hand sanitizer. While the instinct to panic-buy is certainly understandable, hoarding necessary items leaves neighbors and healthcare providers without, potentially putting the vulnerable at even greater risk.
While retailers struggle to restock their shelves, businesses that already use the key ingredients in hydroalcoholic gel — more commonly known as hand sanitizer — are stepping in to fill the gap.
Distilleries make free hand sanitizer from high-proof alcohol
Shine Distillery and Grill in Portland, Oregon, for example, already uses its alcohol byproducts to clean up around the shop. "We did our research and checked with the controlling authorities and, come to find, as long as we're not making a medical claim or selling it, we're allowed to give it away," owner Jon Poteet told Portland's local Fox affiliate.
Shine started offering its house-made concoction — which contains 80 percent alcohol, above the Centers for Disease Control and Prevention's recommended concentration of at least 60 percent — for free to customers and neighbors last week, Fox-12 Oregon reporter Audrey Weil shared on Twitter.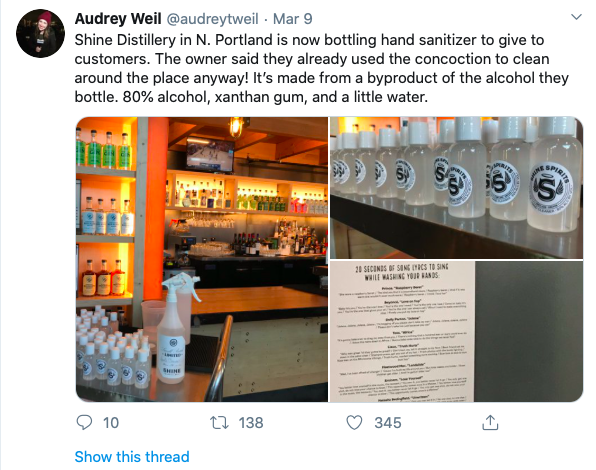 The Old Fourth Distillery in Atlanta had a similar idea, combining its high-proof vodka distillent with aloe vera gel and giving the 95 percent alcohol solution away for free to anyone who needs it.
"I'm a dad. I've got two kids out in school ... my mom and dad are older, and everybody is struggling to find hand sanitizer," distillery co-owner Jeff Moore told Atlanta's Fox affiliate. "We said, 'We gotta get in there and help people out."
Due to overwhelming demand from both customers and health agencies, production was paused as of Saturday but will soon resume: "We are waiting on a shipment of ingredients to arrive Monday, at which time we will resume production," the distillery wrote on Instagram over the weekend.
Moore says Old Fourth will keep churning out the stuff as long as needed and is accepting donations to fund the effort. "If we get into this thing and it's ongoing for a year, we are going to be right there with you," he told Fox-5. "We will be making this until it's no longer needed."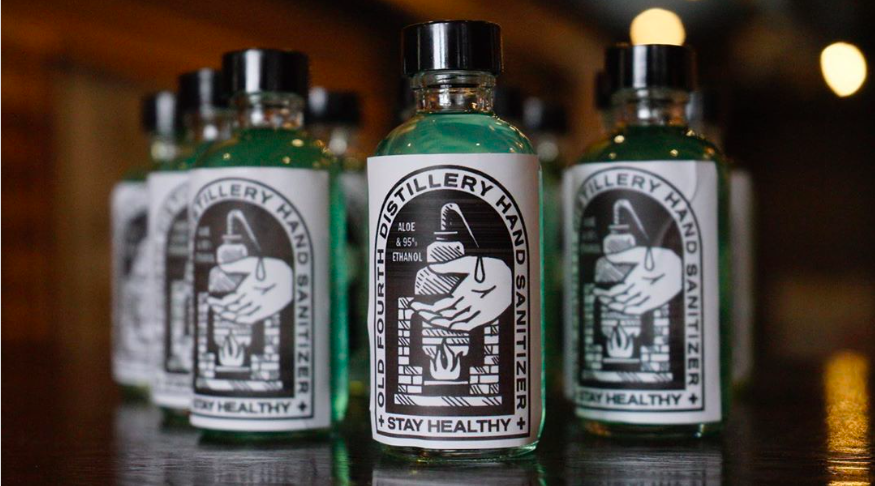 (Image: Last week, Old Fourth Distillery in Atlanta started giving away these free bottles of hand sanitizer with labels bearing the message, "Stay healthy.")
Republic Restoratives, a woman-owned distillery based in Washington, D.C., is also making its own hand-cleaning gel to give away with the purchase of any bottle of its vodka, bourbon, rye or brandy, reports The Washingtonian newspaper.
It also rolled out an on-demand delivery service on Monday in case neighbors need a drink while practicing social distancing. And later this week, it plans to host online cocktail classes featuring local bartenders that include virtual tip jars to supplement lost income as bars shutter to slow the spread of the virus.
"We're facing such an incredibly devastating time ahead that anything we can do to change the dynamic for us and for other members of the D.C. food and beverage community, we're doing," owner Pia Carusone told The Washingtonian.
Moonrise Distillery in Clayton, Georgia, and Durham Distillery in Durham, North Carolina, are also producing free hand sanitizer for customers and neighbors, reports CNN.
Luxury conglomerate LVMH converts production lines to hand sanitizer
In France, which reported 6,633 coronavirus cases and 148 deaths as of Monday, production lines once devoted to luxury perfume are switching entirely to hand sanitizer.
LVMH, the parent company behind brands like Christian Dior and Givenchy, said it will use all of the production facilities for its perfume and cosmetics brands to produce hand sanitizer for French health authorities and hospitals, CNN reported on Sunday.
The directive came straight from LVMH CEO Bernard Arnault, according to a news release circulated on Twitter over the weekend.
"Through this initiative, LVMH intends to help address the risk of a lack of product in France and enable a greater number of people to continue to take the right action to protect themselves from the spread of the virus," the company wrote in the release. It says it will "continue to honor this commitment for as long as necessary, in connection with the French health authorities."
We need corporate leadership, now more than ever, researchers say
MIT Sloan Management Review recently analyzed how companies in China responded to the early spread of the novel coronavirus, calling out best practices for Western firms now facing the virus in their communities.
As part of their advice, MIT researchers called on companies to "become community players" by connecting with local nonprofits and outreach organizations and devising ways to meet their needs. "Corporate generosity has a much larger impact when it is provided directly to a local community," the researchers wrote. "If the COVID-19 epidemic comes to your town, you should be prepared to help."
In short: We need more action like this — from more companies — sooner rather than later.
Editor's note: 3BL Media realizes many organizations have not budgeted for communicating their response to COVID-19. 3BL believes it's important to help these purpose-driven organizations share how they're working to keep their customers, employees and communities safe. Organizations with press releases that fall into this category should feel free to submit them to COVID19@3blmedia.com for distribution over the CSRwire network at no charge.
Image credit: Kelly Sikkema/Unsplash and Old Fourth Distillery via Instagram