There is often a disconnect between farmers and consumers. Farmer-owned Land O'Lakes is looking to connect the two with newly redesigned packaging that highlights the cooperative's various farmers.
The new packaging features "farmer-owned" above the brand name. Some packs also include photos of Land O'Lakes farmers and co-op members, emblazoned with the words, "Proud to be Farmer-Owned: As a farmer-owned co-op, we stand together to bring you the very best in dairy."
The new packaging has already begun to appear on tub butter spreads, foodservice products and deli cheese. It will be used for stock butter later this year, and by the end of 2020, it will be fully rolled out across the company's products — just in time, as the cooperative hits the century anniversary mark in 2021.
"As Land O'Lakes looks toward our 100th anniversary, we've recognized we need packaging that reflects the foundation and heart of our company culture — and nothing does that better than our farmer-owners whose milk is used to produce Land O'Lakes' dairy products," Beth Ford, president and CEO of Land O'Lakes, said in a statement.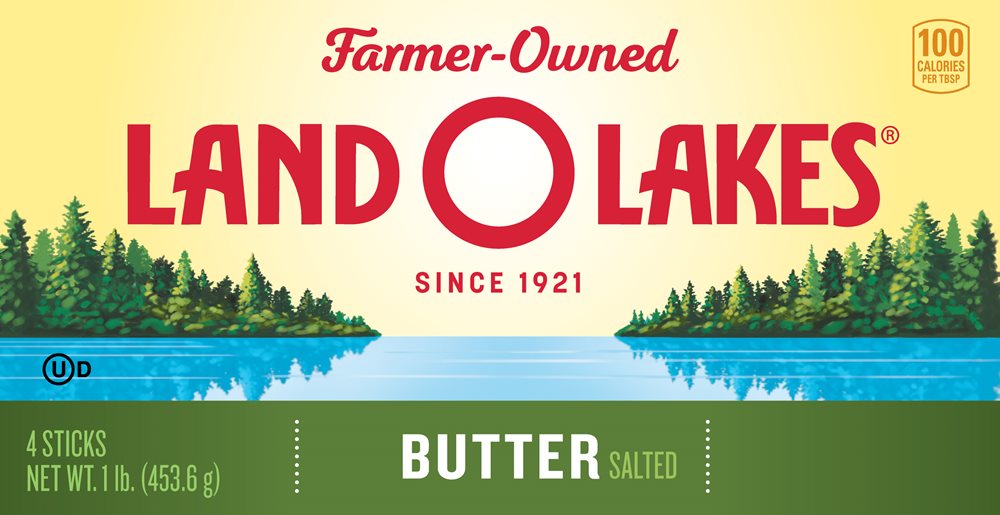 Land O'Lakes links consumers with farmers and tells women farmers' stories, which are often overlooked
Minnesota-based Land O'Lakes says it wants to shine a spotlight on dairy farmers, all of whom contribute to its $15 billion in annual sales, and the new packaging is part of a series of campaigns featuring farmers.
Just a month after Beth Ford took the helm of the company as its new CEO, Land O'Lakes launched the "All Together Better" campaign that in part paid homage to women dairy farmers. The campaign began with a music video of a reimagined version of "Old MacDonald Had a Farm" called "SHE-I-O." The music video featured Land O'Lakes member farms in Pennsylvania.
Thirty percent of all U.S. farmers are women, and the Old MacDonald remake is just one way Land O'Lakes is telling their stories. The brand's On Her Farm campaign features four videos of women farmers who are Land O'Lakes members.
Each video is only about seven to nine minutes long. One features the Rancho Teresita Dairy farm in Tulare, California. In the video, third-generation dairy farmer Allison Kasbergan gives chef and culinary farmer Courtney Guerra a tour of the dairy. The message to consumers is clear from both the On Her Farm tour and the "SHE-I-O" video: Men are not the only ones who farm.
(Image: The back panel of Land O'Lakes' new packaging.)
Bridging the gap between grocery shoppers and farmers
Land O'Lakes' effort to highlight the work of its farmers comes at a time when the number of Americans who work on farms is incredibly low. While there are 2.05 million farms operating, farming jobs comprise only 1.3 percent of employment in the U.S.
This small number notwithstanding, most people have a favorable view of farmers, research shows: A 2016 poll of 1,000 registered voters found that nearly 90 percent had favorable opinions of farmers. However, while Americans view the agricultural sector favorably, most have little knowledge of farming. One 2019 poll revealed that 72 percent of respondents know little to nothing about farming or ranching, though 69 percent think about food production at least somewhat often.
Perhaps what consumers need is a face to put to the farming industry to feel more connected. To that end, Land O'Lakes' campaigns offer a face and identity of the farming industry. So back to those updated labels: Highlighting that the company is a farmer-owned cooperative is a smart move.
Consumers are excited to learn that Land O'Lakes is farmer-owned, said Heather Anfang, a senior vice president at the company. "We're eager to share that message with shoppers, and extending that farmer-owned story to our packaging is arguably our most direct vehicle to communicate with consumers," Anfang said.
Image credits: Land O'Lakes Newsroom and Marino Bobetic/Unsplash