Fans of Major League Baseball's Milwaukee Brewers and users of SC Johnson's Scrubbing Bubbles will have something new to cheer about this spring: a first-of-its kind program to recycle used plastic cups from the Brewers' Miller Park into Scrubbing Bubbles' bottles.
Thirsty spectators go through as many as 1 million cups per season at the stadium, and the hope is to capture the bulk of those with the SC Johnson logo in designated recycling containers. "We feel it is a natural fit," an SC Johnson spokesman said of the program. "Scrubbing Bubbles is one of SC Johnson's great home cleaning brands, and it's one of our products that uses post-consumer recycled content in its packaging.
"Plastic waste is a very important environmental issue for us, so we are continually looking for partnerships that can help us close the recycling loop," the spokesman told us. "We're also partnering with the Ellen MacArthur Foundation and Plastic Bank on this issue."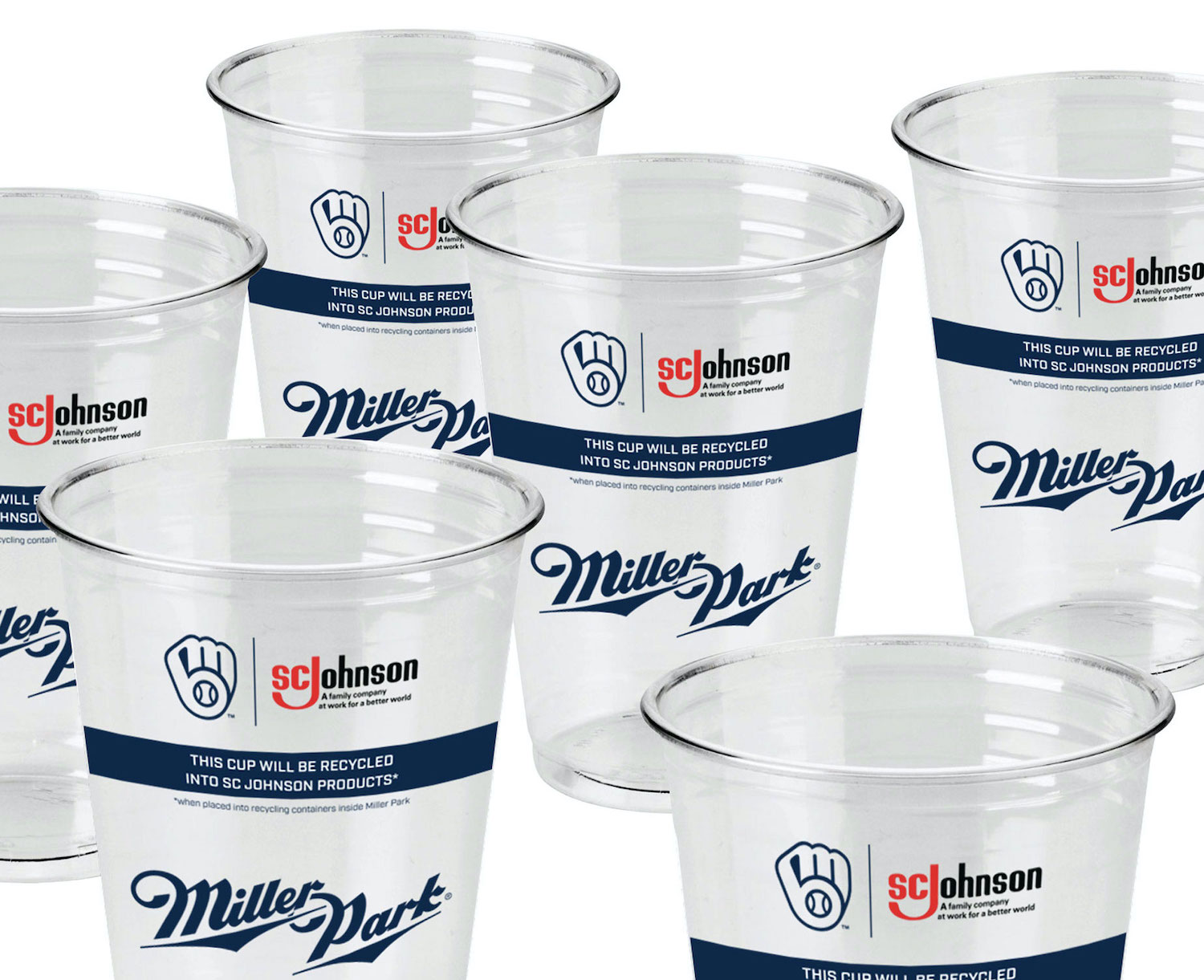 SC Johnson focuses on finding new markets for recycled plastic
The Brewers are the first professional sports team to connect waste with a specific product in order to address the ongoing problem of finding markets for recycled materials such as plastic. Only about 13 percent of plastic packaging in the U.S. is recycled, and a lot of what is placed into mixed recycling bins is not even recyclable.
Rick Schlesinger, the Brewers' president of business operations, and Fisk Johnson, chairman and CEO of SC Johnson, announced the recycling agreement at the end of January at the Brewers' stadium, joined by pitchers Brent Suter and Corey Knebel. Suter has also created his own program, Strike Out Waste, to help his teammates decrease plastic use both at the ballpark and at home. "I am excited that the Brewers and SC Johnson are teaming up to bring greater awareness to important issues like recycling and ocean plastics," Suter said in a prepared statement.
Professional sports keep boosting sustainability efforts
The Brewers-SC Johnson partnership is one of an increasing number of sustainability organizations and programs in the professional sports world. The 10-year-old Green Sports Alliance, which calls itself an environmentally-focused trade organization, has brought together professional teams, sponsors, vendors, and other organizations associated with sports to promote sustainability and share resources and ideas.
Two years ago, the National Football League joined the Green Sports Alliance to promote sustainability efforts league-wide. The Seattle Mariners, one of the founding members of the Alliance, have been implementing greener operations at their T-Mobile Park since 2006 and achieved the American League's highest recycling rate from 2010 to 2018.
SC Johnson and the Brewers say they plan to cooperate on other ventures during the 2020 season, including Clean Up Days. In addition, each time a Brewers' pitcher logs a save, SC Johnson and the Brewers will donate to Players for the Planet, an organization of professional athletes committed to promoting recycling, sustainability and reducing plastic and other waste.
"We all need to work together to help close the plastic recycling loop, and I hope this first-of-its-kind initiative with the Brewers will serve as a model for other major league teams, companies and even other sports leagues," Johnson said.
Image credits: Erik Drost/Flickr, SC Johnson