To show the world what the ocean plastic crisis looks like, Mohawk Industries sponsored an interactive art installation made out of upcycled materials at a trade show last week in Las Vegas. The display also served to announce Mohawk's recent decision to become a supporter of The Ocean Cleanup, a Dutch nonprofit developing technologies to help remove plastic garbage from the world's oceans.
Mohawk Industries, based in Calhoun, Georgia, is a global producer and distributor of flooring products, including carpet, tile and laminate. The company operates in multiple countries and ships around the world.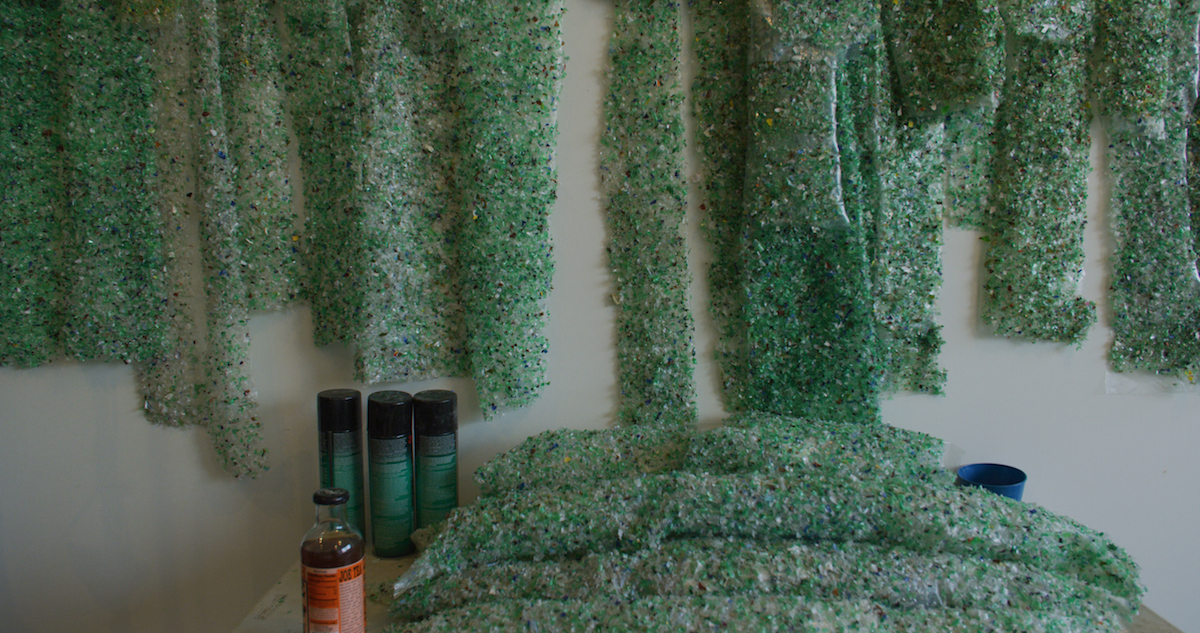 (Image: On closer inspection, what appears to be sea foam is actually made from plastic bottles and upcycled components and comprise Mohawk carpeting.)
Upcycled art focused on the ocean plastic crisis
Mohawk's support of The Ocean Cleanup was clearly represented in the work of art. At first glance, you'll notice a colorful mix of bright greens and blues that make up the large waves in an ocean behind a sandy tan beach. But looking closely, visitors can see that those ocean colors are actually plastic bottles clogging up the water flow. More bottles are scattered next to a sign on the beach that reads, "Caution: Plastic Tide. Do not enter."
Attendees were encouraged to add their own empty bottles to the interactive design or relax on the beach in front of the ocean waves. The showpiece was staffed with personnel prepared to answer questions about the materials and history of the showpiece. Basia Goszczynska, an artist and sustainability enthusiast headquartered in Brooklyn, was the designer.
The installation, titled "Overflow," demonstrates the tangible consequences of a failure to take on the ocean plastic crisis and is a clear indication of the world's responsibility to cut back on plastic waste.
Upcycled and recycled materials, including components that comprise Mohawk's flooring products, were used to make "Overflow." The art includes each stage of recycling that the company's materials undergo before being manufactured into flooring products, from plastic to pellets to yarn.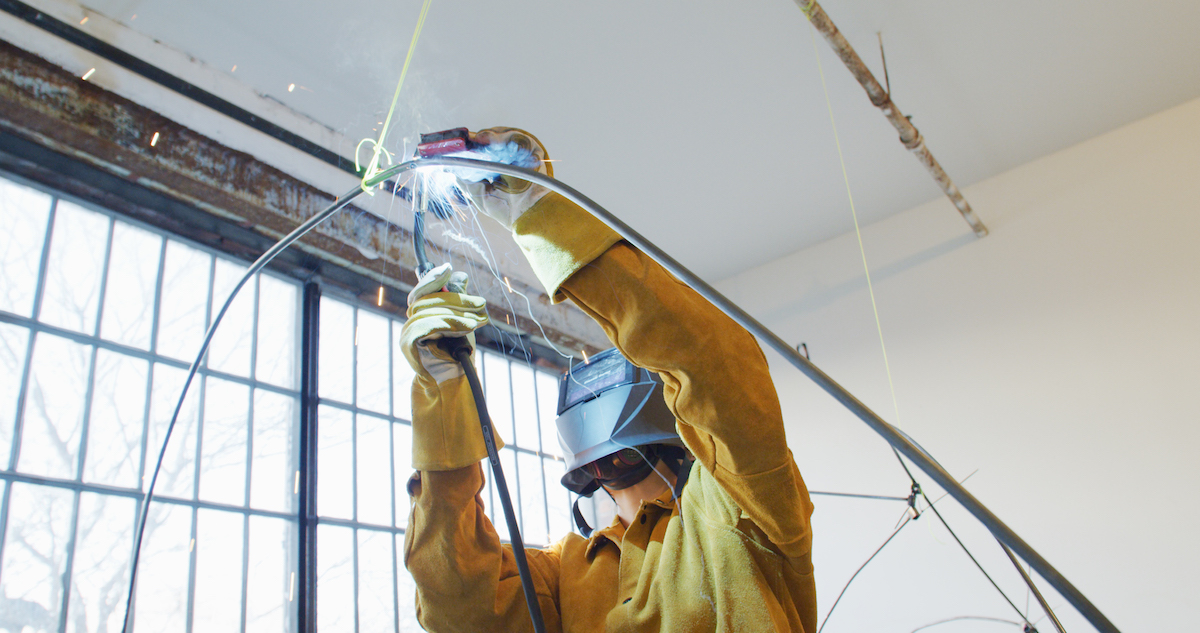 (Image: The installation under construction in Las Vegas.)
Handprints, not footprints
Mohawk says it's out to reduce its carbon footprint and increase its so-called "social handprint," and this installation is just one example of that commitment.
According to Mohawk, billions of tons of carpet and manufacturing waste pile up in landfills annually. To help cut back on that waste, the flooring company says it is pursuing zero-waste-to-landfill certification, which means its manufacturing plants must recycle or reuse at least 90 percent of their production waste. So far, 48 Mohawk plants have been certified, and the company claims it also reduced its waste-to-landfill intensity by 47 percent from 2010 to 2018.
Mohawk's products are designed with an eye toward the company's goal of using fewer natural resources. Its fully-recyclable line of carpets released several years ago was a big step for Mohawk, and now its efforts span across more initiatives to create innovative products that use less of Earth's precious resources, such as water. The company also weaves upcycled and recycled materials into its various flooring products.
Mohawk continues to use more recycled content
One of Mohawk's carpet product lines, Everstrand, is made with up to 100 percent recycled materials and recycled water bottles. Another recyclable flooring tile, Moduleo LVT, consists of up to 50 percent recycled industrial waste, with insulating components built in that can help reduce a household's heating needs.
And that's just the tip of the iceberg. According to the company's 2018 report, Mohawk has recycled approximately:
42 million rubber tires into floor mats,

136 million pounds of foam and yarn waste into carpet pads, and

Almost 7 billion water bottles into yarn fiber to be used in the flooring products.
Recycling is a vital factor in Mohawk's production. The company's ReCover carpet program donates leftover carpeting to nonprofits or reuses them for recycling. Mohawk has repurposed more than 31 million square yards of carpet since the ReCover program started 10 years ago.
These results and more from Mohawk's sustainability plan tell the story of a company serious about reducing its carbon footprint, in contrast to other industry efforts critics say amounted to not much more than greenwashing.
As Mohawk's sustainability achievements continue, its efforts for a cleaner environment could serve as a wake-up call for its competitors to take on this challenge and reduce the vast amount of industrial materials that go into landfills, making the flooring industry one of the more wasteful ones in the U.S.
Image credit: Mohawk Industries