At this year's summer Olympics in Tokyo, three countries will sport Nike threads inspired by circular design. Brazil, France and Team USA's skateboarding teams will all wear uniforms made of 100 percent recycled polyester.
The Olympics move is "a moment for us to telegraph our intentions as a company," said John Hoke, Nike's chief design officer. The company's intent to "protect the future of sport" is manifested by its greater Move to Zero campaign.
Move to Zero is a major investment for Nike, but the benefits are real to the world, athletes and the company.
Climate change endangers the future of sports
Nike quoted famed runner Joan Samuelson in its "Climate and Sport" feature as saying, "When I'm out running I feel like I'm an environmental barometer for climate change." Through its Breaking2 project, Nike found a correlation between hotter temperatures and slower race times, and noted that the "fastest race times" are run in temperatures around 50 degrees Fahrenheit (10 degrees Celsius).
Beyond extended marathon times, the company's efforts are sparked by concern that snow sports will see the "literal loss of playing field" by 2050, with an estimated 11 percent to 22 percent loss of "quality snowboarding days around the world." Turf sports will see a decrease in "time spent on the field by up to two months in parts of Louisiana, Texas and Mississippi."
5 keys to Nike's move to zero carbon and waste
In response to ongoing threats to global sports from climate change and environmental contamination, Nike says it is working both to minimize its environmental footprint and maximize brand impact.
Hoke noted that the fashion industry is currently undergoing a "zeitgeist shift." He explained Nike's intention to be a leader, stating, "And it's not a time to be timid — it's a time to be bold, to dream big and to take action."
The Move to Zero campaign comes in addition to efforts such as eliminating single-use plastics across its global campuses. Among Nike's many ambitions, the company plans to:
Power its owned facilities with 100 percent renewable energy by 2025.

By 2030, reduce its carbon emissions across its global supply chain by 30 percent.

Diverts 99 percent of all waste associated with footwear manufacturing from landfills.

Diverts over 1 billion plastic bottles a year from landfills, repurposing them into both uppers for Flyknit sneakers and jerseys.

Turn waste into new athletics spaces through the Reuse-A-Shoe and Nike Grind programs.
Seana Hannah, Nike's vice president of sustainable innovation, didn't gloss over the fact that the company is "using all the recycled materials that are available to us." But the true focus of her statement was that Nike is "using renewable energy, or the lowest energy methods possible," in all of its manufacturing processes.
New clothes for a new world
Specific circular design elements of new Nike products include:
100 percent recycled polyester plain weaves in Sportswear Windrunner jackets, with the jacket's drawcords and zippers made from Nike Grind, a blend of recovered textiles, leather, foam and rubber.

The company claims at least 60 percent organic and recycled fabrics will make up the Nike Sportswear shorts, T-shirts, full-zip hoodies, crews and joggers.

Women's shorts, crew and dress wear in the

Move to Zero collection

will "feature a mix of at least 60 percent organic and recycled fabrics."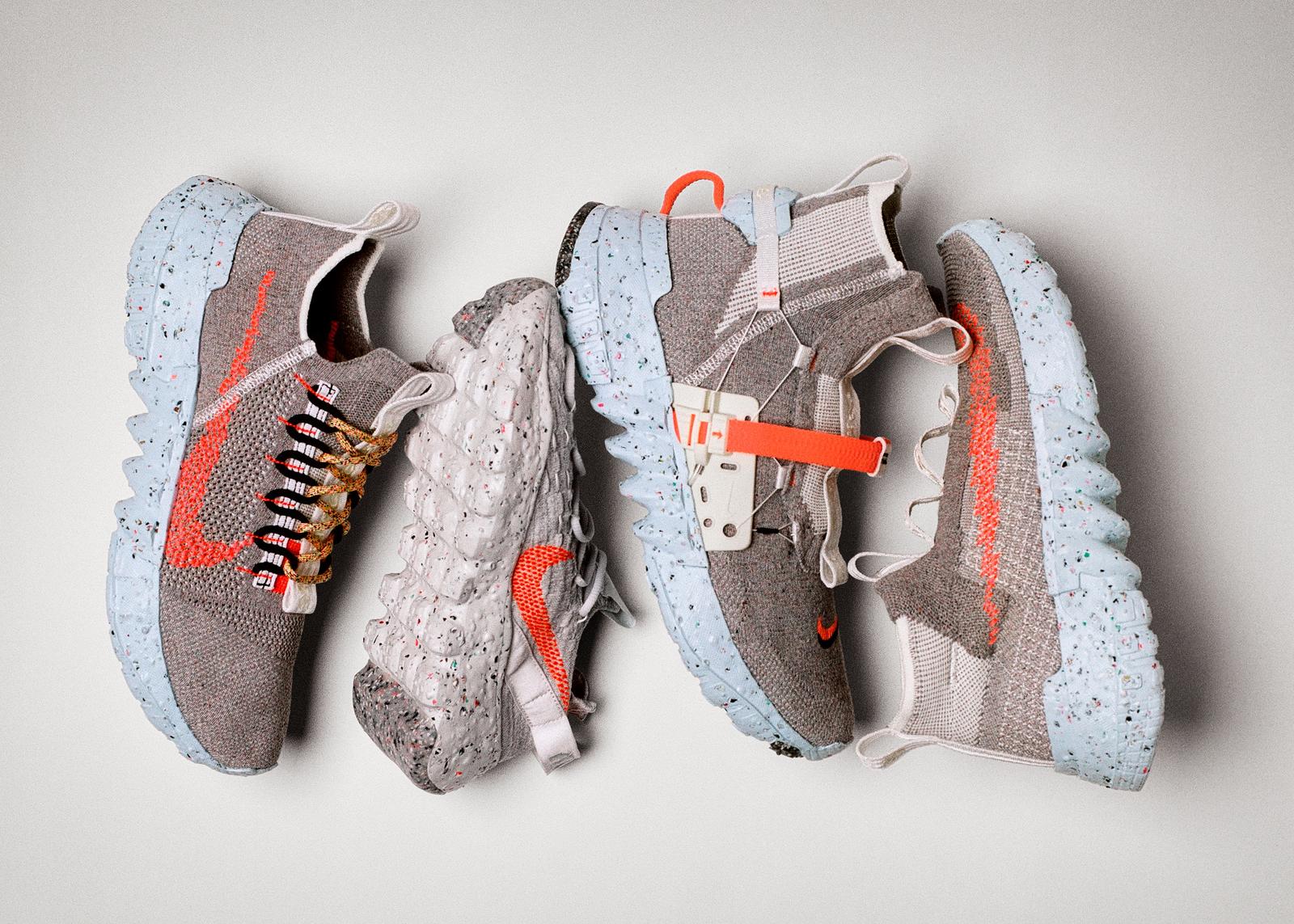 Photo: These "Space Hippie" shoes from Nike are made from scrap material from factory floors. (Image courtesy of Nike)
Nike's new Space Hippie footwear collection is "about figuring out how to make the most with the least material, the least energy and the least carbon," Hoke said. Environmental impact dictated every aspect of the shoes' designs, from material to packaging:
The yarn going into the shoe is made from 100 percent recycled material.

The shoe's cushion manufacturing produces "about half the [carbon equivalent] as typical Nike foams," thanks to repurposing of factory scraps from another line of performance running shoes.
While Nike isn't claiming to go 100 percent circular or carbon zero in the near term, Hannah says the company does "believe the future for product will be circular."
Image credits: Nike