The plant-based food boom is disrupting all corners of the meat and dairy industry, reaching an estimated market value of more than $4.5 billion in 2019.
Notably, the key drivers of this trend aren't vegetarians or vegans, but curious omnivores looking for new ways to eat less meat. Research generally suggests that reduced meat consumption is optimal for both environmental and human health. Has the message finally sunk in, or is this just another food trend destined to go the way of Atkins and the cabbage soup diet?
Only time will tell. But with the segment set to top $6.5 billion in within five years, companies are vying for a slice of this additional market share with an impressive lineup of products set to launch in 2020. Here are a few standouts, coming soon to restaurants and grocery shelves near you.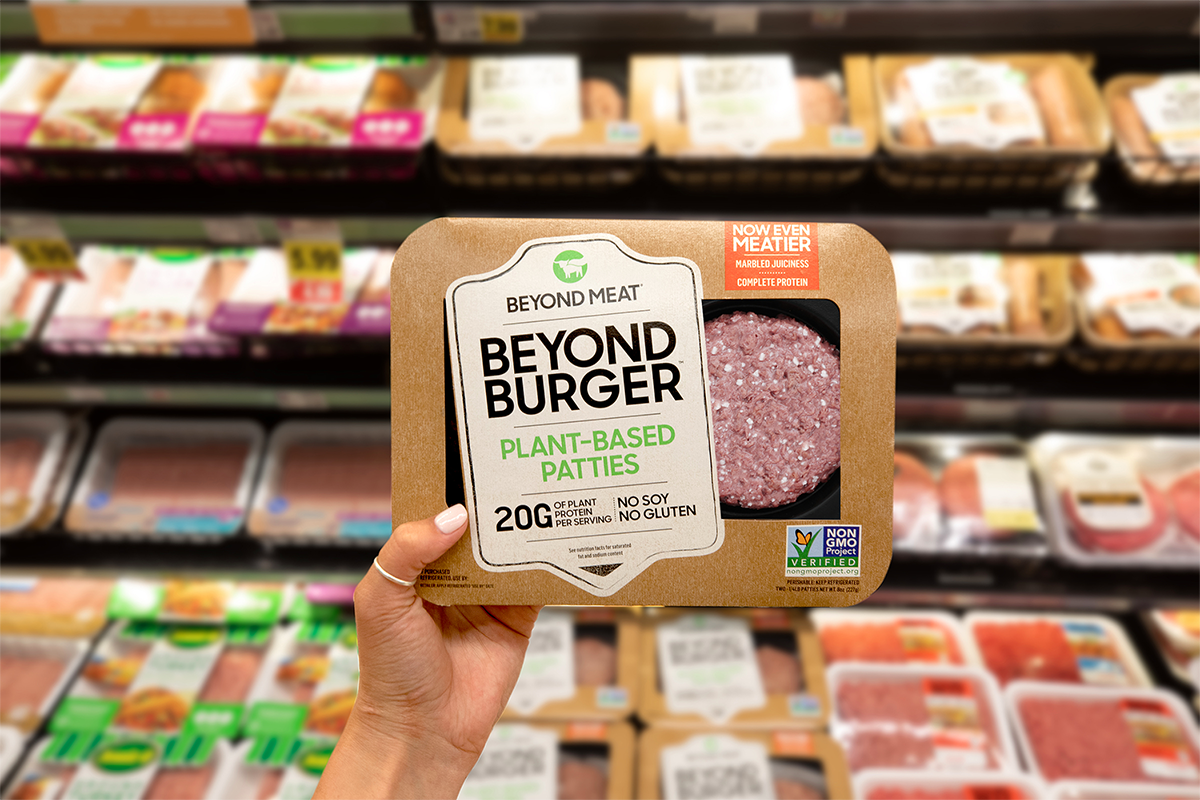 Beyond Meat expands to more grocers, teases entry in the poultry space
After going public in one of the most headline-grabbing IPOs of 2019, analog protein purveyor Beyond Meat has big plans for the year ahead. Its plant-based meat lineup, which includes burgers, ground beef and sausage, is already available at more than 50,000 restaurants and grocery stores worldwide. Starting in 2020, over 4,000 Canadian grocers will start carrying Beyond Meat, as will new U.S. retail partners including Costco.
CEO Ethan Brown teased an entry into the poultry space in a December appearance on Bloomberg TV, while declining to name any "specific partners or developments." It certainly wouldn't be a stretch: Beyond Meat first got noticed when its since-discontinued line of vegan chicken strips started flying off the shelves at Whole Foods, and the company partnered with KFC on a plant-based chicken test last year.
Beyond Meat is also said to be testing new pork substitutes, with news outlets including The Observer guessing a Beyond bacon product may be just around the corner.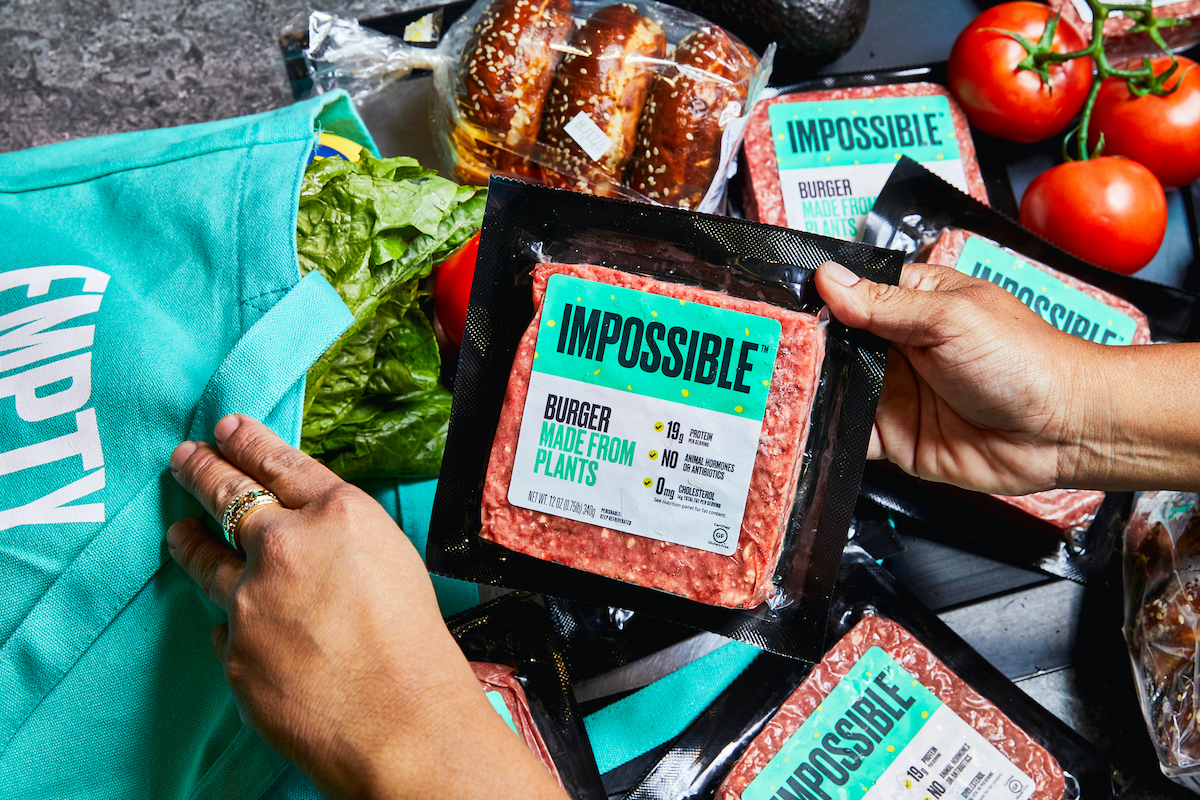 Impossible Foods brings burgers to more grocery stores, parlays into pork
The still privately-owned Impossible Foods is playing catch-up in the grocery aisle but plans to narrow the gap in 2020. Compared to thousands of stores selling rival Beyond Meat, Impossible started its retail rollout last fall with only three partners: Wegmans in parts of the U.S. Northeast and South, Gelson's Markets in Southern California and Fairway Market in New York City.
"We want to make sure we do this right," David Lee, Impossible's chief financial officer, told CNET. "So we're focusing on a smaller, high-quality retailer, just like we started with smaller restaurants." It's true: Impossible got its start at high-end restaurants like Jardinière and Momofuku Nishi before moving on to mainstream chains like Burger King and White Castle, so the approach has worked before.
Impossible plans to make its signature burgers available at grocers in every U.S. region by the middle of this year, reports CNBC. Meanwhile, the company valued at $5 billion showcased its newest product—Impossible Pork—at the Consumer Electronics Show in Las Vegas this month and just released an Impossible Sausage collaboration with Burger King.
Panera Bread wants half of its menu to be plant-based
Fast-casual restaurant chain Panera Bread rolled out a bevy of plant-based options in 2019—including grain bowls, the company's most successful launch for the past three or four years, CEO Niren Chaudhary told CNBC.
The company hopes to expand plant-based options from around 25 percent of its menu to 50 percent in the coming years, Chaudhary told the outlet, and customers can expect new plant-based options in every menu category by 2021. Unlike some other chains, representatives say Panera's new offerings will favor vegetables over meat substitutes.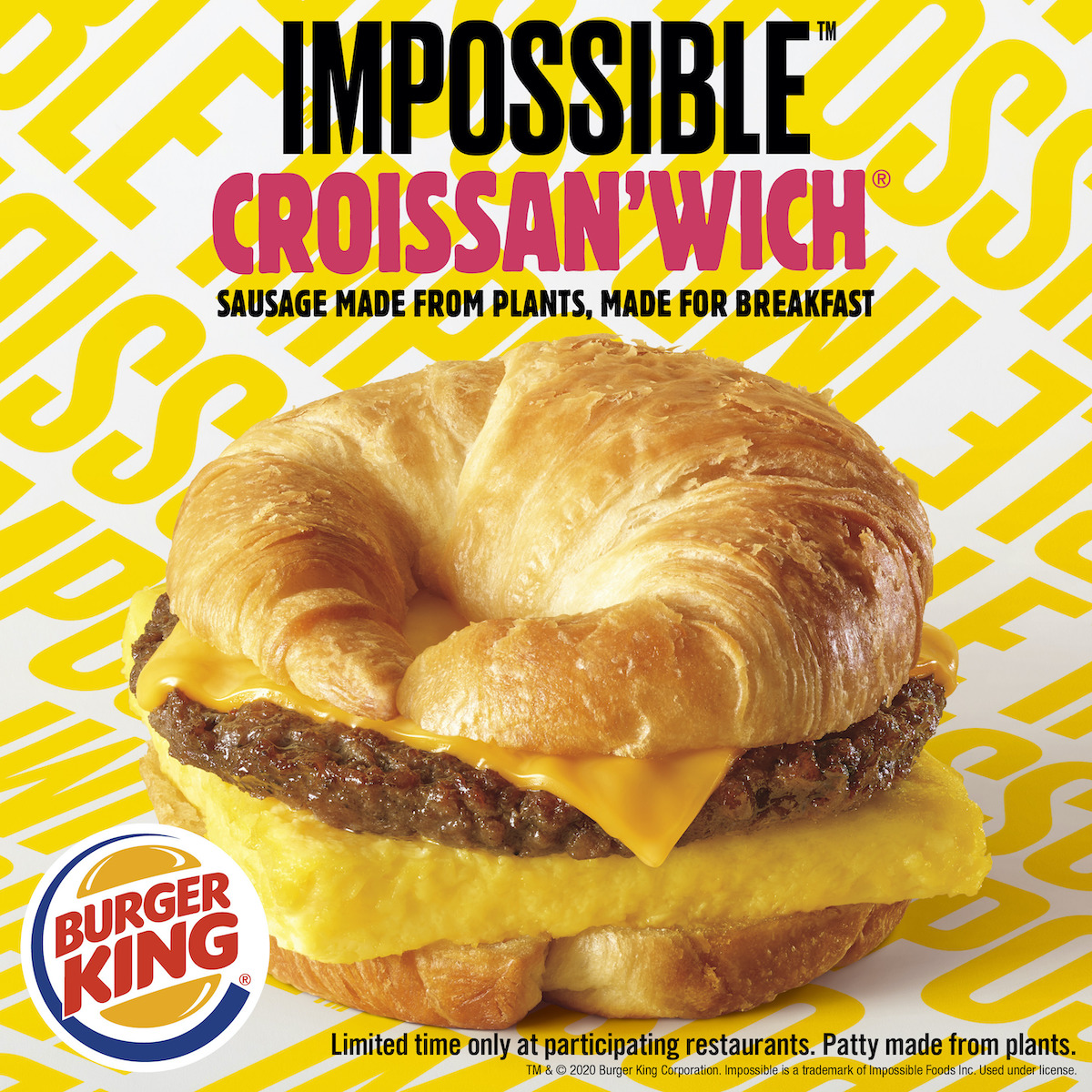 Burger King to test Impossible Croissan'wich
A partnership with Impossible Foods created Burger King's best quarterly financial performance in four years. After selling millions of Impossible Whoppers in 2019, the company is looking to expand its plant-based roster even further.
The fast-food chain will test the Impossible Croissan'wich, a breakfast sandwich made with eggs, cheese and an Impossible Sausage patty, in five U.S. markets in early 2020. Customers in Savannah, Georgia; Albuquerque, New Mexico; Montgomery, Alabama; Lansing, Michigan; and Springfield, Illinois, will see the new sandwich pop up on Burger King menus later this month, reports The Chicago Tribune.
Good Catch brings more plant-based seafood to the grocery store
Pennsylvania-based startup Good Catch offers a solution to overfishing with a line of plant-based seafood made from beans like chickpea, lentil and fava—and it's getting noticed in a big way. The company has attracted more than $18 million in venture capital over the past three years, and its fish-free tuna was named the best new meat alternative at Expo East 2019. Grocery shoppers can expect new plant-based crab cakes and whitefish sliders from the company this year, reports the Today show.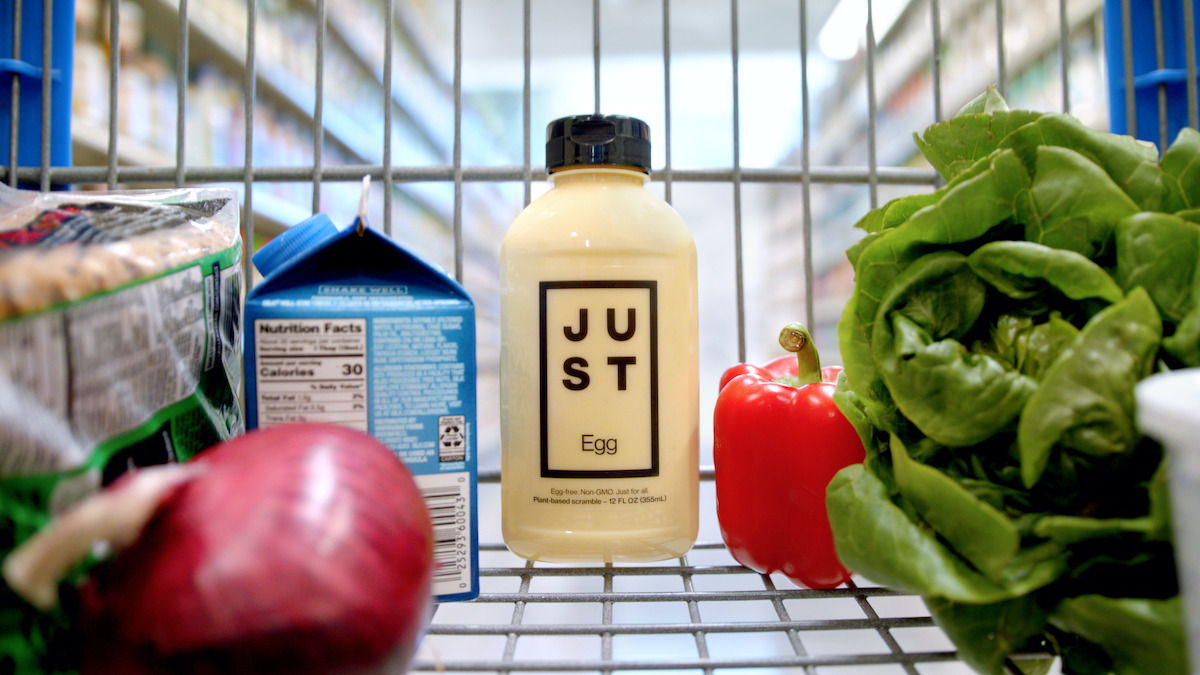 Just looks to increase production capacity tenfold
Just is no stranger to controversy. The company formerly known as Hampton Creek was once sued by Hellmann's for using the term "mayo" to describe an eggless substitute and investigated by Bloomberg for misleading investors.
Back with a new name and what it says is a new approach to governance, the company is pushing aggressive production expansion for its flagship product, Just Eggs. In December, the company told reporters its newly acquired plant in Appleton, Minnesota, can now produce enough protein for 1.5 million vegan eggs in only six days.
Just says it has already sold the equivalent of 17 million eggless eggs but hopes to increase production tenfold in 2020 while driving down costs.
Nando's launches vegan 'Perinaise' in restaurants and grocers
South African chain Nando's is famous for its take on Portuguese classics like peri-peri style chicken. Operating more than 1,000 restaurants across 35 countries, the chain already offers several plant-based alternatives to its classic sandwiches and burgers. But until now, customers looking to avoid animal ingredients were advised to specify "no mayo" when ordering, as Nando's signature Perinaise (like most mayos) contains eggs.
Starting in January, Nando's-lovers can now enjoy plant-based favorites like the Sweet Potato and Butternut Pitta—mayo and all—thanks to a companywide roll-out of vegan Perinaise. Along with all Nando's restaurants, the plant-based peri-peri mayonnaise will hit the shelves at Tesco supermarkets in Asia and Europe.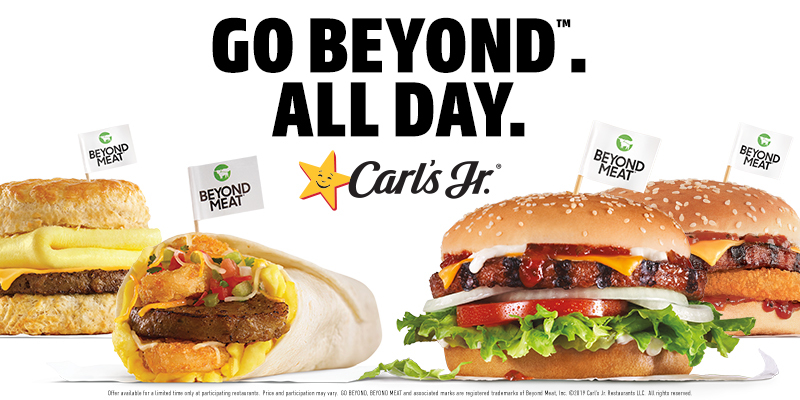 Hardee's and Carl's Junior put plant-based foods on the breakfast menu
Carl's Junior debuted Beyond Meat's signature Beyond Burger at more than 1,000 locations across the U.S. in 2019—and has since sold over 6.5 million of them, making it the chain's most successful new product launch over the past two years.
In 2020, the Beyond Meat partnership will extend to Carl's sister restaurant, Hardee's, and move on to the breakfast menu. With all-day options like breakfast burritos and biscuit sandwiches featuring plant-based Beyond Sausage alongside eggs and hash browns, the quick-serve chains are going all-in on the alt-meat trend.
Whole Foods adds plant-based egg sandwiches to the hot bar
This month, Whole Foods introduced breakfast sandwiches featuring Just-branded vegan eggs in the hot bar section at 63 stores in Hawaii, Arizona, Southern California and Las Vegas. This isn't the grocer's first foray into the plant-based breakfast game, having piloted breakfast sandwiches made with the EatGUD vegan egg patty in 2018, reports Vegan News Now.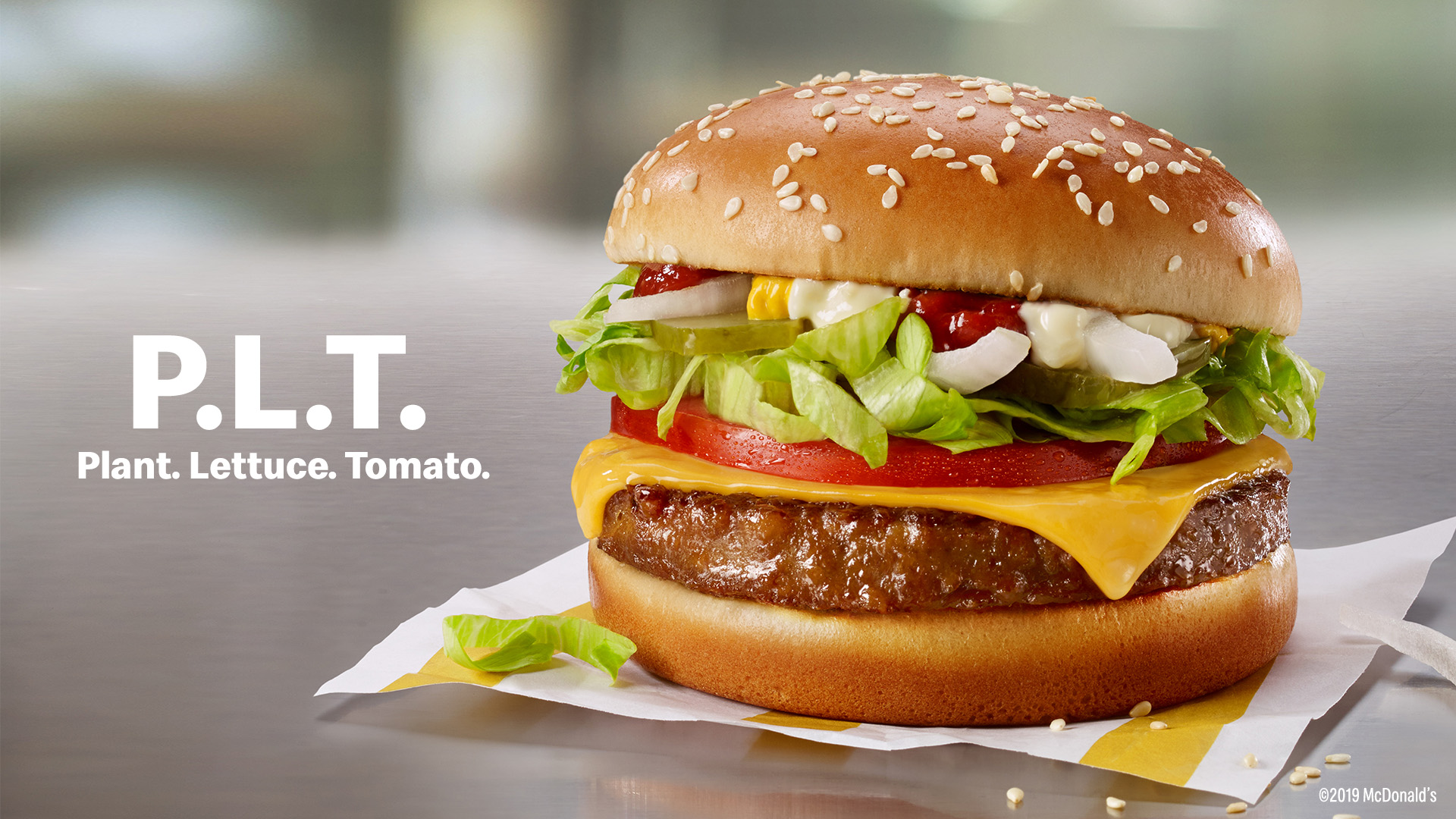 McDonald's courts partners for plant-based burger roll-out
After receiving criticism for arriving late to the plant-based burger party, McDonald's debuted its first alt-meat option in September. Introduced in Canada, the PLT (or plant, lettuce and tomato) sandwich features a Beyond Meat patty made exclusively for McDonald's.
The fast-food giant entertained offers from multiple companies—including Beyond Meat and rival Impossible Foods—while teasing a wider rollout. Earlier this month, Impossible dropped out of the running, saying its production capacity isn't ready to meet McDonald's demands. The news sent Beyond Meat stocks soaring, but news reports indicate McDonald's is unlikely to choose just one plant-based protein provider for a nationwide rollout in the U.S.
For now, the Beyond Meat PLT will head to 52 new restaurants across Southwestern Ontario for a 12-week pilot, reports Business Insider.
KFC tests plant-based chicken sandwich in the U.K.
The Zero Chicken sandwich features a plant-based patty from U.K. analog meat purveyor Quorn, seasoned with KFC's famed 11 herbs and spices. The sandwich arrived at the chain's 900 U.K. locations on January 6 and may extend to other markets—including the U.S.—if it performs well, Quartz reports.
Meanwhile, fellow Yum! Brands chain Taco Bell will roll out the Oatrageous Taco, featuring a vegan ground beef alternative made from oats, across Europe after successful pilots in Finland and Spain.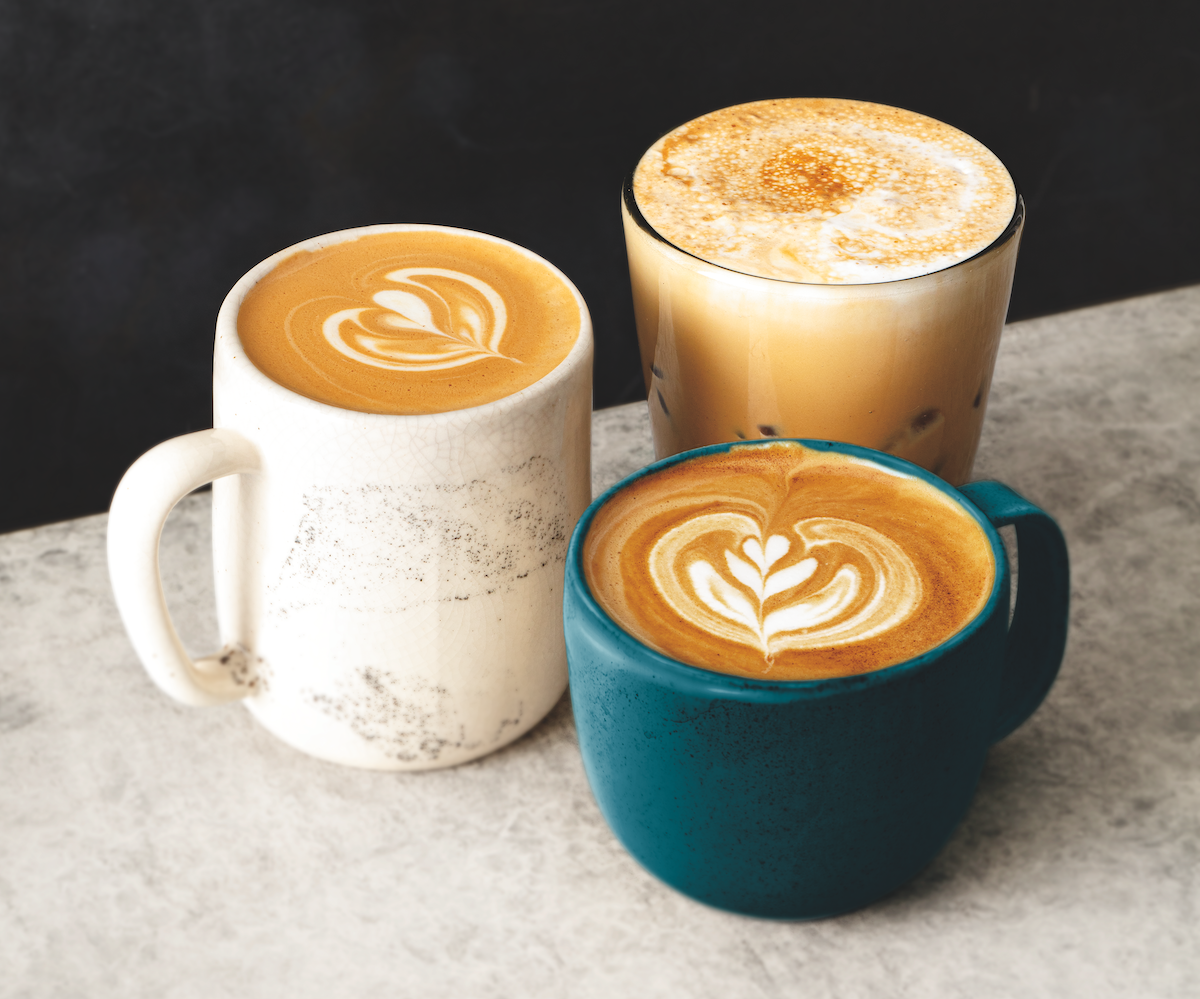 Dairy-free Horchata heads up the winter drink menu at Peet's Coffee
The Horchata is a tasty winter beverage dating back nearly 1,000 years, with almost all varieties using a type of plant-based milk combined with sweetener and spices. Peet's Coffee introduced a twist on the classic for its 2020 winter drink menu, replacing rice or nut milk with the increasingly popular oat and adding pulled espresso, ground cinnamon and Madagascar vanilla.
Daring Foods plant-based chicken is coming to the U.S.
U.K. startup Daring Foods refers to its signature product as "the opposite of chicken." Made from five non-genetically modified ingredients—water, soy, sunflower oil, salt and spices—this is a vegan meat "that's actually healthy," co-founder and CEO Ross Mackay told TechCrunch.
Last month, the company linked up with foodservice supplier Rastelli Foods Group to enter the U.S. market. In exchange for a $10 million investment in Daring Foods, Rastelli will retain exclusive rights to sell the company's products to restaurants and retailers, The Spoon reports. Daring will relocate its headquarters to New York, and its vegan chicken will roll out nationwide beginning in February.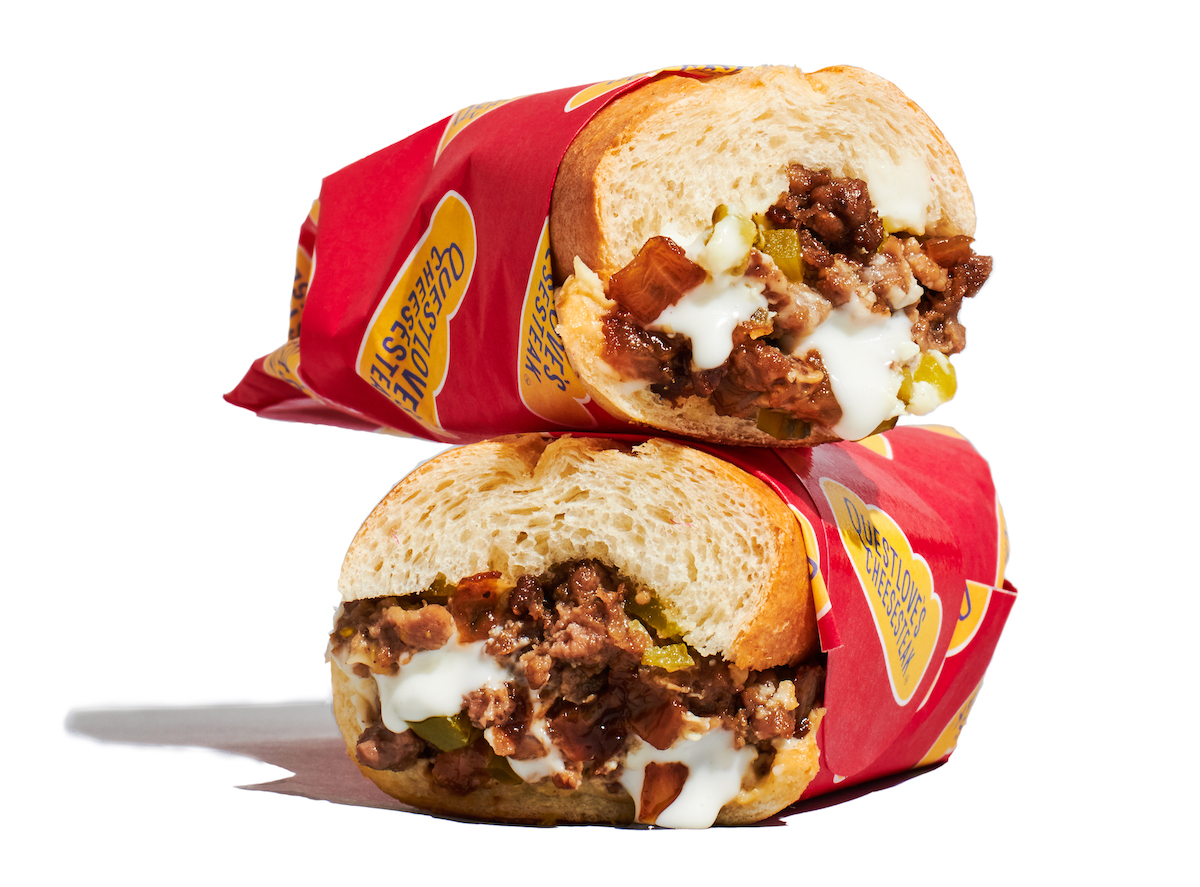 Questlove's vegan cheesesteak comes to New York fast-casual chain Fresh&Co.
Philadelphia-born Questlove, drummer for The Roots, launched his own vegan cheesesteak last year. Made from Impossible-brand meat, the sandwich debuted at Philadelphia Phillies home games during the 2019 season, along with 40 Live Nation venues across North America.
In 2020, Questlove's Cheesesteak will appear alongside half a dozen new plant-based offerings at fast casual farm-to-table restaurant chain Fresh&Co. Bringing a touch of Philly to New York, the sandwich is served with Impossible meat, cheese sauce and banana pepper relish on an Amoroso's Roll. Click here to check out other plant-based options on Fresh&Co.'s menu.
Aldi rolls out house-branded vegan ice cream bars
Vegan Food U.K. recently spotted house-branded vegan ice cream bars at supermarket chain Aldi. The plant-based food news outlet posted a photo on Instagram to much fanfare, with users comparing the almond and dark chocolate treats to those sold by cult favorite Magnum Ice Cream.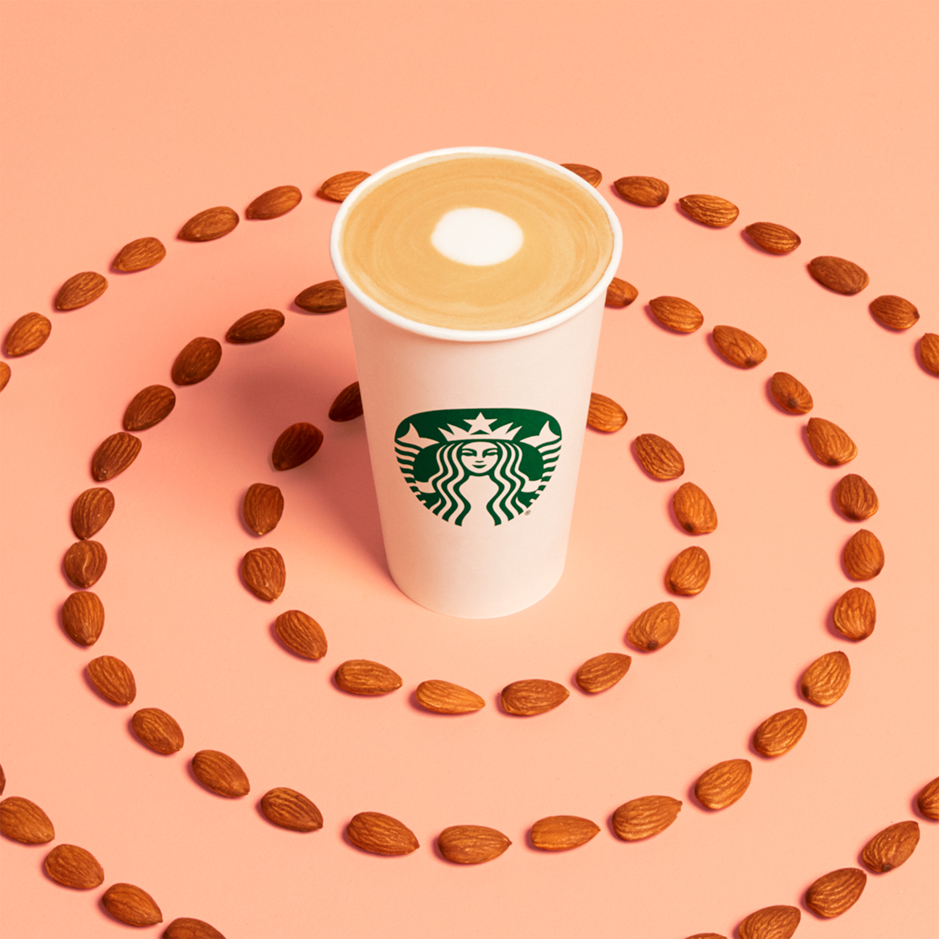 Starbucks adds new plant-based drinks to the permanent menu
The first new Starbucks drinks of the decade feature plant-based dairy alternatives, the coffee giant recently announced on its blog. The Almondmilk Honey Flat White (pictured above) and Coconutmilk Latte are now available at all stores in the U.S. and Canada. The company also introduced oat milk at 1,300 stores in the Midwest and showcased the non-dairy option with a new latte.
Fatburger brings vegan milkshake to more locations
California-based Fatburger linked up with Craig's Vegan Ice Cream to offer plant-based vanilla and strawberry milkshakes at a dozen Los Angeles locations in October 2019. The fast-casual chain will roll out the vegan shakes to 50 additional locations in Southern California and Las Vegas in 2020, adding to its existing vegan menu options like the plant-based Impossible Burger and dairy-free cheddar cheese.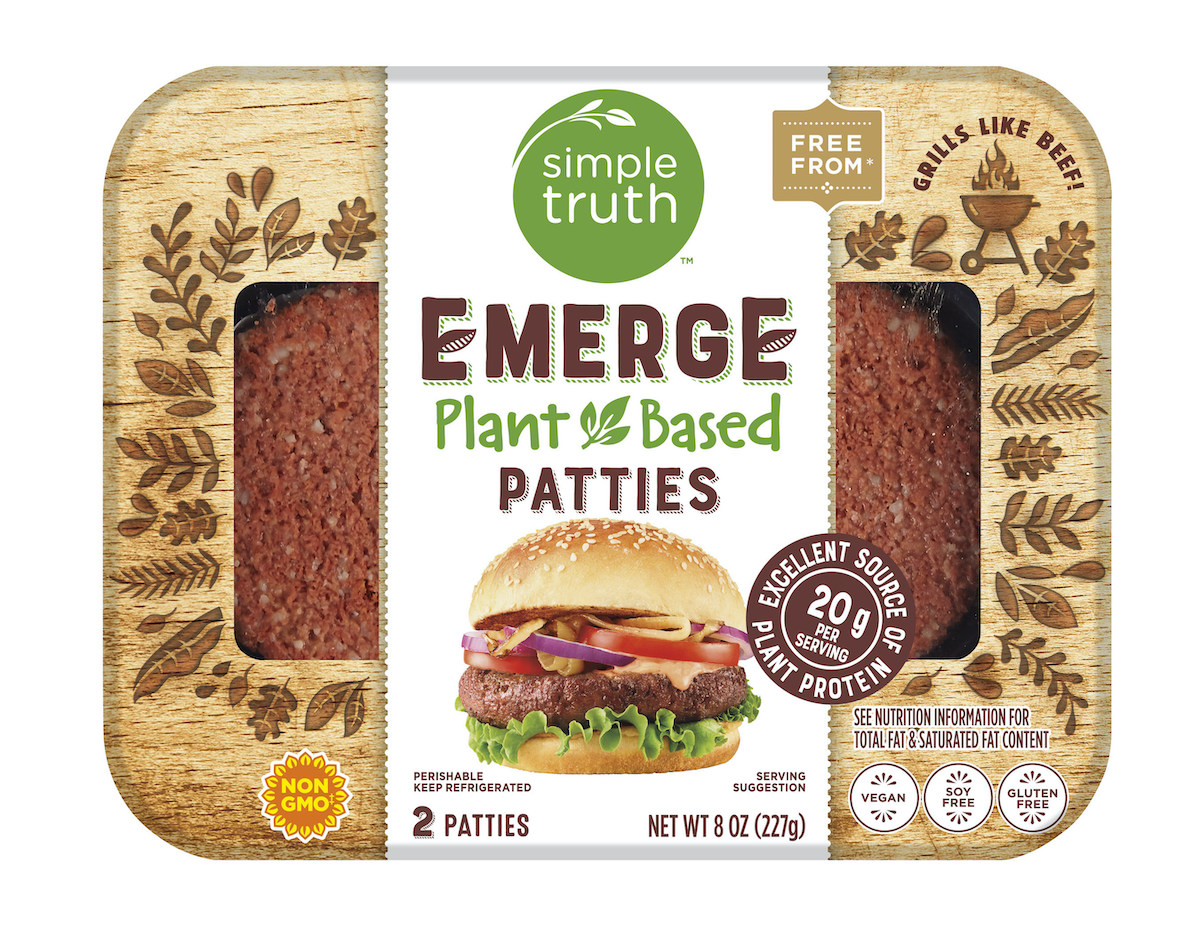 Kroger to add 50 new products to its plant-based house brand
Grocery chain Kroger enjoyed early sales success from its organic and health-focused house brand, Simple Truth, and last year launched a spinoff for plant-based foods. The aptly named Simple Truth Plant Based already features an impressive lineup of products, from analog meats to vegan chocolate chip cookie dough and dairy-free sour cream.
Kroger plans to launch 50 new products under the label in 2020—including fresh vegan burgers and ground beef substitutes made from pea protein, which hit store shelves this month at prices far below brands like Beyond Meat.
U.K. chain Frankie & Benny's introduces vegan menu
Italian-American restaurant chain Frankie & Benny's—which has more than 200 locations across the U.K.—is doubling down on vegan offerings with a standalone menu. Replete with plant-based takes on Italian classics like meatballs, calzones and pizza margherita, the new menu rolled out across all Frankie & Benny's locations on January 2, bringing the chain's already impressive list of vegan offerings up to 30.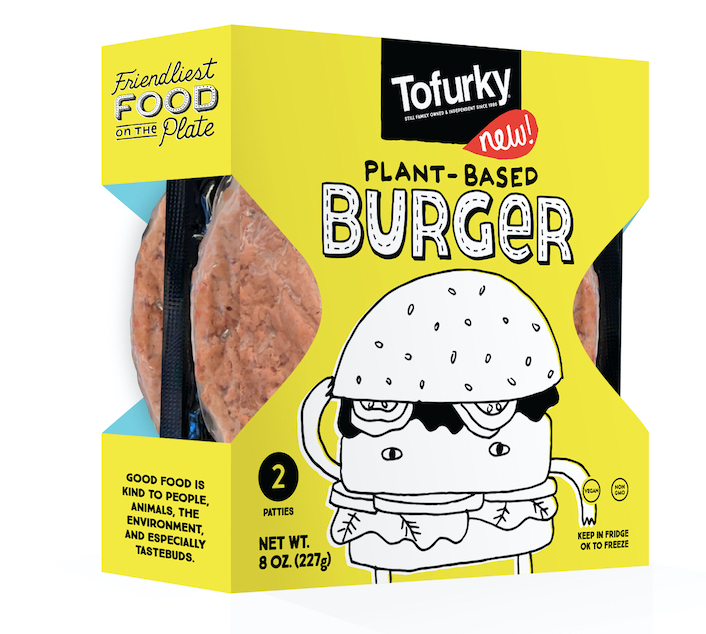 Vegan veteran Tofurky gets into the plant-based burger game
Tofurky sold plant-based meat long before it was cool—and the brand has come a long way since its namesake Thanksgiving dinner substitute hit store shelves in 1995. Tofurky's lineup now includes plant-based chicken, deli slices, sausages and a tempeh ingredient for use in cooking, among other products.
In 2020, it will add a plant-based burger to that list. Made from a "combination of soy protein, vegetable protein and wheat gluten," the burger will debut at more than 600 Target locations across the U.S. in January.
*All images courtesy of respective brands and intended for press use only