Coming soon to city streets in Houston: all-electric, self-driving cars that will deliver fast food, groceries and small packages.
Nuro designed and built the the battery-powered R2 vehicle in partnership with Roush Enterprises. Smaller than any passenger car on the market, the R2 is expected to hit the roads soon for test drives in Houston, Texas. In the not-so-distant future, Nuro is hopeful that the R2 will be operating in Houston as part of its delivery agreement with Walmart, Domino's and Kroger.
"Our second-generation vehicle will advance our goal of transforming local commerce," said David Ferguson, Nuro's cofounder and president. The R2 is designed for use mostly in suburban and residential neighborhoods.
The R2 recently received the U.S. Department of Transportation's (DOT) first federal exemption to test a self-driving vehicle on public streets. "It's a signal that the agency, which has stated publicly that it doesn't want to stand in the way of the new technology, is likely to approve more vehicles," University of South Carolina law professor Bryant Walker Smith, who studies vehicle automation, told PBS NewsHour.
Rethinking the design of self-driving cars
Without a driver, windshield or mirrors, the R2 relies on AI software, digital sensors, cameras and LIDAR technology. If necessary, the vehicle can be controlled remotely. A 360-degree vision system allows R2 to monitor its environment, including traffic, pedestrians, bicycle riders and road conditions. The front end of the R2 has been crafted to give way should it strike a pedestrian or another vehicle.
"We were convinced that such a class of vehicle had the potential to be safer than passenger vehicles: more nimble, narrower, and better able to prioritize the well-being of other road users," Ferguson wrote in a blog. "And by building such a vehicle we could also lower vehicle cost, improve the customer experience, and accelerate autonomous technology deployment by solving problems jointly through both hardware and software development."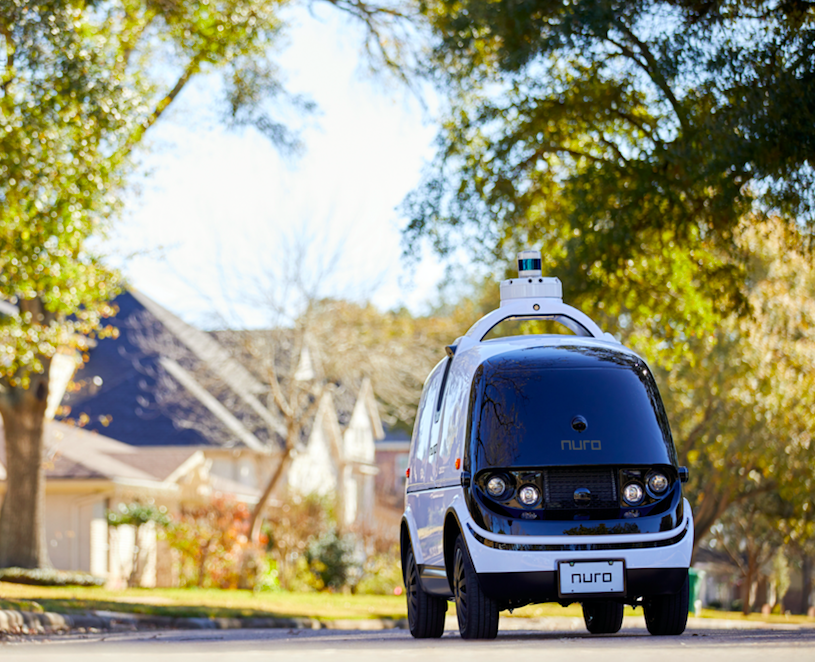 Photo: Nuro self-driving cars will soon be making deliveries for restaurant and supermarket chains in Houston. (Photo courtesy Nuro)
This latest vehicle includes several improvements from its predecessor, R1, which was launched in Scottsdale, Arizona, in December 2018. R1 was the first unmanned delivery service for the general population. "We added two-thirds more compartment space without increasing vehicle width, and we introduced temperature control to help keep food fresh," Ferguson noted in his blog. "R2 uses a custom battery solution that nearly doubled the R2 battery size, enabling all day operation." Doors open curbside, so customers do not have to step into traffic to retrieve their deliveries.
With origins at Google, Nuro is scoring investors
Ferguson started Nuro, based in Mountain View, California, with Jiajun "JZ" Zhu, with whom he worked on Google's Self-Driving Car Project. That became Waymo, which manufactures self-driving passenger cars, four years ago. Working with SoftBank and other investors, Nuro has raised about $1 billion.
It took three years for Nuro to win R2's federal DOT exemption; Nuro is still required to schedule periodic meetings with the DOT, provide safety reports, and gather and submit feedback from community members where the vehicles are operating. Those in the industry are anticipating faster action on broader guidelines. The next step in the evolution of driverless, automated vehicles is for the federal agency to begin drafting new regulations that govern the manufacture and operation of driverless cars. The National Highway Traffic Safety Administration (NHTSA) began the process last summer, seeking public comment on removing regulations for vehicles with automated driving systems.
"The DOT has taken a critical first step in enabling safety innovations, but exemptions are a temporary fix for an industry that's reimagining what it means to drive," Ferguson wrote. "Moving forward, we must modernize the existing regulations that never envisioned a vehicle without a driver or occupants, and everyone in the industry must work to ensure self-driving technology is tested and deployed in the safest possible vehicles."
Image credits: Nuro